Strangely couples created more news this year than single souls. Maybe during the year of "Vivah", marriage was in vogue. Or maybe two always did it better than one. More so in 2006 than during any other year. Couples who made news are:

Aishwarya Rai-Abhishek Bachchan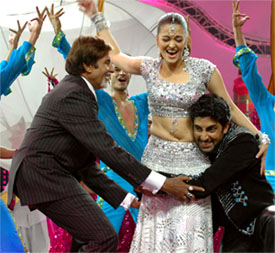 From horoscopes that didn't match to marriage dates, this was undoubtedly the most talked-about couple of the year. From "Dhai Akshar Prem Ke" to "Umrao Jaan", Abhishek and Aishwarya didn't jell as a pair on screen. But off screen there was enough sizzle and seduction in the very idea of the couple making it to the 'mandap' to keep heads turning and news-copy churning. At yearend, when the couple made an appearance together at Varanasi with the rest of the Bachchans, the shutterbugs went berserk. This is called star power.

Jaya-Amitabh Bachchan
At the beginning of the year she was the pillar of strength when Amitabh, Bollywood's living legend, spent agonizing hours in the hospital. Jaya's face never gave away the turmoil she felt within. Only close friends know how much she suffered as she played the perfect hostess at the Lilavati. Whether it was trying times at the beginning of the year, or the 'pujas' performed at Varanasi during yearend, or looking after her ailing mother-in-law in a hospital, Jaya was the archetypal pillar of strength.

Shabana Azmi-Javed Akhtar
Shabana always jokes that the secret of their long-lasting marriage is that they're never together. Once she saw a man who looked suspiciously familiar walking into the lobby of her hotel in Delhi. Turned out it was Javed.
"We didn't even know we were in the same city," laughed Shabana. This year filmdom's most cerebral and yet glamorous couple played Shabana's mother Shaukat and father Kaifi in a play that took the couple all over the world. Quality time at its qualitative best!
Shahid Kapur-Kareena Kapoor
Away most of the time from the limelight Shahid and Kareena took long holidays together in Europe and performed at concerts in every part of the world - from Bali to Baltimore. Contradicting all cynicism this peppery pair remained together and will make it to the altar. For sure!
Saif Ali Khan-Rosa
Despite rumours of trouble in paradise, the couple continued to share a quaint compatibility. Though Saif continues to say "I Don't' instead of "I Do", most of those close to him believe Rosa is the best thing to have happened to him. Just take a look at them together in the ad they've done together. And you'll know why at least three big filmmakers want to cast them together.
John Abraham-Bipasha Basu
The Bengali actress and the pin-up boy from Bandra survived one more year of ongoing speculation about his roving eye. Don't kid me...these two are genuinely in love, and won't oblige the cynics by parting. Lately, they had stopped doing movies together. But now they'll be a team in Vivek Agnihotri's football film.
Aryan Vaid-Anupama Verma
The only love story in the showbiz to be played out in full view of TV cameras. That it survived Aryan and Anupama's feelings survived such a hideous invasion of privacy just goes to show that mediatisation isn't temporal malady.

If you're in the limelight, you've to live with the camera peering over your
shoulder. That was the biggest lesson served up for entertainers during
2006.