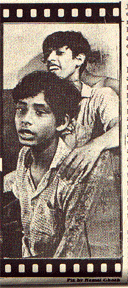 If I am asked "which film has moved you the most?," my reply would be 'Calcutta seventy-one.' This film had a deep impact on me, when I first saw it about ten years ago. I am not fully sure how I would like it now, but I guess it would be the same. This analysis is based on my first viewing.

CALCUTTA 71 is an indictment against violence and corruption throughout the ages. The film was directed by Mrinal Sen. Made in Bengali, CALCUTTA 71 is based on four short stories by writers of repute, each different from the other but all connected or interlinked to bring out a powerful statement. The stories are by Manik Bandopadhyay, Probodh Sanyal, Samaresh Basu and others.

A searing study of the political turmoil of the seventies, CALCUTTA 71 is very harsh in documenting the agony of calcuttans. It had moments of high intensity rarely reached in Indian cinema. Stylistically, it bears the influence of Chris Marker. Sen had been collecting raw footage for this film since 1966. He did this for about five years or so. The film was released in 1972. It was a critical and commercial success, and ran for months in Calcutta.

The first story in CALCUTTA 71 deals with the fall from grace of a middle class family. Against the background of atrocities and turmoil of the fifties and sixties, what misfortune befalls on a middle class family is depicted here. The family has a small house with hardly any roofings. When it rains, the family has to wage a grueling battle to stay afloat and protect them from rain. This episode was enacted by performers who makes rare appearances in films. The sequence where the girl sits with the umbrella trying to stop the rain water from entering inside will forever remain etched in memory. Also when the man i.e. the head of the family agrees to take his family members to a safer place to Mr. Sarkar's house, after much cajoling from his family members, and upon reaching there when he finds he has to occupy the same room with Bhulu, the same dog who used to disturb him at nights by barking and quarreling with other canines and also hundreds of people from lowly families, it was a shattering experience for him, but he has no other choice before him. He had to reconcile himself to this hobson choice.  
In the second story, well-known performers like Madhabi Chakravorty, Binota Bose (who was the leading lady of the path-breaking film UDAYER PATHEY directed by Bimol Roy) and Anuva Gupta enacted the central characters. How necessity can compel even a mother to overlook her children's' wrongdoings is depicted here.

The third episode deals with an incident taken from everyday life. In those days, young boys were compelled to smuggle rice out of necessity. They used to commute by train while doing so. The law machinery, trying to grab them, was always hot on their trail. One of these boys who use the local train for their nefarious activities become the victim of a braggart. Of course, in the last memorable sequence, the boy manages to avenge and pay back the bully in his own coin.

In the fourth story, corrupt politicians are the object of banter. Ajitesh Bandopadhyay as the politician was credible. Satirical sequences where a new generation is emerging i.e. street-children while the politician is indulging in speech-making is very subtly presented.
Interested readers may visit the writers site for more information on Mrinal Sen at the following link: