It is in the fitness of things to know something about the city of Hyderabad in the backdrop of an International mega event taking place in the form of 11th Conference of Parties (COP) to Convention on Biological Diversity (CBD) in October 2012, attended by delegates from 193 countries.

The city of Hyderabad strategically located between north and south India has turned into a notable business destination, attracting many visitors from far and near round the year. For the visitor, it is hard to miss the rich cultural heritage of Hyderabad and Secunderabad, the twin cities, uniquely combined into some vibrant cultural diversity which is very Indian.

Hyderabad's glory started with the seizing of power by Sultan Quli Qutub Shah from the Bahamani Kingdom and building of a fortress city, Golconda in 16th Century. Ruled by the Asaf Jahi dynasty, Hyderabad came to be known as the "city of Nizams". Now Hyderabad became ostensibly cosmopolitan while its residents continue to share their 'Chai' lovingly with the outsiders, true to the Hyderabadi hospitality, speaking the Deccani lingo that has Telugu, Hindi and Urdu mixed in one.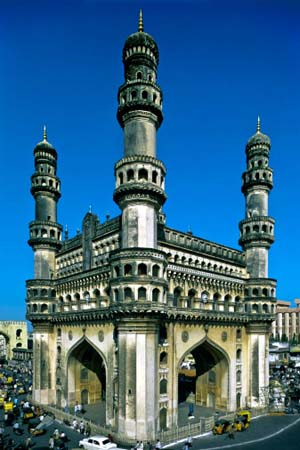 The new city also sings a mixture of Telugu and English while its denizens sport branded outfits and gear. To witness Hyderabad's hoary past one should first visit the Golconda fort built in military architecture. The hallmark of Hyderabad lasts in the magnificent Charminar, a monument that is more than 400-year old. Mecca Masjid lies close to Charminar and reminds one of the Grand mosque at Mecca. Qutub Shahi Tombs are just a kilometer away from Golconda Fort, which happened to be the final resting place of those rulers. They mirror the architectural blend of Persian, Pathan and Hindu styles. Chow Mohalla Palace built in eighteen century enhances the heritage of Hyderabad along with Purani Haveli - the Nizam's grand court and the Falaknuma Palace - a heavenly abode.



The evenings are ideally the best time to catch one's breath on the 'tank bund' and necklace road which lie on the either side of the lovely Hussain Sagar Lake which has a giant statue of Buddha standing taller in the middle. This place, in fact, connects the twin cities of Hyderabad and Secunderabad.


Well, a fascinating trip to Hyderabad is not complete before one tastes Hyderabad's princely cuisine that has a touch of Nizam in its its Biryani, Shammi kabab, chiken Koorma, Northern Moghlai dishes, Bagara Baingan, Mirchi Ka Saalan, Khubani Ka Meetha, Double Ka Meetha, Sheer Korma, haleem, the fiery chili and tamarind chutneys to name some. One has to regret if something is not brought home for the family as a souvenir from 'Shoppers Paradise' of Laad Bazaar, sultan Bazaar, General Bazaar or Jummeraat Bazaar, not speaking the multitude of shopping malls that offer a variety of things including the most expensive automobiles to pearls, bidriwork, artificial jewelry, antiques and handicrafts along with the world renowned branded goods.

The climate of Hyderabad is pleasantly tolerable except in the hot months of April and May that are warm with temperatures around 40. Coming to the intellectual climate it is a very cool city with nine large universities along with its academic, research, information technology, biotech institutions and laboratories of national and international repute.


Now Hyderabad has a teeming population of over 6 million as Greater Hyderabad Municipal Corporation (GHMC) is formed in 2007 with its sprawling 650 sq km of area. It is in the fitness of things to mention here as an icing on the cake, a tip off, only known to the old timers: that is walking down lanes of Abids and Sultan Bazaar one can pick up from the shops on the pavements some of the used books at the throwaway prices. Who knows, one can end up lucky, picking a rare book. For typical Hyderabadis, books are as dear as the state's literary luminaries are as dear, who won prestigious awards in literature in the past. The list goes as under. C.Narayana Reddy (Jnanpith Award, 1988)Vishwanatha Satya Narayana (Bhartiya Jnanpith Award, 1970, , Dr. Vasireddy Sita Devi (Bhartiya Bhasha Parishad Award, 2000), N. Gopi (Sahitya Academy Award for 2000), Tirumala Ramchandra (Sahitya Academy Award for 2001-2002), Chekuri Ram Rao (Winner of Sahitya Academy Award 2002-03), Naveen (Sahitya Academy Award), Abboori Chhaya Devi (Sahitya Academy Award-2005), Munipillai Raju (Sahitya Academy Award 2006), Gadiaram Ramkrishna ( Sahitya Academy Award 2007).Yarlagadda Laxmi Prasad (2009), Sayed Saleem (Kaluthunna Poolathota –Novel -2010) M. Bhoopal Reddy (2011).


Ramoji Film City adds to the city's modern touch as Hyderabad's very own Hollywood culture. The tourist's sojourn ends with Hitech city, a modern day township ridden with signposts from across the globe in business and technology. In between, a visit to Salar Jung Museum, the worlds the largest one-man collection is a must to watch with curiosity some of the oldest exhibits of our times. Of course, this is after one traverses the myriad crisscrossing flyovers and expressways as well as inner and outer ring roads which bypass pockets of the laid back serenity of old world charm here and there.




Other attractions: The Chowmahalla Palace a UNESCO Asia Pacific Heritage site, Falaknuma Palace where Taj group develops a heritage hotel., Taramati Baradari , a palace located on a mount near Gandipet Lake allowing a panoramic view around, Sanghi Temple, Chilkur Balaji Temple, Jagannath Temple, Birla Mandir, Birla Planetarium, Nehru Zoological Park, NTR Gardens and Shilparamam, to name a few.