A Short Story Writer To Watch Out For...
Janice Pariat's collection of short stories 'Boats On Land' was released in a gathering in Shillong on October 13, 2012. There was a panel discussion with readings and inputs by the author, clarifying her 'position' as a teller of short stories.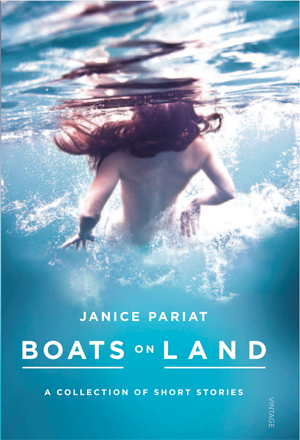 She felt that short story writing is not in the fictional genre, for the reason that it does not have the overarching reach of the novel, also its flexibility. But it is story telling. For her the stories do not end on a note of resolution. The title she says reflects the quirks of life and some of its imponderables. But she is interested in looking at human relationships, by way of story telling, the gossip of every day life, myths, legends and folk tales which permeate a culture. This intermingling of realism and reality, fact and fiction interweaves her stories with poetic and folklore elements. The element of the spoken word for narration was pointed out by one of the panelists.

[Review of "Boats on Land"]

The word is the beginning and the end of telling stories and myths. In fact the first story is based on the notion of the word, the spoken word. The word gets huddled into stories, legends and myths. Further it was pointed out that there is a mysterious focus in her stories, magic, propitiating the gods, by some form of sacrifice or Thlen as it is called in Khasi etc. Then people disappear and reappear, who knows why, only the truth is whispered and does the rounds by stories.

Janice does not find the transition to writing fiction from poetry surprising, as poetry she says, sustains itself in her fiction. Above all her concerns are history, the immediate locales and her culture which is a composite blend of the places she has lived in, including tea gardens in Assam, which she describes as 'beautiful'. A chronological sense prevails in her stories from colonial days, to post colonialism, clinging on to some of its vestiges, and contemporary life, climaxing in social and political change. The discussion focused on such narratives, with matrix of personal relationships, poetics of truth, folk lore and myths. Janice Pariat is a story teller we have to watch out for, with her style, grace and finesse.

13-Oct-2012
More by : Ananya S Guha
---