I see my grandson, a 19-month-old, negotiating with his mother for all his needs. His sweet and sublte actions surprised me. I heard a story:
Once a lanky fellow was jailed on some charge. He rattled the cell bars noisily one night. The guard asked him, "Why are you doing that?" In reply, the prisoner hit his head against the bars in the cell and shouted, "I will stop this only if you give me a cigarette." The guard grudgingly yielded thinking that if the prisoner was injured the blame would come to him. So he threw the last cigarette in his pack at the prisoner.
One's strength (or lack of it for that matter) is not the sole criterion for securing better bargains. It is the individual's determination that matters which tips the scales finally.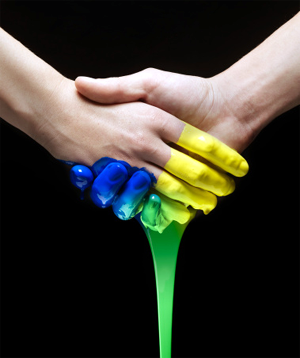 We do negotiate every day. Of course, we do it for our gain, or at times when we are batting for someone else. It can be either for some precious material thing, or someone's love, approval, favor, or consent. Well, shouldn't we improve our negotiating skills then? We negotiate all through our life, barely aware we are at it most times. Sometimes we negotiate with our own mind even — talking with our own conscience. So it is beneficial to learn a thing or two about how well we can handle our things in every move (that includes our silence.) On the other side of the virtual negotiating table, lie the family, workplace, neighborhood sports club, bosom friends and finally, the all important market place, not speaking of political groups. We can say that comprises the whole world.
In the above sense, we are living on a huge negotiating table called earth, where we are the players. The issues for negotiations are many. Didn't we need more space, income, freedom or longer timeouts/ breaks? Added to it, we needed more holidays, cool places for a transfer, cushy positions, better homes, and the list goes on. So we need to be aware of certain skills to clinch the tricky situations in life (ideally in the favor of the either party when both sides should be able to believe that they got the best deal). This is, in fact, a typical win-win situation at the end of an ideal negotiation process.
Key Elements of Negotiation
Information is the key prerequisite before making the first move in any negotiation. Most of the information or data has to be procured about the opposite side. That data should be comprehensive enough and obtained well in time and the same should be important for negotiation. The second element is time. Don't we agree that there is always time and place for everything, especially in love proposals? And lastly, power is the ultimate factor that decides a deal. Jesus Christ, Socrates and Gandhi among others possessed the power to get things for their cause / the common good for entire mankind. What they possessed was the power over the others. To earn the same, they worked their entire life mostly.
Coming to the element of information, if we don't know him/her/them/it on the opposite side, then the best thing we can wish or pray is the other side did not have enough information about us.
Non Negotiable Principles
Though almost everything on earth is negotiable, certain things are not really so. The cars in the showrooms, buildings, the sources of power as also vegetables are no doubt negotiable. But Lord Krishna's instructions to Arjuna / the common man are not negotiable; Ten Commandments are not negotiable; Mother's love is not negotiable.

Tailpiece
To be aware of the techniques of negotiation is one thing. And not knowing whether or not we should negotiate for a thing is another thing. We should not apply the negotiating skills for every minor thing. All negotiable things do not warrant us just to go ahead and negotiate. We have to consider our priorities first, besides time, effort, energy involved. We have to check whether something is worth negotiating at all, or whether it is in the interest of the majority. It is better we leave alone certain things, without negotiating hard, to save our breath or some avoidable trouble at a later time. But what matters ultimately is our human dignity since there is no need for anyone to be manipulated, or intimidated by anyone, in any situation whatsoever in life, work or business.