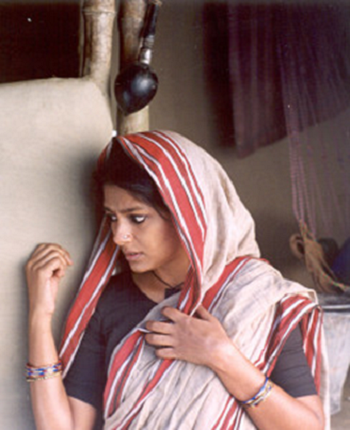 Set around a Muslim community in a small village in West Bengal, Mrinal Sen's last film Amar Bhuvan (2002) is a comeback vehicle for the veteran director after a long hiatus. Deeply disturbed by the increasing violence in our society, Mrinal Sen had focused his lens on a theme of love this time around.

The film revolved around a triangle viz Meher (Kaushik Sen), Noor (Saswato Chaterjee) & Sakina (Nandita Das). Noor marries Sakina, but soon separates from her. He leaves for the Gulf and returns with a lot of money and a wife after a few years. Meanwhile, Sakina had married Meher and they have three children. Meher somehow manages to eke out a livelihood through farming and other menial jobs. Noor and Meher are cousins, and Noor employs Meher on contract jobs because of his skill and efficiency. Meher also earns some money in the process.

The director lovingly unfolds the love that permeates the existence of Meher and Sakina. Mrinal Sen is possibly the only Indian filmmaker who has attempted to capture the love and bonding that exists in the life of the downtrodden and carries it off with such finesse. While a streak of pessimism is generally woven into the narrative in any tale of the under privileged, this work by Mrinal-da is laced with warmth and unusual charm. One particular sequence that captures the transition between darkness and the first rays of daylight in two sequential shots is simply brilliant. Some of the lighter sequences like that of Meher fleeing from a money lender or buying a radio outside his means in order to make Sakina and his children happy contributes much to the charm of the film as a whole. A Rabindrasangeet by Srikanta Acharya had been knitted into the film. The actors perform credibly though Nandita Das looks much too urbane in many sequences.

The film also marks a departure from Mrinalian style of ambiguous ending and does have a complete story. The film also reinforces the belief that cinema can be an effective tool for social analysis.

Mrinal Sen isn't exactly a hot favorite as yet amongst Indian film buffs at large. This ninety year old filmmaker has an outstanding body of work, probably on par with Satyajit Ray, and taken in totality may have eclipsed him as well. So, when I was witness to a few snide comments from the audience after the show, I heard some pundit spout "Mrinal Sen himself doesn't know what he's trying to say." What did you say? I would like to ask a critic like him "is it obligatory for a filmmaker to tell only stories, a complete story in films and leave nothing for the interpretive faculty of the viewer?" It is apparent that subtlety doesn't always resonate with the general audience nowadays, increasingly satiated and fed on a diet of escapist fare. Fine, but why be so critical with works by directors who doesn't bother to toe your line, perhaps.

The film fetched Mrinal Sen the Best Director and Nandita Das the best actress award at the Cairo Film Festival.
Rating: 4 out of 5