Vihang Naik's Poetry Manifesto
Vihang A Naik, Poetry Manifesto.
New Delhi: Indialog Publications Pvt Ltd. 2012. ISBN: 81-8443-033-7. Pages 120, Rs. 135.00
.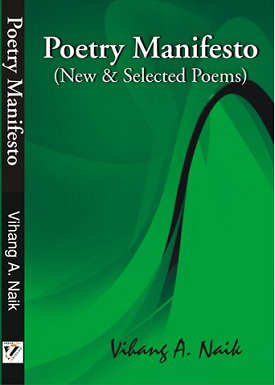 Poetry Manifesto is a collection of new & selected poems by Vihang A. Naik, who is an authentic Indian poetic voice in the contemporary scenario. He has published many poetic collection like City Times & Other Poems in 1993, Jeevangeet (Gujarati) in 2001 and Making a Poem in 2004. This is his fourth book of poetry and third in English poetry.

There are 72 poems in the poetry collection based on many themes like religious, social, cultural, and political and economic and personal history. He has divided his poetry collection into some parts. The first poem in the collection is 'New Website' which is subjective and symbolic in nature. As the lines indicates:

User Name: Vihang
Password: Naik's poetry
Verifying...
Characters innocent.
Cancel. Done.
Connect. Done.

In poem, 'Ambaji', he gives description of his place and in 'Indian Summer', he is describing about some mis-happenings or event of our country. Having deep love for environment, he has shown his concern in poems like, 'The Banyan City' and 'Summer Hill Devdars.' In both the poems he has highlighted the importance of trees for human beings. There are two poems, 'The Song of Maneka' and 'A Song for Maneka' in which he has tried to show the sensuousness of human nature.

Being a poet, Naik has deep love and passion for poetry and this we can see in some of his poems like, 'Poetry Manifesto', Women and Man', 'A Reader's Response', and 'A Poem and Questions.' Further he has written some more poems based on his attitude and the language & importance of poetry to name few, 'A Disturbed Sleep', 'Are You Looking for That Poet', 'At Seventeen', 'A Poem Profiles', 'The Poet as a Young Man', 'A Matter of Life', 'Making a Poem', 'A Poem', 'Winter Pen', 'A Poem Comes Alive', 'Making of a Poet', and "The Absent Poem.' There are many poems in the collections which are symbolic in tone for example, 'A Stage', 'Hero', 'Growing Up', 'Infertility', 'Aporia', 'A Play', 'The Pen' and 'Wanted.' As in 'Wanted', poet speaks:

words hit
me back in anger
that formed from this same ink
themselves
a guilt-point
searching the lost face.

Naik seems to be greatly inspired by the Indian philosophy because there are clear inclinations of his being influence by it as we see many poems in the collection which are philosophical in tone viz 'Prayer', 'A Reader's Response' , 'A Poem and Questions', 'At Seventeen', 'A Matter of Life', 'Questions' , 'A Poet' and some other.

His poems are also rich in the use of metaphors to convey his feelings. As we see in the poem, 'The Pen', he has used pen as metaphor to describe the importance of writing. In, 'The End of an Affair' he has artistically used many metaphors like ghazal, for a beloved person whom he loved very much, difficulties and problems of life with that of fork and spoon and love with haiku, this is the greatness of imagination. As he says:

She became a ghazal in return.
First silence in poetry than words
My heart served in a clean plate.
I never know that the life of a poet
Could be cut into two with fork and spoon.

In poem, 'desire' he has artistically used the metaphor of octopus, a sea animal to describe desire. He seems to believe that as octopus has 8 legs and if it catches a prey, he tears him very badly and same is the case with the desire of human beings which once caught will ruin him forever. As he says in the following lines of the poem:
the octopus
of desire
stirs
arteries and veins
tears flesh apart
feeding upon fire
swallowing air

This also shows the philosophical attitude of the poet reflected metaphorically and symbolically.

'After innocence' is a highly imaginative poem in which poet has discussed about changes which takes place at various stages of man from childhood to manhood. The segment, 'Love Song of a Journey Man' has five poems, each crafted beautifully with philosophical blend of mine telling us about the harsh realities of life with being symbolic in tone.

Many poems in the collection are written in free verse. The poet has tried to show his innermost feelings and experience on many issues related to our existence and survival on this universe and has dealt successfully with some religious, social, cultural, and emotional themes in the book. The poems in the collection are creative pieces reflecting writer's imagination, emotional intensity, intellect and philosophical attitude. There is fine balance of themes which have been placed with experimentation.

All the poems in the collection reflect the writer's experience and demonstrate feeling even beyond their experiences. The collection contains his work from 1993 to 2009 and also includes a whole new section of his uncollected poems. It is a literary landmark, not only for Vihang A. Naik but for Indian English literature.

07-Dec-2012
More by : Dr. Shamenaz Sheikh
---
---
| | | |
| --- | --- | --- |
| | good work :......keep it up:..... | |
---
Vihang Naik remains one of the cult figures in the contemporary Indo-English Poetry Movement. Translating the mind, his origins and the adrenaline rush, his work continues to imbibe the poetry that is far more than just the content

Amitabh Mitra
South Africa
---