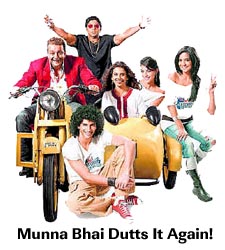 Dadagiri nahi karne ka, Gandhigiri karne ka'. Yes, after the all-encompassing jadoo ki jhappi, ghandigiri is the new mantra endorsed by Murli Prasad Sharma, aka Munna bhai. In the film Lage Raho Munnabhai, he is a convert ' from goondagiri to gandhigiri.

Though in this heart-warming movie, initially he is the same street smart, good-humored goon, as that of the prequel Munnabhai MBBS. Even his best friend and assistant Circuit is the same. He's still Munna's trusted one-man army and his loyalty towards Munnabhai stands unquestioned. It's just that in this movie, Munnabhai's successful dadagiri methods are tested when love takes him for an unexpected historical tour.

Munnabhai (Sanjay Dutt) falls in love with RJ Jhanvi (Vidya Balan), and her signature call Goooood Morniiiig Mumbai. So much so, that in order to meet her he even participates in a Mahatma Gandhi Trivia Quiz. Of course, he wins the quiz, with the help of his ever-dependable aide Circuit's light hearted terrorizing schemes. But in doing so, Munna leads Jhanvi to believe that he's a History professor and an ardent follower of Mahatma Gandhi. Impressed and taken in by Professor Munna's down to earth charms, Jahnvi asks him to deliver a lecture on Gandhi to a group of abandoned senior citizens she takes care of at her huge bungalow, called Second Innings.

And here's when the twist takes place. In his bid to impress Jahnvi and her elderly wards, Munna hits a nearby Gandhi library to take in every bit about the Mahatma. He works so hard that after a three-day non-stop marathon reading session, he starts seeing the image of Mahatma Gandhi. Mahatma Gandhi not only visits him on request, but also guides him about the ways of the world. Of course, an eminent psychiatrist explains that Gandhi's regular visit are nothing but chemical imbalance in Munna's mind'in Munna's own word'. chemical locha'causing him to hallucinate about Gandhi. Casting the doctor's explanations aside, Munna comes to term with the visions he has. He starts believing in gandhigiri, and with Gandhi on his side, not only wins Jahnvi, but also resolves the problems of the world, of course, using Gandhi's much forgotten principles.

It's his gandhigiri that helps Munna take on the flamboyant land grabber Lucky Singh (Boman Irani). No nonsense Dr. J. C. Asthana of Munnabhai MBBS is back as the loud Punjabi character. Lucky's priority in life is family and money, but he's harmless. In his spare time, he gets his photographs forged...so we see him brushing shoulders with George Bush, Bill Clinton, Queen Elizabeth and Aishwariya Rai'all at one go, on the same wall. Now as Lucky Singh forcefully takes over RJ Jahnvi's huge bungalow, our newly reformed Gandhi expert Munnabhai takes upon himself (of course with the able and experienced guidance of Gandhiji), the responsibility of declaring a non-violent satyagrah against Lucky, the usurper.

This non-violent battle between Lucky Singh and his nemesis Munna, has all the ingredients of a laughathon. But with all his goodness, there are situations when Munna is scorned by people and labeled mentally disturbed. But armed with Gandhiji's ideology, he triumphs in the end. So all in all, 'Lage Raho Munnabhai' is a film that keeps you riveted to the screen from the very opening reels to its conclusion. The most exceptional thing about the film is the way it blends comedy with emotional moments. 'Lage Raho Munnabhai' makes you laugh, makes you cry and, parallel to all the entertainment, it gives a message that sticks in the mind. To say it in Munnabhai's lingo ' it creates 'chemical locha' in the brain.