Kurmavatara (Lord Vishnu's second avatar) is a film directed by renowned filmmaker Girish Kasarvalli.Itis based on a short story written by K Veerabhadrappa. It is a tale of an upright, Govt. clerk with a striking resemblance to the "Father of the Nation," who receives an offer from a TV director to play the "Mahatma," and agrees to take up acting much against his wishes and largely due to the persuasion of his son and daughter-in-law. The languid pace of the film conceals a hard-hitting statement, contrasting the honesty and idealism of the older generation with the newer, living in a modernized, corrupt materialistic world. At another level, this film-within-a film also highlights the difficulties an actor faces while enacting the character, especially someone who is new to the profession, unable to appreciate need for emotions etc.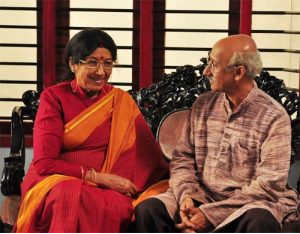 The actors playing Gandhi and Kasturba
Some scenes do appear a bit contrived. The fact that our protagonist was immune to the need of his wife and even oblivious of the need to be supportive when his wife was undergoing chemotherapy (as revealed to us through a conversation he has with his son later) seemed clichéd. The sequence between the protagonist and his grandson was refreshing.
Kurmavatara, directed by Girish Kasaravalli and produced by Basant Kumar Patil, won the best Kannada film award. In an interview to the Deccan Herald, Kasaravalli told that the honour "has come as a reward for the hard work that went into making the film."
Kasaravalli won his third National Award in a row for the best Kannada film with Kurmavatara in 2012, taking his total number of National Awards to 12. His films Gulabi Talkies and Kanasemba Kudureneri won the National Awards in the two preceding years.
Rating: 3.8 out of 5
Some more information:
Rediff Slideshow

Film buffs may take a peek at the author's attempt to document some of his viewings and film related thoughts