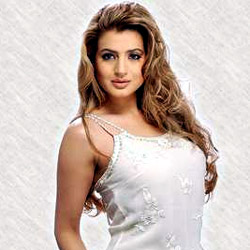 Hey, this one has a Superman and Superwoman as a couple. Yippy! Ah oh. Sorry for giving that away for all those of you who have not yet seen the movie. But well to compensate, or rather atone, I won't give out the couple. Ok then. Truce!
Honeymoon Travels Pvt. Ltd. opens with six...ya six honeymooning couples, a guide, a driver and a handyman riding in a bus from Bombay to Goa. And yes, there's an RJ too, switching the air frequency quite often, changing loyalties from Mirchi to Red, but matching up to mood of the travelers, playing soulful love numbers on his show 'Pyar ke Lamhe'. But more than an RJ, he's role is that of an omniscient narrator. Needless to say, he discusses individual characters, reveals their secrets, and gives amusing insights about them and their past.
Now, lets start with the couples, and here we'll set off with the elderly of all - Oscar Fernandez, a Goan Christian and Nahid, a Muslim, played by Boman Irani and Shabana Azmi respectively. Quite often mistaken as the parents of one of the honeymooning couples, this pair stands a bit out of place in the whole group of young honeymooners. Not that the carefree twosome give a damn about people poking fun at them! They are on this honeymoon to put their traumatic past behind and create a new life with each other.
Next we have a couple from suburban Kolkata - Partho, a conservative but perceived as a bit narrow-minded husband, beautifully played by K K Menon, with raring-to-experience-the-world Raima Sen playing his wife Mili. As the drama unfolds, their alter egos bring interesting twists in the movie.
Then there's the Delhi couple - Chandigarh born Pinky and her husband Vicky, portrayed by an over-the- top bubbly Amisha Patel and lost looking Karan Khanna. Where Pinky is the talkative North Indian girl, who believes her life is a fairy tale, her husband harbors a secret that makes the trip a chore for him. It's only at the end that the reason behind his aloofness comes to the fore.
Then there's this beautiful couple - Aspi and Zara, portrayed by Abhay Deol and Minnisha Lamba, perfectly in sync with the Parsi characters they play. They are, supposedly, the "perfect" couple who have never had an argument. They have known each other for over 16 years and never had so much as a disagreement. Though, they do have a strange way of expressing their love for each other!
The fifth couple comes from a crossover background. A couple of movies old Vikram Chatwal plays Bunty, an affluent NRI from Los Angeles, while Sandhya Mridul, plays his wife Madhu - a modern Mumbai girl. Everything seems going for this well matched crossover couple, but for the fact that when it comes to enjoying the many private moments of married life, there's something amiss.
And last but not the least, we have a Guajarati couple Hitesh and Shilpa on board. Ranvir Shourie as Hitesh is the middle class Guajarati husband married to a very sad looking 'Silpa' - for a change, convincingly played by Diya Mirza. Shilpa is petrified of honeymooning but Hitesh assures his in-laws that she will return from the honeymoon with a smile on her face – words that prove uncannily ironic in retrospect!
Now, add to this list a mysterious man on a motorcycle. This mystery man is trailing the bus on its journey from Mumbai to Goa. Now with so many interesting elements this film sure is a film with promises of lot of fun and entertainment. But to quote the films director Reema Kagti, "Honeymoon Travels Pvt. Ltd is a tongue-in-cheek comment on the concept of perfect love", but we would say it's lot more than that. It's a humorous exploration of the many different aspects of love and human relationships. By juxtaposing six different love stories against each other, this debutante director has let the audience be privy to their dreams and desires, their fears and fantasies. So overall, this honeymoon is an entertaining journey, so do take the bus!
Now that I started this on a mischievous note, why not even end it that way. Hey, okay, I wont give out the super couple…but just a little one…It's Arjun Rampal on the motorbike, following his girlfriend. Okay, again to compensate this, I won't give out the girlfriend. Well board the bus and find out for yourself! Truce?