An Introspection of Society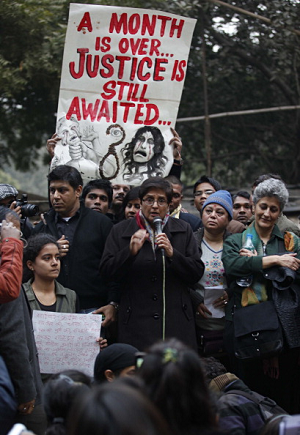 Ever since the heinous act of the recent gang rape committed by the human monsters on 16th December, 2012 in New Delhi, umpteen articles, verses and news items have appeared in the media and internet. Surcharged and emotional speeches, utterances and write-ups from the enraged people demanding extremely stringent measures in response have been made many times. Even the most peace-loving persons from various walks of life have opined to have a swift trial and capital punishment for the culprits.

The most frequently raised and debated issue has been the need for the change in the existing law making it more responsive, friendly to victim and stringent punishment for offender. This certainly has some merit but many of us are ignorant or even tend to forget that we already have several provisions in the existing law to deal with such crimes. It is often stated that we are already living in a jungle of laws, rules and procedures. So the main issue before us today is not of the creation of more laws but the effective implementation of the existing laws, bogged down with insensitivity and system contraints. Notwithstanding above, a review of the existing laws on the subject may be done to plug loopholes and discrepancies as deemed necessary.

The basic need of foremost importance is that of creating an environment of social security and harmonius atmosphere, particularly for women, children and senior citizens not only in metropolitan cities but also within the country at large.

The problem is complex so the solution too cannot be easy. The complexities of society cannot be addressed with emotional outbursts, one-line resolutions or even mere change in laws. Despite an outrage in nation and mass reation from all sections of the society, the number and nature of crimes reported against women in the same fortnight in the capital and other parts of the country are a clear indicator that one such incident and consequent outrage or retaliation does not deter or stop people with criminal bent of mind to commit such crimes.

While change in law and measures of its effective implementation may take its own natural course, if we wish to build a safe society and a better nation, as a common citizen we need ourselves to take long term measures in terms of becoming better parents, better teachers, better citizens, and top of it better human beings. What we really expect from others as a model code of conduct, we need to learn, imbibe, share and disseminate it through our own demeanour and conduct. At home too we cannot have two sets of rules, one for our sons and the other for daughters.

Let us also remember that we live in a society where all kinds of people with different mindsets, beliefs, inclinations and dispositions would always coexist together. An evolved and responsible conduct as a parent, teacher or citizen would largely inspire our wards at home and people in the environment and instil confidence to become a good individual and citizen with mutual faith, love and respect for the humanity.

Apart from the common people, it may also largely work for the human beings which are border line cases. But let us remember that in any society, there would always be few with satanic vibes and conduct beyond any reform. It would always be necessary to deal with such people by the law and society at any time with heavy punishment commensurate with the crime.

23-Jan-2013
More by : Dr. Jaipal Singh
---