As Slow As ...
These God-damned VIPs
Communal vs. Secular
What's your Preference: Name or Number?
Next in Outragistan
Think it Through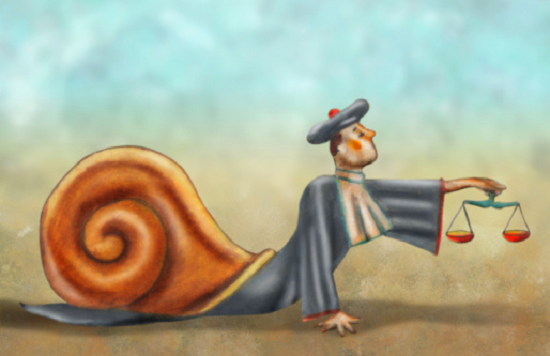 If you cover 12.2 meters in an hour, what is your speed calculated in miles – a unit of measurement that some of you and I - the remnants of the pre-metric era – are more familiar with? The answer is 0.00758 miles. That incidentally is the speed of land snail – the common garden snail you know of, as recorded in The Guinness Book of Records. And this is our common measure of something moving very, very slowly. That is what gives us the commonly used phrase as slow as a snail. This, I'm afraid is doing utter injustice to the poor creature. I've discovered over the years, things which move far slower than the poor, much-maligned being.

Take the case of India's judicial system.

Some four decades ago – yes, Sir, four decades, not years or months – a speeding truck ran over the legs of a deaf and mute citizen in Thane district of Maharashtra. He filed a case against the truck driver and the Insurance Company in a Motor Accident Claims Tribunal. The compensation has been granted after 30 years. It is yet to be decided if the 6% interest will begin from 1983 or from 2001. Wheels of justice will once again be set in motion to decide that. Let's see how many decades does that take.

A drunken Bollywood actor returning home early morning after whole night booze party in his Toyota Land cruiser ran over some pavement dwellers. A case of death by negligence was filed against him. It has taken the Hon'ble Court – what on earth is Hon'ble about our courts, I don't know – ten years – yes, years –to change the charge to 'culpable homicide not amounting to murder'. Now another 30 years of trial. And, perhaps a verdict!

Afzal Guru, a Jaish-e-Mohammad member, was sentenced to death by a Delhi court in 2002. The decision was upheld by the Supreme Court in 2005 and then again in 2007. He was hanged in February 2013 – after six years.

Now you decide who is slower – the poor, old snail or the Indian judicial system?
Sometime during World War II, the Whitehall, then solely dependent on American line of supply of war materiel, received an urgent message from Washington DC to say a very important person from (where else?) the Pentagon, would be visiting London for discussions. On their part, the British Army top brass bent backwards to make most thorough preparations to receive him with utmost courtesy and extended to him most lavish hospitality that the war-ravaged Britain could muster.

Whatever the result of this visit on the course of war, it bequeathed the legacy of the most commonly used abbreviation of our time, namely, VIP. Later, the acutely status-conscious Brits went just one small step further to add another V to make it VVIP.

Then started a classification system; even among the VVIPs. Nowhere in the world does this species get attention so grotesquely disproportionate to its classification, as in India.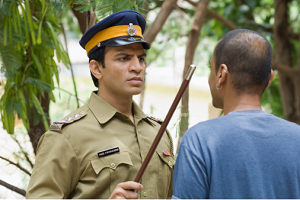 We have in our society police personnel to population ratio of 1: 761. (Out of this 761, about 760 are visited by the beat constable only once a week to collect the hafta.) But there are as many as 47,577 cops maintained by taxpayers for the protection of 14,842 VIP's across the country. In other words there are three uniformed men to protect every pot-bellied VIP who in all probability has half a dozen criminal cases pending against him.

The Supreme Court on Thursday asked the Delhi Police to withdraw cops from VIP security and deploy them for safety of women in the city known as rape capital of the country.

Now hold your breath before I mention the cost borne by us to provide VIP security. It is a massive Rs. 341.24 crores. With this money (if honestly spent) you can transform the fate of at least 500 villages. And if in the bargain, 500 VIP's get killed by their enemies, society is no loser. Haven't you heard of the Farsi proverb: khas kam jahan paak – the lesser the straws, the purer the atmosphere.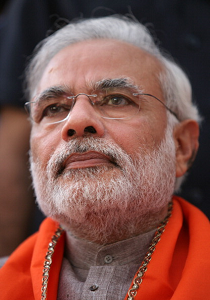 Immediately associated with Gujarat Chief Minister Narendra Modi is the word communal, referring to the 2002 riots in which some 2000 Muslims were killed. Very conveniently glossed over the fact that this was in retaliation to what immediately preceded it, namely, the less-covered, lesser publicized Godhra tragedy in which some 60 Hindu kar-sevaks returning from Ayoodhya were roasted alive in a train bogey by Muslim hooligans. Nobody in the country had the time to talk about that while everyone has cried himself hoarse about the loss of precious Muslim lives and property. Indeed, in a democracy some lives, especially of the minorities are more precious than that of the majority. And the reason is simple. The former constitute a reliable vote bank of the Government (read Congress Party).

The secular credentials of Modi are highly suspect because he didn't get all the rioters shot dead. But what about our beloved leader Rajiv Gandhi? The night after he was appointed as Prime Minister on October 31, 1984 some 5000 Sikhs –men, women and children – were butchered as goats and sheep by Congress Party goons. What happened to their killers who were defiantly gloating over their achievement: khun ka badla khun (their i.e., innocent Sikhs' blood for Indira's precious blood.) Everyone knows not a single culprit has so far been booked and jailed in thirty years among those responsible for the killing of Sikhs.

The Americans – always champions of democracy except for their own black minority – refused to issue visa to Modi to visit their country because of his alleged communalism. They most heartily endorsed Rajiv Gandhi's secular credentials because he was an enthusiastic supporter of America and everything American. And he paid back very handsomely for American endorsement of his secular credentials despite what happened to the Sikhs. They just happened to be living on that part of the earth (read Delhi) that shook when that big tree (read Indira Gandhi) fell.

Then just after a month on the night of December 2 – 3, 1984 we had in Bhopal one of the world's worst industrial disasters. Over 5 lakh – yes lakh – people were exposed to methyl isocyanate gas and other poisonous chemicals. As per the State Government affidavit in 2006, it was responsible for a total of 3,787 deaths related to the gas release which also caused 558,125 injuries including 38,478 temporary and partial injuries and approximately 3,900 severely and permanently disabling injuries.

The Chief Minister of the State, Arjun Sing fled Bhopal on the morning of December 03, 1984 to go to Allahabad. In his own words from A Grain of Sand in the Hourglass of Time: An Autobiography: "I went to my old school, St. Mary's Convent, where, with the permission of the Principal, I sat in the chapel to pray for the welfare of my people and to gain moral courage to act personally in the face of this monumental catastrophe." (p. 175). And that too by the acts of a company belonging to God's chosen people i.e., Americans. He doesn't record in his autobiography what did She advise. Thank the Good Lord, his hero Jawaharlal didn't fly to Harrow for similar guidance in 1962 when the Chinese struck.

Arjun Singh's boss in Delhi, Rajiv Gandhi lost no time to pay back the Americans for their endorsement of his secular credentials when he sat pretty as Sikhs were massacred by letting Warren Anderson the CEO of Union Carbide fly out of the country after the gruesome disaster lest he should be arrested in the civil and criminal cases that followed.

Modi, unfortunately, never did anything to earn American gratitude. Hence, highly suspect are his policies and development work in his State which benefited everyone.
What's your Preference: Name or Number?
You can, online, project whatever identity you like. But there are people who prefer to have no identity at all. A new social networking site, Social Number, caters to those who have a preference for anonymity – people like me and hopefully some of you, my dear readers. Instead of a name or a handle or a thumbnail photo of themselves, users are identified only by a number. In this way, the site encourages users to discuss anything, from a bad job to a hot-button social issue to the real sources of Sonia Gandhi's power over the Party without fear that the conversation could be connected to their real-world identity. The site's creator, who gives his name only as M.K., said: "I just felt that there was one site needed where people could just come and talk … freely and not worry about who's going to read it and what's going to happen."
These days, just as one cycle of protest and outrage die out, unfailingly, a new cycle surfaces. Ours indeed has become the Republic of Outragistan. Ask those protesting what they are protesting about – and they will tell you in all earnestness – against an insult to xyz (where xyz could be a religion today, a language tomorrow and some defined or undefined sentiments and feelings.)

Just after protests by Muslim outfits against Kamal Haasan's controversial film 'Vishwarooopam' opposed by certain Muslim groups in Tamil Nadu and Andhra, Mani Ratnam's 'Kadal' (meaning Sea) is now facing opposition from a Christian outfit which is piqued over some scenes in the movie. Indian Christian Democratic Party alleged the film had objectionable scenes referring to Christianity and sought their deletion and warned of intensifying their protests if police do not initiate action. Hindu and Sikh groups must be waiting their turn.

I wonder sometimes if the protests are genuine or arranged – you know what I mean – to get extra publicity mileage at minimum cost?
"The public have an insatiable curiosity to know everything, except what is worth knowing." – Oscar Wild


Images (c) Gettyimages.com