Indian culture for ages was so strong that external influences just could not touch or change it. But of late, there have been dramatic changes in the way Indians live, think and act. Influences from all over the world have metamorphosed to whip a change.

Look at how our digital culture has changed.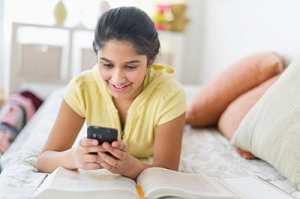 Is digital culture in India rewiring our brains? Our brains adapt to change and our brain cells get refined with our personal experiences. A US survey showed more than half of teenagers aged 13 to 17 spend more than 30 hours a week, outside school, using computers and other web-connected devices. If their environment is being transformed for so much of the time into a fast-paced and highly interactive two-dimensional space, the brain will adapt, for good or ill. It is not different in India.
Youngsters in India today spend most of their time with digital gadgets and devices. They want to feel connected all the time. They are so addicted to their mobiles that they sleep with it. As if the whole world wants to connect with them as the slip into the world of sleep. Life is unimaginable without the network being alive. If it goes weak, there is panic. As if life is impossible without the handset.
Then, there are computers.

Desktops and laptops. It is usually kept on all the time. Children would rather spend time on the computer playing silly games rather than run around in the lawn below with other children, sweat it out and play competitive games. Several studies have already documented a link between the recreational use of computers and a decline in school performance.

Let us not forget social networking.

Today, as it is so easy to get an internet connection going in a smartphone, it is kept on all the time as users want to keep a check on social networking. Their status, the likes it gets and the comments it gets. They'll hit a depression if their profile pictures do not get the attention they crave for. Baroness Greenfield, professor of Pharmacology at the Oxford University, feels that social networking websites like Facebook and Twitter have created a generation obsessed with their selves, suffering from short attention spans and possessing a child-like desire for constant feedback on their lives.

Gone out of the window is personal contact, the wonderful feel of another human being in front of you, the magic of eye contact, the subconscious monitoring of body language. No wonder there is a general decline of empathy.

A study from Michigan University of 14,000 college students has reported a decline in empathy over the past 30 years, which was particularly marked over the past decade. Psychologist Sherry Turkle, of the Massachusetts Institute of Technology, has argued in her recent book, Alone Together: Why We Expect More from Technology and Less from Each Other that the more continuously connected people are in cyberspace, the more isolated they feel. Look around. You will see numerous lonely youngsters in every campus and office in India today.
Can we now live without search engines?

Imagine how we live perfectly normal lives without it a few decades ago? Has it improved our cognitive skills? Let us understand that efficient information processing is not synonymous with knowledge or understanding. Even the chairman of Google, Eric Schmidt, has said: "I worry that the level of interrupt, the sort of overwhelming rapidity of information - and, especially, of stressful information - is, in fact, affecting cognition. It is, in fact, affecting deeper thinking. I still believe that sitting down and reading a book is the best way to really learn something." By the way, when did you last read a book?

Gone also are the days when after sunset, the elders sat around to tell stories to their grandchildren. The television set blares with its regressive serials that have become so addictive. Our grandmothers had so many stories to tell us. We will have few to tell our children. Our children will only have Facebook to talk about when they discuss relationships.

Video games are in.

Youngsters are addicted to it and do not mind spending hours on it. Neuropsychological studies suggest frequent and continued playing might lead to enhanced recklessness. Data also indicates reduced attention spans and possible addiction. In line with this, significant chemical and even structural changes are being reported in the brains of obsessional gamers. A survey of 136 reports using 381 independent tests, and conducted on more than 130,000 participants, concluded that video games led to significant increases in desensitisation, physiological arousal, aggression and a decrease in pro-social behaviour.
One significant thing that has changed is our political culture.
Sardar Vallabhai Patel before independence while talking to Congress workers said that those who are in business should not be in politics or the party for that matter. He said that only those who could devote time to build the nation and help the common man should consider politics.
Today, you cannot flourish in politics without money or business interests. Look at the huge number of businessmen in politics in every party.

See how our attitude to corruption has changed. It is no more seen as something to be ashamed of. Look how crowds in Chennai lined up at the airport and elsewhere to welcome A. Raja after he came out on bail from Tihar Jail for his involvement in the 3G scam. Look at how Suresh Kalmadi has been accepted back. As if the Commonwealth Games scam never ever happened! The list is endless. Today, a father-in-law does not feel embarrassed standing to welcome the baraat where his son in law is being escorted by police constables as he has been arrested in a fraudulent case involving over Rs. 7 crore. This happened this in early 2013 in India! We now think it is okay to be corrupt. After all, almost everyone we know is…

No wonder everyone identified with a dialogue in the film, Paan Singh Tomar when a soldier told a cop that those from Chambal were not dacoits but baaghis (rebels) as the dacoits were in parliament!
Our social culture is also rapidly changing.

Our attitudes to marriages are not the same anymore. Arranged marriages are seen as illogical, unreal. A study of 41,554 people in the Indian states in 2005 found that fewer arranged marriages happened today than before. Many of the youngsters who were still shy of saying "love" called it self-arraigned marriages! Love is in. Finally. Despite khap panchayats in Haryana that live in primitive times, love will continue to play the rebel.

The social hierarchy is collapsing.

Khaps are coming out with ridiculous rules on marriage for instance as it is seeing how its authority in terms of caste is eroding as no youngster really bothers about caste anymore. Khaps are not against love marriages or inter-caste marriages really; they are paranoid about the fact that the land under their feet is slipping with the social hierarchy changing and this is only their last desperate effort to assert themselves.
Customs are changing.

Wives are now asking their husbands to keep the karva chauth fast too! And they are agreeing. This year numerous of these wives and husbands announced that they fasted together on Facebook! (The fast is traditionally taken by wives who pray for the long lives of their husbands.) Why can't husbands also fast for their wives to live longer, is the question that is being asked. Good question.

Family values are changing.

The worst brunt is being borne by the elderly who are increasingly getting marginalised. Old age homes will be in great demand in another decade. It already is. Joint families are soon becoming a thing of the past especially in urban India. Nuclear families are coming in as youngsters want to sample independence, want to be the architect of their lives, want their children to grow up differently and all of them are looking for more emotional space. Children are losing out on family values as their parents work, have little time and there is an emotional void that grandmothers, aunts, uncles, cousins and grandfathers earlier filled in.
Sex is not taboo anymore.

VVirginity is not a big thing anymore. Sexual attitudes have changed, thanks to globalisation and television. Youngsters and married couples are having more sex today than ever before with multiple partners according to numerous sex surveys in India. They are also experimenting. They talk about it more openly. Look at surveys by leading Indian publications like India Today, Outlook, and Cosmopolitan and every year they have been saying this as if it is something we did not know.

Working women are admired.

No more is the kitchen the best place to be. Women are now riding career graphs as never before. They are more accepted in the workplace and respected for their talent. They still talk of the glass ceiling, but many have broken that too.

Films are dramatically changing.

There is a Dev D, The girl in the Yellow Boots, Love Sex and Dhoka, Bheja Fry, Vicky Donor, and many others that are making waves with their bold themes and out of the box subjects that beats the Hindi film stereotype. Low budget films are mocking the huge budgets that are collapsing. New actors are making waves. Time tested actors are failing. Censorship seems to belong to primitive ages. We no more mind watching films on our laptops or home theatres. There is a growing clientele for serious cinema.

India is today a strange amalgam of changing traditions and cultures. It is more open to change despite despots who are mucking up the scene trying to wheel it into a primitive era that the young no more identify with. There will be more change. The challenge is to not lose the traditions that have made India a great culture with inherent strengths while it injects a different kind of modernity that brings in a new breath of fresh air.

Images (c) Gettyimages.com