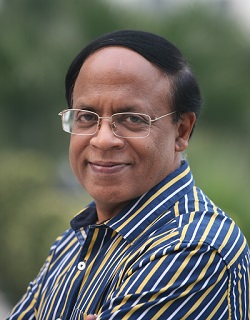 Ramesh Menon as been a journalist for the last 40 years working with print, television and the new media. He is a recipient of the prestigious Ramnath Goenka Award for Excellence in Journalism. It is India's biggest media award and is seen as India's Pulitzer. He also won the Madhavan Kutty Gold Medal for Excellence in English Journalism.
He has authored six books. The first one was Caste and Communal Timebomb. It dealt with the caste and communal violence in Gujarat. The others were: Whatever the Odds, (HarperCollins), Carbon Footprint: Easy ways of Reducing It (TERI Press), Night Sparkle: Fascinating Stories of Lighthouses in India (Matrix Publications), Modi Demystified: The Making of a Prime Minister (HarperCollins) and Living with Gratitude (Orient Publications).
He started with The Times of India in Mumbai and then moved on to India Today where he reported from various states in India for in the west, east, south and north of India for over 16 years. He was an associate editor of the magazine. He was executive producer at Business India Television and TV Today. He anchored a weekly environment programme called, 'Ecologic' on Business India Television and has done numerous current affair TV shows. He has directed and scripted numerous documentary films on environmental and social issues that have been screened at different film, festivals.
His first documentary film, Taj Mahal-Not a Love Story, was done for the World Bank and looked at livelihood issues in Agra. His recent films include, Global Warning, that talks of how climate change will affect India. Another film, The Slow Poisoning of India, talks of how India is carelessly using pesticides and how it is dangerously creeping into our breakfast, lunch and dinner. Another film, 'Give us a life please', looks at how a degraded environment affects children the most.
He is a visiting faculty at numerous communication and management institutes. He is presently Adjunct professor at the Symbiosis Institute of Media Studies at the Symbiosis International University in Pune. He enjoys being a corporate trainer in soft skills and has done numerous training sessions in various corporate.
He is presently working on a novel. He now writes for numerous publications.