Dreams on Independence Day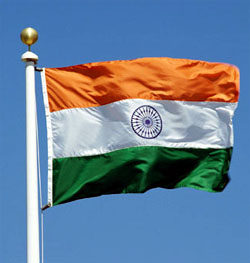 August 15, 2006. There is a lilt of freedom in the air. But freedom means different things to different people. Fifty-nine years is a very long time. Long enough for the people of a nation to have the courage to dream. But, how many of us can?

After 59 years of freedom, we are still dreaming of clean drinking water, uninterrupted power supply and justice from the courts. We keep looking for leadership from our elected representatives, good governance and probity in public life.

We keep dreaming of a good life, which need not be wrapped in luxury, but one where one gets reasonably priced vegetables, pulses and others things that would go into a simple square meal.

We dream of living in peace. We still dream of gender equality and feel jolted that in the last two weeks dozens of female fetuses have been discovered in numerous wells in Punjab, one of India's most prosperous states.

So many parliament and assembly elections have passed us by and we still are looking for clean politicians who want to take the country forward. That elected representatives even take money to ask questions in parliament leaves very little to be said. And we think we are a booming democracy.

But how can democracy succeed when half of India is illiterate and cannot figure out that it is not caste in an election that is most important but governance.

We try to romanticize everything to escape the hurt and the reality. We talk of how we are a great culture and how we are so diverse and still together. We search for a sense of self-esteem. That is why we are so obsessed with cricket. When we do well, we feel that we have beaten the world. That is why we are so obsessed with joy seeing all the BPO's mushrooming in every city and tell ourselves that we are the fulcrum around which world business revolves.

We wonder when there would be a sense of pride in every soul in India about India and themselves. Self-esteem does not come easy.

Why do most of us not feel free in independent India?

Many of us have simple dreams. So simple, that it seems so achievable. Like seeing a policeman fine someone who has jumped a traffic light. Being punished for stealing power. Being taken to task for evading taxes. Like not being cheated by the shopkeeper as he is afraid of the law. You want to see happy faces outside courts and not such huge crowds as cases linger on for decades. Justice delayed is justice denied. You do not want under trials to languish in jail for years waiting for their case to be heard. They also have human rights.

Why should we pay a bribe for a passport or for getting your house registered? Why were workers caned when they asked for a rise in salary when legislators were changing laws to get huge perks?

Freedom should have given us a sense of pride and belonging. And security. It could have got India's huge upper class and middle class to help out with taxes to help the country touch the stars and bring in excellence in every field. But being given to those who offered to pay back a hefty bribe frittered billions of rupees allotted to members of parliament to invest in the development of their constituencies away.

The media is going to town everyday on how the sensex is skyrocketing, of how India is the country for the world to watch. But are we missing the wood for the trees? We are boasting of how Information Technology has made the world sit up and take notice of India, but why are we not bothered about half the country being illiterate? Poverty is so stark that parents in states like Andhra Pradesh and Orissa sell their children. Thousands of farmers have committed suicide as their debts are piling. Youngsters sell their kidneys in Tamilnadu and highly educated graduates who are unemployed commit suicide in Kerala.

Do not miss the huge advertisements by state governments on how they are pro poor. But look at the cars they buy for their ministers. And the expenditure on renovating their bungalows.

The population is exploding, but no political leader from any party is seeing it as a problem. There is so much of myopia around that blindness does not seem like a disease. Political parties do not even come together on a serious issue like this.

There are schools without benches or roofs. Our MP's now are given laptops, but many do not know how to log on and have never used it. There are schools where teachers come in only on the first of the month to collect their salary.

There are hospitals without life saving medicines and even bare medical personnel. But our leaders are talking of how building a temple in Ayodhya is the most important thing to do. We thought that schools were the modern temples. But we were wrong. We do not even get upset when we see that so many years after Babri Masjid was felled, political leaders still are milking the incident to gain political mileage. But they could have also got political mileage by building schools and hospitals. Maybe, their dreams are different.

Why are our politicians who are supposed to be path bearers not talking in dismay about the skewed sex ratio? A film that deals with this does not get a tax exemption, but a film that deals with cheap tricks on how to cheat gets one!

Why are most of the rape cases never vocalized? And if they are, why is the conviction rate so low? When can women feel free to walk down anywhere without being attacked or teased? And we keep saying that we have a great culture. A girl just has to travel in an overcrowded bus in the capital to know how our culture rots.

Most of us have simple dreams. We do not want India to be one of the most illiterate and most corrupt nations of the world. I do not want to be told that I belong to a country where every minute someone dies of tuberculosis. I want to have the confidence of holding my head high while walking on the street. I want the law to work. I want women to be respected. I want the educated Indian go and sparkle in our cities and not stand in queues to get a visa to escape to the west.

Freedom has no meaning if it cannot improve our lives. It must add value to our lives and not let us slip into a degenerative state.
Look at our power situation. Every city has a power cut. And, villages go without power for most part of the day. We waste power everyday. Most towns in India shamelessly have fixed hours where darkness descends daily.

No one protests.

We are slowly becoming a nation of impotent people.

Why cannot I go and take a walk on the banks of the Ganga or Yamuna without feeling suffocated? Why have erstwhile sparkling rivers like these turned into gutters of poison? Why do rich industrialists have the option of emptying their waste into rivers?

I dream of government offices that work. I dream of being punished for simple things like wasting water or power. Soon, we will have none to waste. I want to be punished for littering, polluting the atmosphere and not paying taxes. I dream of a nation with a workforce that takes pride in a healthy work culture and excellence in producing quality goods.

You need to be qualified to get a job. Our children are put through long laborious interviews to qualify for admission into nursery school. But, my ministers are never asked if they are qualified to run the government. They can even have criminal records. They can even win elections while they are behind bars.

I want my Defence Minister to know the value of a jawan. I want my Education Minister to know the power of literacy. I do not want him to change my son's history books to suit his party's line.

I want my Home Minister to be strong enough to allow the law to proceed against a politician who has been found with millions of rupees stashed away in his bedroom. I want a Law Minister who will not allow his judges be trampled by political pressure.

We misinterpreted freedom. We thought it was okay when a politician spent millions of rupees shopping for sarees, jewellery and slippers. We voted politicians into power who have criminal cases against them. We used our freedom to permit them to destroy our present and future.

We did not use freedom to improve our lives and to make India one of the greatest countries of the world.

We think we are free. We gave our freedom away. But if we want, we can still get it back.
15-Aug-2006
More by : Ramesh Menon
---