Sweeping in winds of change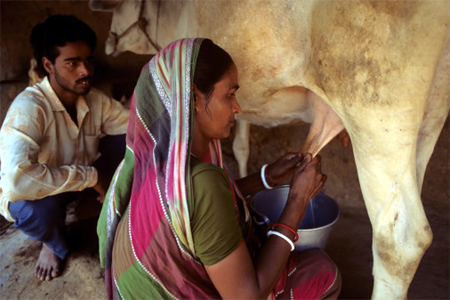 This is a revolution like no other in the world. Operation Flood or The White Revolution as it is known in India has over the past four decades produced a constantly increasing sustainable flood of milk in India. It was of high quality and available in most parts of both urban and rural India. It helped transform the lives of more than 13.4 million farmers, most of them poor. Of them, 3.7 million were women. It helped women empower themselves and their families. Today, the Dairy Cooperative Network includes 177 milk unions. It operates in over 346 districts covering around 1, 28,799 village level societies. Today, India is the world's leading dairying nation.
Before independence, India was solely dependent on foreign milk products. Milk was severely short in supply. It was a luxury. Even to get a litre of milk, people used to stand in queues for hours. Keeping milch cattle hoping to earn out of its milk was not seen as a great business proposition. Yields were low and Indian breeds were way behind their foreign counterparts.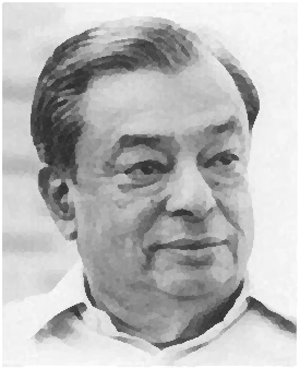 It all started when Dr. Verghese Kurien, a dairy engineer, who had finished his studies abroad, came in touch with the chairman of a fledgling milk cooperative in Gujarat. He slowly got involved with the cooperative to make it modern and competitive. Later, he stayed back in small-town Anand in Gujarat to help develop the milk cooperative movement. The rest was history.
Today, the Anand Milk Union Limited (AMUL) is a household name in India producing world class milk products.

Successful Model

Starting with the Kaira district in Gujarat, the cooperative movement spread as it was such a successful model that was changing the face of rural India. Farmers who got into the milch business starting using the money they earned to improve the lives of their families, sending their children to schools and having better nutrition. It also broke down narrow barriers of caste and religion as all queued up together to sell their daily produce of milk.
Today, there are over 65,000 milk producer cooperatives spread across thousands of villages all over India. They bring whatever milk they can every morning and evening to be sold to village milk collection centres. The milk brought by the producers is tested on the spot for its content and then transferred to the nearest diary to be processed into pasteurized milk, condensed milk, cheese, butter, yoghurt and buttermilk.
The pasteurized milk packaged in the most modern plants of the world is shipped to towns and cities. It is also exported and has now a clientele that goes beyond non resident Indians. Milk from India in tetra packs is now available at supermarkets around the globe. These farmers earn an incredible over 35 billion rupees a year. Every management school today talks of the Indian milk cooperative movement as one of the most successful businesses in India. And rightly so. The average daily cooperative milk marketing last year was over 189, 00,000 litres. Both rail and road milk tankers carry cooled milk to distances as far as 2,200 kilometers. This was absolutely unimaginable before Operation Flood. It has bloomed to become a Rs. 1,232 billion industry.

Prosperity Spread

India's milk production increased from 21.2 million MT in 1968-69 to 100.9 million MT in 2006-07 and to 102 million MT in 2007-08. The per capita availability of milk was just 112 grams per day in 1968-69. It increased to 246 grams per day in 2006-07. Soon, the movement spread to numerous states which replicated the milk cooperative model and its marketing strategies. Prosperity spread.
The Operation Flood (OF) programme initiated by NDDB in 1970 was a planned attempt to revive India's Dairy Industry from premature stagnation. Its chief architect was Dr. Kurien who made it the largest dairy development programme in the world. In the process, India also became the world's largest milk producer.
Operation Flood (1970-1996) created a strong foundation to transform India's dairy sector into a vibrant business activity. It paved the way to take up new initiatives and create new conditions to firm up India's world leadership in milk production. The new challenge for the Dairy Industry was to explore ways to emerge stronger using the network created under Operation Flood. The response is Perspective 2010, a plan that attempts to take the dairy cooperative movement to its highest potential.
Perspective 2010 focuses on four key areas. These include Strengthening Cooperative Business, Production Enhancement, Assuring Quality and creating a National Information Network. The State Milk Marketing Federations and the Milk Producers' Cooperative Unions, the architects and key beneficiaries have identified the thrust areas. The plan is designed keeping at helm the benefit to farmers at large. NDDB facilitated the planning process and will provide technical support and need-based finance for implementing Perspective 2010.
Let us see how it all started taking shape. After completing his engineering, Kurien he went to the Michigan State University for further studies. When he returned, he was given a job at a government creamery as a diary engineer at Anand. He did not have much to do and was bored with his job. Around the same time, the infant cooperative dairy, Kaira District Cooperative Milk Producers' Union Limited now famous as Amul -- was fighting a battle with the Polson Dairy, which was privately owned. Young Kurien, volunteered to help Tribhuvandas Patel, the Chairman of cooperative to set up a processing plant. That was the first step towards in India's milk revolution.
Dr Kurien built this organisation into one of the largest and most successful institutions in India. The Amul pattern of cooperatives was a runaway success. In 1965, then Prime Minister of India, Lal Bahadur Shastri, asked Kurien to head the National Dairy Development Board (NDDB) to replicate the programme on a nationwide basis. It was then that India effectively started using dairying as an instrument of change. Incidentally, the idea came to Shastri after he spent a night with villagers in Kaira discussing the cooperative movement. He wanted the movement to change the face of not just Kaira but the whole country. While all government run dairies were loss making units, he saw what Kurien had done with modern management.

Competing with the world

Earlier, milk products used to be imported and foreign players like Nestle, Glaxo and Polsons were laughing all the way to the bank. The milk producers who were the farmers were not getting a decent price for milk from the foreign companies. In 1946, they had even gone on strike against Polsons. Sardar Vallabhai Patel who was one of India's tallest leaders asked them to make cooperatives so that they could manage the milk business themselves and stop all exploitation. It was here that the germ of an idea took birth. Anand Milk Union Limited was the first such cooperative and it collected around 200 litres of milk. Later on, when Kurien established the NDDB, he ushered in the white revolution, imports died down. Today, India exports its milk products. Countries like China and Pakistan are now trying to study the success of Operation Flood and replicate it.
Years ago, Kurien had said that India's farmers were a tremendous resource and if they were linked to professional farmers, they would make India a surplus producer. How right he was. India today has its godowns full of grain. In fact, there is so much of grain that it is kept in open storages. The per capita milk consumption today is better than ever before as there is no shortage.
By the end of the 1970's, Operation Flood was widely recognized as a success. Dairy cooperative milk procurement had reached 25 lakh litres a day, more than four times what it had been a decade earlier. Naturally, it attracted both national and international attention. Impressed with what had been achieved with milk, the government of India requested the National Dairy Development Board to apply the Anand pattern to oilseeds, fruit and vegetables.

Search for Excellence

The white revolution after all, was not just about milk. It was also the search for excellence in the kind of work they were doing to enrichen the lives of the people. It was about good cattle feed, good breeding of milch cattle that gave larger quantities of milk, artificial insemination to ensure that the breeds improved, better packaging to ensure longer life of milk, professional marketing to widen the scope of selling and producing world class products.
Coming to oilseeds, NDDB's role has been again stellar. Once upon a time, India exported oilseeds and oil. By the mid-1980's, it was importing 20 lakh tons of edible oil a year at an enormous cost to its foreign exchange. In fact, only the cost of imported petroleum products exceeded that of edible oils. But today, India is self-sufficient—all because of farmer owned and controlled cooperatives and an intelligent set of policies that have created a real incentive for increased production and productivity.
What one must also not lose sight of is the fact that the dairy movement also brought in a true model of development. If you go to a dairy cooperative in the morning or evening, you will see a queue of women and men waiting to pour their milk. In that queue you will find Harijans standing in front of Brahmins as they came first. You will see women standing in front of men. You will see the poor and the rich together. Caste and class distinctions blur in this scenario.
Participants also get to understand the importance of hygiene as they see how a dairy cooperative is kept clean. Before the white revolution, a lot of cattle would be left to die when sick. Today, they just have to call a veterinary doctor who is available all through the day.
The importance of feeding the cattle with nutritious food and caring for it has in a subtle way taught villagers how to also introduce good health and care in their families. The benefits of the white revolution were far reaching. The most important of them have been the lessons of democracy. Each year, the members of each cooperative society meet to review performance and plan for the future and elect new board members. Here everyone learns the relationship between performance and elections.
NDDB proposes to increase liquid milk procurement by cooperatives to 33 per cent (488 lakh kilograms per day) of the marketable surplus in Operation Flood areas, constituting 80 per cent of the national milk produced which will quadruple liquid milk procurement by next year. It would also increase liquid milk sales to 365 lakh kilograms per day, trebling fluid milk marketing.
Today, dairy cooperatives account for the major share of processed liquid milk marketed in the country. Milk is processed and marketed by 170 Milk Producers' Cooperative Unions, which federate into 15 State Cooperative Milk Marketing Federations.
Over the years, brands created by cooperatives have become synonymous with quality and value. Brands like Amul from Gujarat, Vijaya from Andhra Pradesh, Verka from Punjab, Saras from Rajasthan, Nandini from Karnataka, Milma from Kerala and Gokul from Maharashtra are among those that have earned customer confidence.
India's dairy cooperatives can easily be replicated. All it needs is good management that has foresight and constantly innovates to compete and search for excellence. The white revolution of India is now discussed all over the world for the wide span of development it has engineered.

Image of lady milking the cow (c) Gettyimages.com