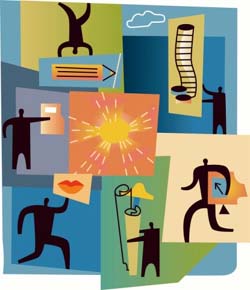 As we struggle to take in a normal breath while watching silly Hindi news channels in India on the aptly named idiot box, there is one comforting thought: For those who have access to computers, web journalism might come as a breath of fresh air. Web journalism in India is still serious and is evolving. It has also bravely fought the temptation to stray into abstract areas that television has gone into called 'Breaking News' where stories of ghosts, snakes, witches and black magic are paraded till you want to throw up. Hindi Television news channels have trivialized news to depths never seen before in the mad race to clinch TRP's (Television Rating Points) that by itself is a seriously flawed exercise.

The web is the place to be if you are a serious writer and want to be read by equally serious readers. When it started about a decade ago, mainstream media dismissed it as of having absolutely no consequence. Today, it is emerging as one of the sanest media voices.

News on the web is bold, it is fast, and it has an independent identity. It is irreverent, it is anti-establishment and it can also be investigative. More than anything else, it is very interactive. Web Journalism in India came of age the day Tarun Tejpal'stehelka.com busted into the corridors of power exposing corruption in high places by posing as defence dealers out to sell non-existent night vision goggles to the army. They did not have even a sample as it never actually existed, but managed to bribe their way through many powerful figures showing the ugly underbelly of both politicians and army officers. When the history of the Indian media is written, this is one expose that will be captured and retold numerous times.

In 1995, The Hindu of Chennai became the first newspaper to launch an Internet edition. In another three years, there were 48 newspapers with that distinction. Even All India Radio bulletins everyday remind you that their news is online now and you could check it all day even when the news is not being broadcast.

Initially, newspapers were quick to realize the potential of having its information on the web. But it had no idea of how it should be done. So they opted for the easiest way out: they put their entire newspaper on the web. Result? There were hardly any readers. It was generally interpreted that readers would never want to give up the good ole newspaper for the web. How wrong they were.

Newspapers who were in the business for decades did not fathom that web writing was different. The same news story that was good in a newspaper was not good enough for the web. It had to be written differently as the web reader was different. The style and approach had to be different.

It was only after the emergence of Ajit Balaksrihnan's rediff.com that newspapers realized that every story had to be rewritten in web style if it had to make an impact. It had to be more racy and pacy and had to be short and crisp. As rediff.com had the style and the content, they starting attracting millions of eyeballs. It was one of the largest ever-read news websites in India. It was the hot favorite of NRI's who were almost addicted to it. It was their gateway to India. Rediff.com did not have a huge staff, but it had good reporters who constantly were on the move reporting from different corners in India. They were where the news was. They were there to analyze and dissect with their special reports and in-depth interviews.

Ajit was a great entrepreneur and an idealistic one at that. He encouraged good journalism and waited endlessly to make money. But suddenly, he and his website gave up good quality journalism for Page 3 stuff with reporters chasing film stars or reviewing films and everything else that the website earlier shunned. If the website had kept its resolve for a bit longer, it would have emerged as one of the best news websites in the world.

Other players came in scenting the opportunity. But they were not willing to hire separate editorial staff to go out and report. They just picked up agency copy or cannibalized their own reports from the reporters of the newspaper. Again, it did not work. But, of late, all of them are learning the hard way that they need exclusive staff, preferably young who can infuse it with a new energy.

News websites like ibnlive.com are today investing in making it a good business model and a good platform for supplying information as it happens and also promote the news channel, CNN-IBN. In the years to come, it will bloom.

Once the concept picks up of readers reading their paper on the net, modern new generation papers like Daily News and Analysis, more popularly known as DNA, will start charging if you want to read on their website.

Today, most newspapers, both English and Hindi have web editions. Even the vernacular press has moved on to the web increasing their clientele more than ever before. For example, a Malayalee sitting in New York or Dubai can access Malayalam Manorama sitting in his study. This would have sounded like science fiction just a few years ago. All the mainline Hindi newspapers now have active web editions.

News channels like Times Now and NDTV continuously invite you to visit their channels and post your views or react to their programmes. It makes good business sense to have a feel of the market and what it wants everyday. The interactivity also helps them connect to the web and feel a part of it.

India hopes to have almost 100 million Internet users by the end of 2008. International Internet portals like Yahoo and MSN have tied up with Indian content providers to reap the huge reader base that is increasing everyday. The web has arrived in India.
Web journalism is changing the way journalism is practiced. Journalists today are learning new technological tools that can help them operate on the web. They find the speed of the web fascinating as it gives them an edge to even beat television. And ofcourse, the magic of multimedia.

What is fascinating about the web is its ability to carry a multimedia story-with text, detailed boxes, still photographs, moving video pictures and sound. To top it all, it allows you to interact. The Internet therefore has empowered them to disseminate information and their views and comments to the entire world. It is something that the media had not done to ordinary people.

News websites like rediff.com now ask people to send in views on every story they carry. Some send in personal experiences, some send in photographs and have the joy of seeing it published. There is no barrier between the writer and the reader. In many ways, it is a revolution that is going to change the way news is delivered, read and assimilated.

The web has given voices space to grow. No wonder, blogs today are so popular and net savvy citizens spend so much time blogging their thoughts or reading other blogs.

Are bloggers journalists? Yes and No. If they are giving out information, they are as good as journalists. If they are writing a personal essay on the tragedy of how their dog was killed, it may not be classified as journalism. Editors now treat bloggers with respect as in the last few years; they have emerged with major news stories especially during disasters. The role-played by bloggers in spreading information, reaching help and rescue teams in the tsunami, Bhuj earthquake, Mumbai floods and communal riots in Gujarat were remarkable. Bloggers visited far-flung areas and brought the horrors alive with their web writing and were also instrumental in garnering relief and distributing it to those who needed it most.

But recognizing bloggers as journalists has been controversial. Los Angeles Times media critic David Shaw argued that bloggers should not be considered journalists because they have no experience, they have no editors, and they have no standards. Some blogs virtually became valuable alternatives to coverage by mainstream media that had vast resources on hand but no information that was so valuable in such a crisis.

Unlike television channels that are rapidly losing vision in their race for TRP's, bloggers are not killing themselves wanting to be the first to report. So they work on their content, weave in a personal element that makes it emphatic, and write hard-hitting stuff.

Bloggers and journalists can learn a lot from each other. Steve Outing writes inPoynter.org - an online resource for journalists brought out by the Poynter Institute, USA: 'Bloggers and mainstream journalists likely won't end up as twins, but perhaps cordial cousins." Steve points out that unpolished thoughts and unrefined commentary do have value in a lightning paced environment. Similarly, the importance of doing journalistic legwork, having a system of checks and balances, and keeping accuracy in focus can only serve to enhance the reputation of blogs, he adds.

Thank God for the boom that blogs and web journalism has seen. It holds out a candle of hope for journalism. Do not worry about the television channel that is showing you a man trying to bite a snake. Log on to the web and you will find that journalism all over the world is healthy, fit and fine.