Continuous slide-down
When His Holiness Calls It a Day
Are You Ready for Her Holiness?
Kashmir Imbroglio
The Magnificent Seven
Think it Through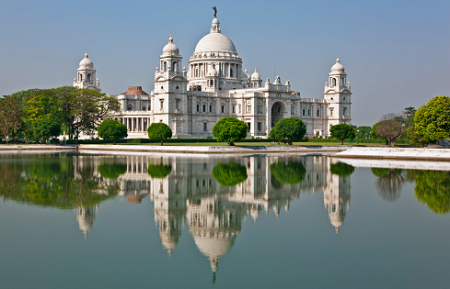 I landed in Calcutta – as Kolkata was then known and endearingly abbreviated as Cal – in early 1960's. It was almost a case of love at first sight. I stayed on for over three decades, living and working there. (Remember, Urdu poet Ghalib too had gone on a short visit to Calcutta and that lengthened into a couple of years. Later in life wrote a ghazal on the town.) I look back at those years nostalgically. However, I saw nothing but decline of what was once upon a time a magnificent city.

When did begin the decline of Bengal? Some trace it to the Partition while others ascribe it to the departure of Bidhan Babu in 1962. Perhaps, it started when the British decided to shift the capital from Calcutta to New Delhi in 1912. It is awfully difficult to pinpoint when it commenced. Only one thing is certain. It has been going on and on. You shudder to think where it would lead to.
There have, over the years, been many a false dawn. When the Communist took over in the 1977, people expected a new start of some sort. Their thirty-four years in power ruined almost all that was to be treasured in Bengali heritage. I've been a first-hand witness to that phase and support the thesis that Jyoti Basu will indeed go down in history as the destroyer of Bengal. Comrades went out of their way to dismantle everything from administration to industry to education. They completely bankrupted the State to build a formidable vote-bank. The militant trade unionism that they promoted ensured that nobody in his senses would ever think of putting shop in West Bengal. Skilled labor, of which Bengal was once a proud depository, migrated to other States. What continues around is what Karl Marx and Friedrich Engels called in The German Ideology, lumpenproletariat i.e., that layer of the working class which is completely lost to socially useful production.

Meanwhile, Calcutta in particular and Bengal in general, always has had its detractors. One of the bitterest of those who ran it down was that unabashed upholder of the white man's burden, Rudyard Kipling. He wrote a lurid description of Kolkata in The City of Dreadful Night, a title which he borrowed from the long poem of the Scottish poet James Thompson. Yes, the city does have its blind spots, but it has a soul and it exudes an indefinable warmth which you don't find anywhere else in the world, and that defines the Bengali way of life.

The only hope those days, as I recall, was Mamata Bannerjee who literally single-handedly challenged the Communist monolith. And her efforts were deemed to be a Don Quixote attacking windmills. Yet she nursed over the years her party, Trinamool Congress. It was indeed a miracle when in the 2011 she scored a landslide victory. Never has it been an easy task to oust the comrades once they've spread their tentacles. And she did dislodge them. A rare political feat indeed!

That was truly historic and a unique chance to make a grand new beginning. Unfortunately, however, it has been most literally a case of the god that failed. She is an extremely poor administrator – impetuous and whimsical. Often has she been grotesquely high-handedness in dealing with situations that called for maturity of outlook which she woefully lacks. Singlehandedly she has done to West Bengal in just a year what the two warring Begums across the border took nearly a decade to do.

Having literally forced the Tata Motors out, the last chance of the State to start a new journey to industrialize itself is lost irretrievably. That leaves the State to wallow in the backwaters of stagnation.

What does the future hold for West Bengal and its people? Pessimists are aplenty. I'm not one of them. Personally, I'm convinced that a State that produced Ramakrishna and Vivekananda and Tagore cannot just wither away. Some branches of the old banyan tree are blessed with, what biologists call aerial prop roots that grow over time into thick trunks which take over from the main trunk. The old tree may die, but in its place stands another mighty one. When would that happen? You and I may not live to see it. But it will one day.
When His Holiness Calls It a Day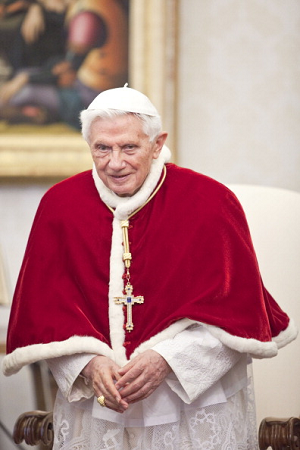 His Holiness the Pope Benedict XVI is dead right. To effectively shepherd the flock of 1.3 billion faithful at 85 as the Vicar of Christ is too forbidding a task. Hence, the decision of His Holiness to step down to live a quiet and relaxed life as a Cardinal till he gets the call from St. Peter.

Only a veteran of the caliber of Morarji-bhai could make a bid in his early eighties to lead a rudderless democracy like ours. But he was physically fit like a fiddle thanks to his unique therapy. (Don't ask me to name it.) But not his Holiness. How could he in his frail state reconcile, moreover, to the weird ways of the world which is endorsing – banish the thought – gay marriages and ordaining of woman priests. So on the Catholic feast day of Our Lady of Lourdes – can anyone enlighten me about the total number of feast days in the Catholic Church? – he sent forth the bolt from the blue by his announcement. There are now leaks of the pontiff's personal correspondence hinting at machinations connected with the papal resignation.

His reign was severely criticized by the Church for not addressing vigorously the issue of pedophile priests who had sexually abused children by taking advantage of their ecumenical position.

Christianity is unique in so far it has an anointed hierarchical priesthood almost rigidly structured like sprawling Indian babudom Judaism is content to have the Rabbis to guide the faithful; Islam has Mullahs who have no anointed status and provide a butt of ridicule for the imbibers. I'm told by my Zoroastrian friends that the institution of Ayatollahs in Shia Islam is an adaptation from Zoroastrian class of Dasturs.

It was Jesus who unwittingly laid the foundation of the organized Church by asking Simon to act as a rock to build a faith for the salvation of mankind. I don't know if mankind has achieved salvation but the Church has provided slots of promotion for those who claim to work for yours and mine.

I wish (and pray too) that our politicians take a leaf from the book of Papacy to think of stepping down when their physical upkeep becomes too burdensome for the taxpayers.
Are You Ready for Her Holiness?
Hold your breath and possibly keep holding it till you finish reading this snippet. Pope Benedict XVI indeed showed great courage in accepting the infirmities of age. Hence, his decision to quit looking after his flock. Here's a startling suggestion from Washington Post columnist E J Dionne that the College of Cardinals should select a nun as the next pontiff. Isn't it like getting dropped by a providential parachute at the winning post without taking a step in the race?

Can you imagine this happening? First it is the Cardinals who alone collectively decide the next Pope. Will the all-male celibate priesthood which still resists the idea of ordaining women as priests, concur with such a drastic step?

The argument put forward is that Catholics are profoundly devoted to the Virgin Mary who, Pope Benedict's predecessor declared, "sustains the spiritual life of us all, and encourages us, even in suffering, to have faith and hope." Taking their cue from the great work Mother Teresa did, the Cardinals should go in for a nun to set a precedent.

In moments of crisis – and certainly the Catholic Church is facing one – we all tend to get sentimental and look for the healing touch. Didn't we do the same mistake when Lal Bahadur Shastri died and elected Mrs. Indira Gandhi to lead us? What price have we paid and still are paying. You may call me a male chauvinist pig, but my advice to the electors of the next Bishop of Rome is to steer clear of sentiments in their selection.
Assign a task to Home Minister AK Shinde and rest assured that he'll, without fail, make a mess of it. He has once again proved that.

Incessantly needled by Modi and others in Opposition, the Government finally decided – or was it forced to – act in the long-pending case of Afzal Guru. Pranab-da keen to earn a place in the Guinness Book of Records for turning down so many pending mercy petitions in the first six months of his tenure, decided to act. The job of hanging a confirmed terrorist was finally over.

That wasn't the end of the affair for Shinde. He, like the proverbial Laurel-Hardy team, must make a mess. He chose to send a letter to Guru's family to inform them by Speed Post which is just a trifle faster than snail pace. Why not be more graceful. Give his family a chance to meet him for the last time? Even a tyrant of Zia's caliber let the Bhutto family meet his bête noir.

Now what on earth do our Kashmiri friends want? Whose spokesman is the J&K chief minister Omar Abdullah? Of the State? Or, the separatists in the Valley financed very liberally by Pakistan? Moreover what did they expect? Should the Government have honored Guru by conferring a Padma Vibhushan for his heroic deed? One only wishes before the five policemen died defending the Members of Parliament a dozen odd representatives of people should have been shot dead by the terrorists for the Government to realize what it means to be indecisive about things and keep the so-called Kashmir problem hanging for over sixty years.
Scholars tell me there are some 400,000 words in the English language. Semi-literates like me manage life with the knowledge of a couple of thousand. There're, I'm told, seven – only seven – you can't say on television. What a ratio that is! 399,993 to 7. They must really be really bad, very, very baaaad – outrageous enough to be separated from a group that large.

You know the seven, don't ya? That you can't say on TV? Shit, piss, f*** et al. The third acquired some semblance of acceptance after Penguin Books, UK dared publish it in DH Lawrence's Lady Chatterley's Lover.

I may not live to see the day in your life time when the group of seven will be passé. By then perhaps another lot may be declared unacceptable.
"Research published in the journal Sleep suggests that sleeping longer can markedly improve physical performance," says BBC News. "When Stanford University's male basketball team was asked to sleep for 10 hours a night for around six weeks, their shooting accuracy improved by 9 per cent. The study at the U.S. University found that getting enough sleep and rest was as important as training and diet for elite athletes."

Images (c) Gettyimages.com