Consider this. With the French intervention in the Saharan nation of Mali, the international media went into frenzy. As the French forces marched tanks into ancient towns like Timbuktu liberating the country from Islamic terrorism, the world wondered what vested economic interests France had in its former colony. France aids Mali in millions of dollars every year, an estimated $60 million in 2008 and in exchange receives trade benefits on gold, cotton and cattle. But surprisingly, the European nation is nowhere close to Mali's biggest trade partner – China.

On 1st October, 1949, while India was in the process of finalizing its constitution, Mao Tse-Tung's China was a Republic that day. Nearly 60 years later, it stands way ahead of India competing strongly against the USA and the European Union for economic control of the world markets. To support its bulging economy the Chinese government had to look at investments outside their borders. China's economy growth stood at 9.6% in the financial year of 2010-11 and an increasing population cramped the country for natural resources. The government has begun to look at Africa as the prime avenue to satisfy their commercial interests.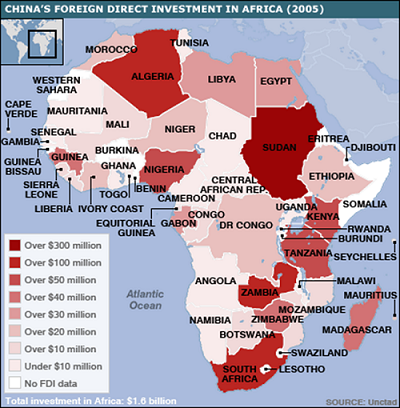 Take Chinese activity in Africa. Trade with Africa (that includes all African countries) was (US) $3 billion in 1995, $55b in 2006, and $107b in 2008, the balance being in Africa's favour. What does that mean? It means that China was importing oil and raw materials, and exporting a combination of machinery, infrastructure, and (cheap) consumer goods. In fact, in 2009, oil, gas, and minerals accounted for 86% of all African exports to China. By partial comparison, oil accounted for 88% of all US imports from Africa in 2008. In reference to Mali, the country exported 31% of its exports, a net worth of $350 million (World Bank figures) to China. Of these exports, oil and gold comprised two-thirds of the entire balance.

The Chinese investment in Africa was possible due to two prime reasons:
Declining Influential power of USA
The US maintained its status quo of being radical dominators of the world markets for the better part of the 20th century. With the war on terror being the primary agenda from the turn of the new millennium, America focused more on countries that have provided less internal resistance. Expeditions in Somalia and Nigeria yielded negative results as the Battle of Mogadishu exploited the US Army's inability to tactically overcome hostile militia. Instead, the Pentagon focused its attention to countries that had internal strife which would serve as an inlet – Iraq and Afghanistan.

Professor Yehuda Bauer of the Hebrew University of Jerusalem and a member of the Genocide Prevention Advisory Network, says that the US was no longer the only superpower in the world. The current economic depression hit the West. China is one of the countries which suffered rather mildly. But it is not only the US and China, but also a number of countries and groups of countries that have become meaningful players on the global scene: India, Germany, South Africa, Iran, Turkey, the Arab League and so on. The world's emphasis on looking at the White House as an arbiter of world affairs is mistaken, although the US certainly is the first among equals, and therefore is crucially important.

It allowed China to approach weaker economies of Africa to tap into their potential oil fields. The turmoil surrounding the waters of the South China Sea continues to elude the mainland of unlimited supply of oil; hence its gaze is on Africa. To cover its insatiable want for oil, it ensured that other goods were also imported. It imports iron ore from Guinea, cotton from Burkina Faso and is constructing railways all over the country to facilitate its own trade. China is also operates its largest uranium mine in Niger where it is constructing an airport and drilling for oil. This has stark reminiscence of the British Raj in India.
Strategic Foreign Policies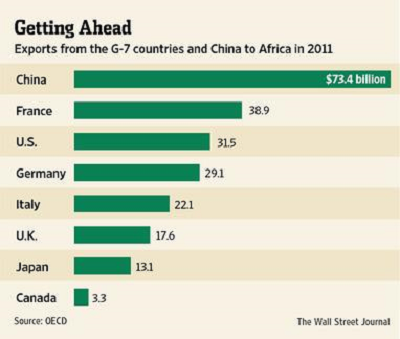 Mali was the first instance that exposed China's advantage when a foreign nation invades its former colony under the pretence of overthrowing military rule. The French military bases all over Mali, in a way, protect the Chinese interest from falling to Islamic militants. It has similar "protection" in France's other former colonies of Niger and Chad, who continue to receive military aid.

The Chinese foreign policy aims to penetrate countries that have proven to be more hostile. It is notable, for example, that China is not yet one of the supporting countries for the Extractive Industries Transparency Initiative (EITI), an initiative to promote transparency and accountability in the governance of natural resources. This would make compulsory for all oil related transactions to be made open to international audiences, a move that China is reluctant to participate in.

Oil is an expensive commodity and is therefore prey to rampant corruption. China has cunningly adopted a 'rule and let rule' framework. It chose to operate smartly maintaining coordinal relations with troubled countries without interfering in their politics.

The common factor in most of the African nations that transact in oil with the Chinese is the presence of a corrupt government or ruling mafia lords. From its extraction to production, oil is far more technical and pricey than say, diamonds. Scores of fields in Angola and Sierra Leone contain thousands of exploited Africans. The Chinese are not concerned about these humanitarian issues. After all, violation of human rights is common back home. There is no need to occupy foreign lands physically; in fact this would be counter-productive. For China, local corruption matters little. Oil, gas, and minerals matter more. Low interest rates and lost loans are small change for full support by the exploited countries of Chinese policies globally.
Concerns over China's Trade with Africa
The most important concern over the Chinese trade techniques with corrupt and unstable governments in Africa are humanitarian issues. Oil and mining are not labour intensive industries. So while natural resources may create impressive headline growth figures, they do not necessarily translate into widespread job creation. The big investments are all consumed by the elite governing the economy. There is minimal trickle down to the general public.

China's blatant interest to benefit the common populous of most of the Sub-Saharan countries is being raised all over the Western Media. The New York Times submitted a report explaining how China invested in over 20 of the poorest countries in Africa reaping virtually no public benefits. The Chinese demand for oil and minerals have degraded the potential demand for other traditional export items.

South African and Angolan textile industries have failed to attract investments and run out of funds inevitably leading to loss of employment. This is flirting with danger. African governments are known to be overthrown every other day and China should understand the importance of winning the public's empathy. Civil wars and revolutions like the Arab Spring are the last thing they need.

Secondly, the declining involvement of the US and its allies in trade routes all over the globe may finally signal China to protect its own economic interests. This would mean China would have to create lily-pads of their own in hostile nations like Niger and South Sudan. This would greatly compromise the resident governments of their stronghold over the region. China's army rank among the best in the world and it would ensure effective protection of oil fields and uranium mines. The problem arises if these governments appear to be reluctant in allow Chinese forces within their territory. A stand-off looks eminent.

The make of China's policies puts it more like a cross between Imperial India and modern day USA. The people of India realized the great economic drain of wealth and chucked the Brits away for good, while USA made some eyebrow raising deals with powerful people in Iraq and Saudi Arabia, only for it to backfire.

The dragon may well be breathing fire out of Africa's resources, but its negligence of some critical factors may point towards a smoky future. In a dog-bite-dog world, the fatter dog may produce the strongest bite, but it cannot run away from the impounders. Its greed will lead to its downfall.