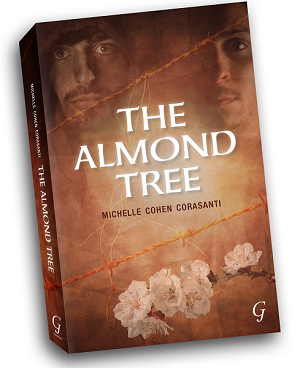 "Humanity is greater than any religion in the world." This is true in the context of Michelle Cohen Corasanti, who though being a Jewish has depicted the sufferings of Palestinians and the atrocities of the Jews in her novel, The Almond Tree.

Being a Jewish American, Michelle has BA from Hebrew University in Jerusalem and a MA from Harvard University, both in Middle Eastern Studies. Gifted with intelligence, she also holds a law degree. She has lived in many countries like France, Spain, Egypt and England. She has spent seven years living in Israel, so she is a close witness of Israel- Palestinian issue. She herself has experienced the situation hence she is able to pen down it in a very realistic way. Currently she is living in New York with her family.
The protagonist of the novel, The Almond Tree is Ichmad Hamid and the story revolves around him and his family. Author has depicted his life, his struggle against a tyrannical rule, his patience, courage, determination, killing instinct and the ability to win against all odds and adverse situation in a very realistic way. His story is a source of inspiration for all those people who are let down by the problems and hardships of life.

The novel opens with a mischievous child playful act leading to her painful death which affects the whole family. In this way the beginning of the novel has a very painful and pathetic scene. Ichmad had a happy life with his parents, brothers and sisters till the age of seven. They owned a big house with a beautiful garden where his mother has planted colourful flowers whose smells surrounded the atmosphere when wind blew.

But one day more than dozen soldiers came and took away everything from them. They fenced their land and home with barbed wire and they were forced to leave their ancestral place. After the loss of their possession they started living in a mud-brick hut that was smaller than their chicken coop but it was their fate to live in there.
His father was once very rich and owned Oranges grove which was owned by his family from generations. He was able to sold his oranges in the entire Middle-East and Europe but after the invader came, he was not allowed to sell it outside the village and his market shrank to just some thousand villagers. From a young age, Ichmad was very diffirent from the other boys of his village. His brother Abbas was very social and had many friends but he was not like him. Abbas and other boys of the village idolised Jamal Abdul Nasser, Egyptian President, who stood openly against Israel and was championing Arab nationalism and Palestinian cause. He was a hero for them but for Ichmad, it was Albert Einstein, the great scientist. His brother, Abbas always played games and running outside with his friends all the day but he was a reader, a thinker and didn't compete with the athleticism of his brother.

His father worked in construction, building houses for the Jewish settlers, which was not liked by the people of their village. Many of them refused to build houses for the Jews on the razed Palestinian villages and others because of Israeli policy of 'Hebrew labour': Jews only hired Jews. Many boys at school use to say bad things about his father working for the Jews.

It was his twelfth birthday which brought a great disaster and misfortune to the family. A day before his birthday, he heard some footsteps outside his house which he mistook that of thief. Getting worried about the stealing of food which his mother and sister, Nadia has worked hard to prepare and his father has saved all year to buy, he came out of the house to check it. But it was Ali, an extremist who wanted liberty from the Jewish rule by the help of gun. He terrified him and hid the weapons in the dirt and told him not to tell anybody, not even his father. Being scared about his family's death, he did not tell his father but it was big mistake committed by him leading to the arrest of his father on ground of terrorism. Two weeks later, soldiers came again and pour tear into their house, killing his younger sister, Sara and their house was set on fire.
After his father was sent to prison, he had a very hard and rigorous life. Being the eldest son of the family it was his duty to work for their livelihood. His brother, Abbas also joined him in his hardship and they both worked very hard to survive. And this struggle of the protagonist and his brother, Abbas is depicted by the author in a very pathetic that anybody who reads the book will feel compassionate for them.

Though Abbas helped his brother in his struggle, but a time came when he left him, it was so because he decided to marry Nora, a Jew. Being a Jew she was fully concerned about the sufferings of the Palestinian people as she was true humanist. It was this quality of her that inspired Ichmad to marry her. She sacrificed her life in saving Ichmad's house from being bulldozed by the Israeli army.
Although sufferings so much in the hands of Jews, still his father didn't have a bad opinion about them and this was the foundation which made the character of Ichmad. He learned the lesson of peace, equality and humanity from his father which served to make him a good human being. And throughout his life, Ichmad worked together with his Jews friends and teacher irrespective of the conflict existing in his part of the world. And the result was that he won the Noble prize for Physics with his teacher Professor Sharon.

In Ichmad's life, the role of Teacher Mohammad is that of a Godfather. It was he who convinced him to study after his work and gave him tuitions. He benefitted him by motivating him to pass scholarship examination and further it was he, who was responsible for his admission in the Hebrew University. He always inspired and counselled him whenever he needed his advice. And it was Ichmad's father also who always guided his son on the right path of progress and development though his mother, Um Ichmad and his brother always protested against his decision. Later on, his mother realised that Ichmad was right in his way. Even at the end of the novel we see Abbas also praising his brother for his deeds. So it was the guidance both from his father and Teacher Mohammad that he brought pride to his family and people.
To give it a native touch and make it interesting the novelist has used many Arabic and Hebrew words viz, baklava (3), kaffiyah (7), moshav (13), charishma (19), paraffin, herbalist (21), funchsia (23), hummus, taboulie, Sheikh El Mahshi (31), pita, zatar, laban (39), Ilhamdillah (54), semolina (59), katayif (77), Allahu Akbar, falafel (78), baba ghanouj (125), kepah (129), kiriyah (144), loubia al zeit (150), kanafi (151), sahlab (198), kaftan (239), dabkeh (252) Pitzizah (255), Shalom Acshav (258), kallaj (295).

Through this novel Michelle has highlighted many problems of the Palestinian people as the people from Ichmad's village were not allowed to dig deeper wells although they were the native people. And they complained that the new people diverted the water from their village by digging deeper wells. They had barely enough water to drink and the new people were swimming in it. There were lands filled with olive trees but they all have become barren because the Jews have planted landmines into them.

Michelle has adopted a humanistic approach to the Israeli-Palestinian problem as though being a Jew; she has depicted the sufferings of the Palestinian people and the atrocities committed by the Jews in the novel. This is what, Taslima Nasreen says: 'let humanism be the other name of religion.' This book is an eye-opener for those people who are not aware of the sufferings of the Palestinian people. But she has also given a message that Palestinian and Israeli can work together for the upliftment of humanity.

It is a very good and interesting novel which spellbound the reader whoever reads it. Anybody reading it will mesmerise by the quality of narration and depiction of each and every incident by the author. It is a semi-historic novel and is recommendable for all the lover of English literature.
Michelle Cohen Corasanti, The Almond Tree. UK: Garnet Publishing. 2012. ISBN: 9781859643297. Pages 348