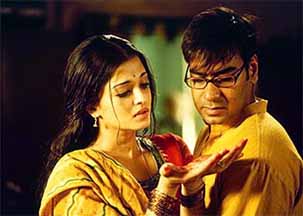 'Let it be said that of all who give gifts, these two were the wisest", wrote O. Henry in his classic story The Gift of Magi. And after seeing Rituparno Ghosh's Raincoat, he definitely would have been impressed. For Raincoat is "a chronicle of two foolish children in a flat who most unwisely sacrificed for each other, their greatest treasures.'

Manoj (Ajay Devgan), an out of work, miserable middle-class guy, arrives in Calcutta one rainy afternoon, to desperately borrow some money from his friends so that he can set up his own business. In the city, he is keen to see his village sweetheart Niru (Aishwariya Rai), who is now married to a wealthy city man.
In a borrowed raincoat, he arrives at Niru's house. The afternoon encounter is beautiful, gloomy and gray, punctuated with well-lit and colorful flashbacks and pregnant pauses that say much more than words. Two estranged lovers, reminiscing about their love story, each pretending to the other how fine their life has turned out. Niru regaling Manoj with tales of her lavish lifestyle after marriage, and her affluent standards of living. And Manoj, with an air of self-assured entrepreneur, tries to impress upon her the details of his successful career as a TV producer.
There's no repressal of feelings or smoldering love anymore. Just subtle anguish floating.
Flowing in nostalgia, both of them share memories and falsehoods. Gradually the truth about their true circumstances starts emerging. Things unsaid find a silent language of their own.

The plot is set beautifully inside the sitting room of a gloomy house, cluttered with antique furniture, shrouded by darkness echoing with melancholy. The exceedingly delicate play of light adds to the gloomy look of the house. The spiritual compositions by Debjyoti Mishra beautifully compliments the sad tale of unrequited love.

Raincoat teaches us what love actually should be and it teaches the lesson through the selfless acts of the two protagonists. Ajay Devgan as Manoj is brilliant. Withdrawn and beaten, he portrays beautifully the embarrassment and hesitation when he desperately asks for money from his friends. He finds it humiliating enough to cry in the bathroom, truly a very touching performance.

Aishwarya again showcases her acting skills. Though at times the effort to sound rustic shows and the pronunciation of some English words flows smoothly, her makeup less somewhat bleary look clicks. The way she carries herself and her unkempt looks shows her apparent disinterest in herself. The drawly tone gives the sound of a bored housewife. This withered persona contrasts sharply with her glamorous roles in other movies.