Continued from "ATHULYA - Wealth From Waste"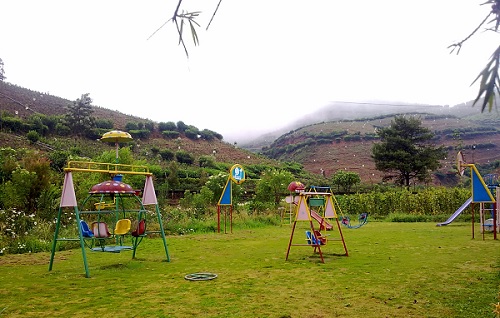 Under Srishti Welfare's wide umbrella are a few more projects besides DARE, Strawberry Preserve Unit, Aranya and Athulya.
The Deli
If you are in Munnar and are assaulted by delicious aromas wafting to your nostrils, you are in the vicinity of the deli – the bakery and confectionery unit that from 2009 has been filling a void felt by the tourists and people of the town and tea estates.

Inaugurated by Mr. Ratan Tata, it is a project managed and run by speech impaired and physically challenged persons. It's emblem has three open palms, denoting Tata Housing which constructed the present building with its well equipped kitchen and state-of-the-art machinery; Hotel Taj President responsible for the training and technical know-how of the employees; and Tata Global Beverages Ltd. for financial support.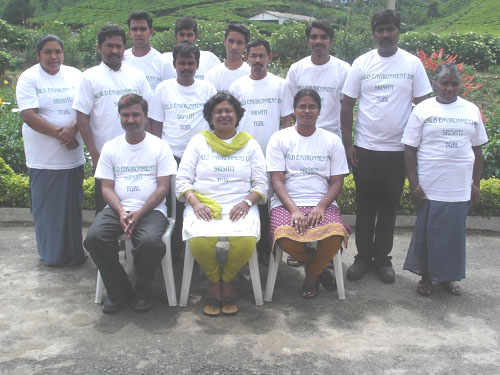 Four boys, three hearing impaired and one physically challenged, were specially trained under Taj Hotels' award winning chef – Ananda Solomon. He taught these talented young youths to conjure up a wide assortment of tempting cookies, melt-in-the-mouth pastries, yummy cakes, different varieties of bread, enticing tarts, crunchy puffs& samosas, lip-smacking chocolate doughnuts, kathi rolls, biryani, pizza…and a whole lot more of delectable baked goodies. They are also into making chocolates not to forget their hot beverages. I am a huge fan of the honey walnut tarts. And Chef Solomon is mighty pleased with his hard-working, gifted protégés. Quality is a habit with them.

Today, the Taj Malabar sends students from catering institute here for apprenticeship.
This premium merchandise is not only scrumptious; it is competitively priced and made from the finest raw material under absolute hygienic conditions. The bakery has been certified by HACCP - hazard analysis and critical control point. TGBL's , in-charge of quality control, Mr. Kalyan Raman, also pays surprise visits to ensure that all food safety measures are adhered to.

Over the years the bakery has developed a solid base of clients from the town's people to hotels, resorts and the almost round the year flow of tourists. It operates from three more outlets besides the shop in its building. The Kurinji Bakery Outlet in Old Munnar, a second opposite the Tea Museum and another from the company outlet of KDHP, making it very convenient for all customers.
Creche & Canteen
Ms. Krupa Masoji also took us to the crèche for the tiny tots of the employees. It is a room with two electric heaters mounted on the wall and three cloth cribs hanging from strong steel springs. Ms. Girija Shivshanker in charge of the crèche, kitchen and garden informed us that the kids are given milk and biscuits and taken proper care of while their mothers are at work in the different units of the complex. There is also a class for the slightly older children, where they are prepared for entry into LKG and SKG of mainstream schools. An added attraction for the children is a play park on the premises.

All the employees are provided with wholesome lunch at subsidized rates, from the kitchen which uses home-grown vegetables. Every place is spick and span, a loud and clear wordless declaration of the diligent attention to sanitation and hygiene.
The Garden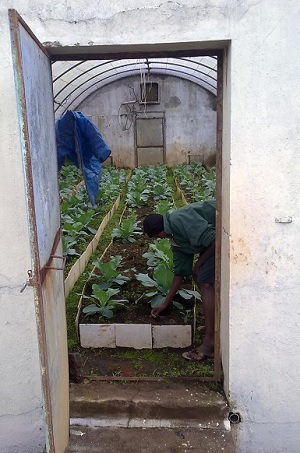 Last but not the least is the superb garden – flowers, fruits, vegetables – maintained under the guidance and supervision of Ms. Girija. There are huge vegetable sheds for cauliflower, cabbage and all kinds of vegetables. Apart from being used in the kitchens of the complex, they are sold outside. The lack of strawberries from other sources has seen a bed specially laid for the fruit so that the strawberry unit can have a steady supply. The flower garden has constantly won awards in competitions and is truly a sight to behold.

Most importantly, all the workers here are mentally challenged. Difficult to contain in closed rooms they do extraordinary work out in the open.

In this field too, they take advice and help from experienced hands and agricultural colleges. To excel in any undertaking is the motto that inspires every unit of Srishti.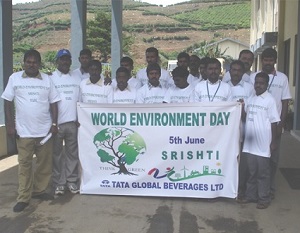 This year they celebrated World Environment Day with great fanfare. There were talks and slides explaining environment and conservation to the employees and families. To increase awareness in the general public they distributed pamphlets in English, Tamil and Malayalam in Munnar town. The event was covered by the local press.

Every lady mentioned in these articles, took one name with respect and great admiration – that of Ms. Ratna Krishna Kumar, as the motivating and untiring force behind all.

"In every community there is work to be done. In every nation, there are wounds to heal. In every heart there is power to do it," says Marianne Williamson. Institutes like Srishti pave the way and bring out in other hearts the power to do good. With their vision, virtues and courage to heal they take us into a new dimension of being, while their specially-abled young people celebrate the intrepidity of the human spirit.