Boy, oh Boy
Asexual Escapades of Our Leaders
You're What You Eat
Mind Your Language
Old Wounds Don't Heal Easily
Think it Through
Boy, oh Boy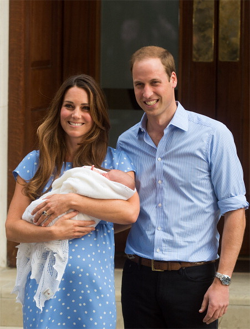 So, the 'Great Kate Wait' I referred to last week, is over. And ranging from highbrows like the Guardian and New York Times to the read – in-the-tube – and – leave-it-there dailies featured prominently the arrival of Prince William and Kate Middleton's baby, now named George Alexander Louis. The front page treatment it got is generally reserved for great calamities, national disasters and the Taliban suicide bravadoes.

The question that intrigues me is why on earth the whole world is enamored of British monarchy - a fascinating anachronism. The British taxpayers maintain it because it is an unfailing tourist attraction and, along with Scotch whisky, boosts British balance of payments. Why on earth are Americans so interested in it? First and foremost, it is because of the guilt of disowning a mad King way back in 1776. Then, remember it was for the sake of an American divorcée from Baltimore that Edward VIII abdicated the throne. It was perhaps Diana who with her bulimia and mid-night confessional interviews that converted the Windsors into a firm of über-celebrities with their discreet stories of frequent adulteries and divorces.

Last, but not least, reason is that Commonwealth dominions find the arrangement economical: they accept the Queen as the head of State for whose maintenance, not their citizens, but the British taxpayers pay.

Whatever may happen to the other monarchies of Europe, England at least is assured of heirs to the throne till the twenty-first century runs its course out. Meanwhile, Elizabeth II is all set to hang on till the marriage of the new born. Are you ready to wait for that?
Asexual Escapades of Our Leaders
I'm almost certain when Alex Von Tunzelmann wrote Indian Summer: The Secret History of the End of an Empire, she kept in mind the film version of her narrative about Nehru-Edwina liaison. One day, her dream, I'm sure will come true. I may not be around to see the movie.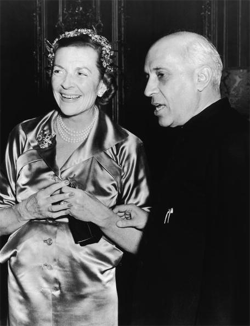 You know there're always two sets of reasons: the official and the real. The recession was offered as the official cause of death of the film project "Indian Summer", the Universal production exploring the intriguing relationship between Jawaharlal Nehru and Edwina Mountbatten. Perhaps one day it will be shot once the cast, budget and script are in place, and we will be mature enough to accept that our dear leaders were human beings endowed with human instincts.

Our sarkar, however, is ageless and changeless and it will keep trying to inflict the death of four cuts on the script – no kissing, no dancing, no declarations of love and, of course, no bedroom scenes. The last is the garam masala of the curry. In fact, neither Jawaharlal not Edwina ever shared – officially that is – anyone's bed. It is another matter that should someone drop in unexpectedly, he or she has to be accommodated for the night. You understand that.

It is further confirmed, officially of course, that Nehru never kissed anyone. He is reported to have loathed dancing. Aurangzeb was his ideal in matters of love. He, therefore, must have heartily endorsed the idea of retaining the name of that obnoxious emperor for the famous road of Lutyen's City.

Of course the film, if and when made, will have a thumping categorical disclaimer stating that "Indian Summer" is, like Vidya Balan's "Dirty Picture" entirely a work of fiction. And fiction is not at all subject to the tyranny of facts.

There is, of course, no public evidence of a physical relationship between Nehru and Edwina. Those who have had the privilege of reading the correspondence between them – I regrettably, am not one of them – confirm that. In fact, did they at all need it in their unique Platonic affair? However, should you compel a filmmaker to declare that his work is fictional you give him the license to make up torrid scenes featuring a prominent mem and the Chacha of the Nation in compromising postures. Don't forget it's fiction – go back read the disclaimer at the beginning.

We must all unite to defend our public figures from foreign filmmakers – all out to defame our beloved leaders. Recently, an Argentinean – Pablo Cesar is his name – had the temerity to propose a film on the relationship between Gurudev Rabindranath Tagore and his muse Victoria Ocampo, a writer and editor in Buenos Aires. The Internet is abuzz with scandalous stories. Even the great and the good among us have burnt their fingers daring to touch Tagore's personal life. A foreign devil filmmaker will be incinerated.

But why are we so defensive? Our film censor board was once headed by Sharmila Tagore, the original Indian bikini babe whose cover image for a film magazine marked the arrival of the modern heroine in the 1960s. Anyway, the cure for an inappropriate film is not the censor's scissors but the viewer's thumb pointing down. And the viewer always votes fearlessly and maturely with his wallet.
Every language has certain omnibus words carrying a vast array of meanings. In Hindi and many other Sanskrit-derived languages the word khana meaning to eat has several layers of meaning. Of course you eat food and many other things. Rishwat khana is bribe taking and hawa khana is having a walk in open air.

This multiplicity of meanings has led a restaurant owner in Parel, Mumbai in trouble. He had the temerity to print on his menu card the following:
"As per UPA government eating money (2G, coal, CWG scam) is a necessity and eating food in AC restaurants is a luxury, and hence taxable."
Come to think of it, the statement cannot be faulted with. But no, this wasn't palatable to the loyal Congress workers. They forced the owner to put shutters down. How could eating bribe be equated with eating food.
Whether they themselves can or not, the Brits are keen to ensure that the immigrants that land up on their soil speak a language that has some semblance to the language of the Authorized Version of the Bible and, of course, William Shakespeare. You'll recall years ago the BBC mounted a program called Mind Your Language to make foreigners like the Poles, Hungarians and Ugandans and Sikhs to learn to speak their tongue. (We had a Hindi version of it done with great aplomb by Pankaj Kapoor. It was called Zuban Sambhal Ke.)

Congress vice-president Rahul Baba has, I hear, delivered a stern message to party spokespersons: Don't go beyond the party-drawn Lakshman Rekha and keep the political debate both dignified and decent. Speaking to a Party workshop he prescribed some do's and don'ts of oral communication. The best of course is to read from written text – written of course by hired hacks – as Mummyji does and following her exalted example, he too.

But then the hirelings of Modi and company taunt that Congress leaders are poor communicators who cannot face an audience. I understand some foreign experts are being engaged to devise methods that as they read they appear to be addressing the audience, of which there's no dearth thanks to rent-a-crowd techniques that Indiraji bequeathed.

He also urged his party spokesmen to speak in one language and to "effectively counter lies with truth and facts". Now the first task is so easy to accomplish. Let there be one standard text to be used by everyone. For the second, a few lessons are being arranged how to distinguish truth from falsehood by a compulsory course based on Orwell's novels – Animal Farm and 1984.
"It's important to recognize that the African-American community is looking at this issue through a set of experiences and a history that doesn't go away." It's not that heretic Narendra Modi thundering! It is Barrack Obama on the cold-blooded shooting of the 17-year-old unarmed black teen in Florida in February last year.

The white killer said he opened fire on the teenager in self-defense. Isn't the very sight of a black a threat? And he was acquitted of murder by a Florida court.

If you've any doubts about the real plight of the blacks in American society, I strongly recommend you read a new study, Invisible Men: Mass Incarceration and the Myth of Black Progress. It's by Becky Pettit, a professor of sociology at the University of Washington.

On the day Barack Obama was inaugurated in 2009, Pettit tells us, "there was hope that perhaps the U.S. was becoming a post-racial society." But it wasn't true then, and it's not true now. The gap between blacks and whites remains wide in employment, income, wealth, and health. The country's first African-American president hasn't done much for African-Americans nor could he nor would the whites allow it for a very long, long time to come.

By renaming day-before-yesterday's niggers to yesterday's negroes to today's blacks, the injustices done to a community for centuries cannot be wished away.
Henri Matisse, the impressionist French painter said:
"Truth and reality in art do not arise until you no longer understand what you are doing."
All truly great artistic expressions emerge from the unknown which Ghalib called gaib:
aatey hain gaib se yeh muzamein khayal mein
(These ideas come to me from some inner hidden depths ….)

Do you think there's any other source?
Images (c) Gettyimages.com