Yes I think it was a deluge after all. The continuous rains of Kolkata for the past few days did send a deluge in my life and in my heart.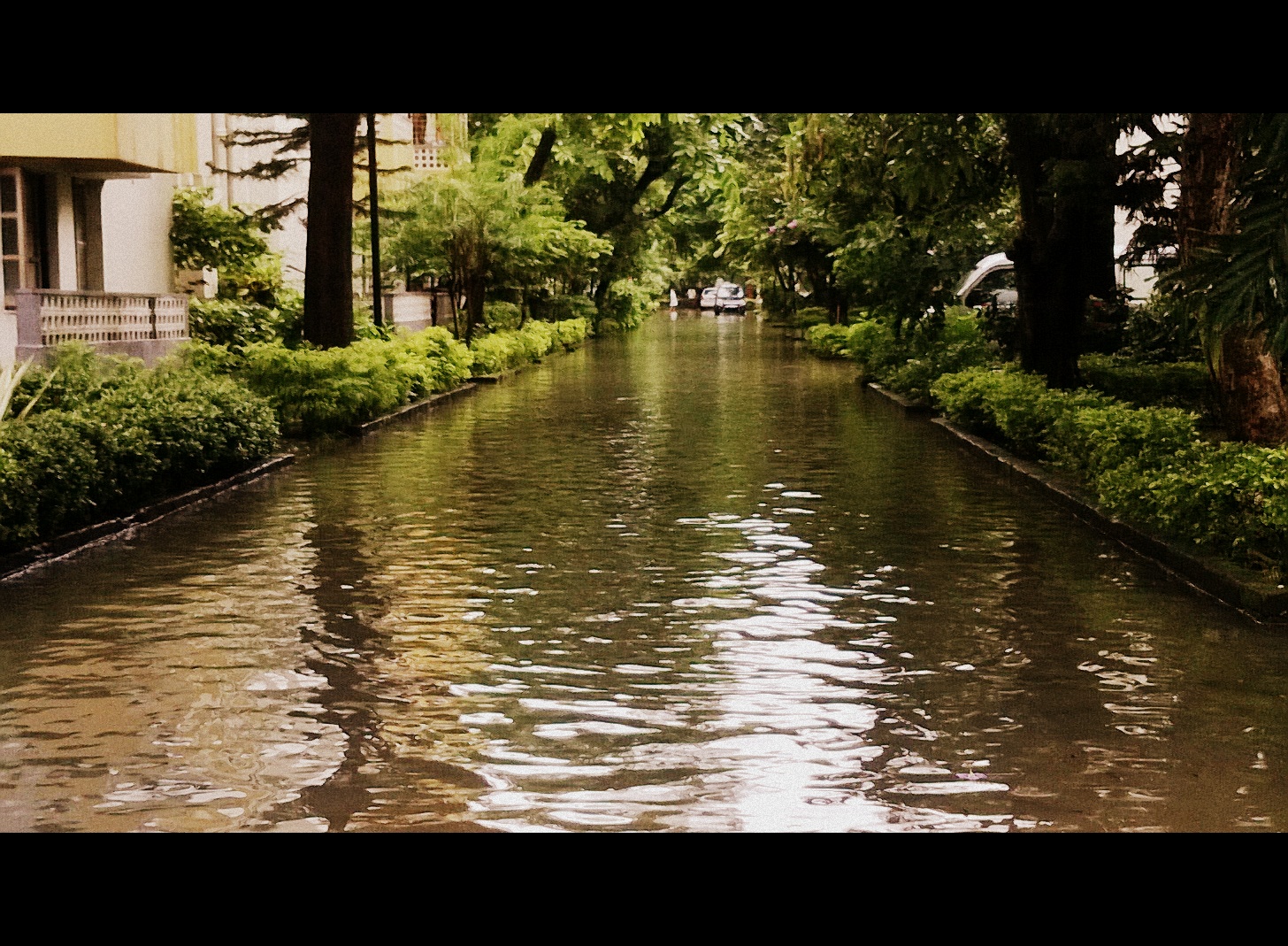 Well, you can say at first glance from the pictures that it was the torrential rains or the water logged lanes that brought it in, however after reading this, you will realize that it was a deluge of both happiness and sadness flowing not in those lanes, but throbbing in my heart.

The feeling of water flowing on my bare legs, while walking on the lane in front of my house pitiably waterlogged that day, sent in some mixed feelings in my heart. At first wading through the water, I felt like the kindergarten child again, hoping for a rainy-day off at school. When my flip flop tried to float away from me, I again felt like the awkward high-school girl, trying to wade in a puddle to reach her friend's house in the neighborhood, while ensuring frantically that her flip-flops stick on to her feet and not float off.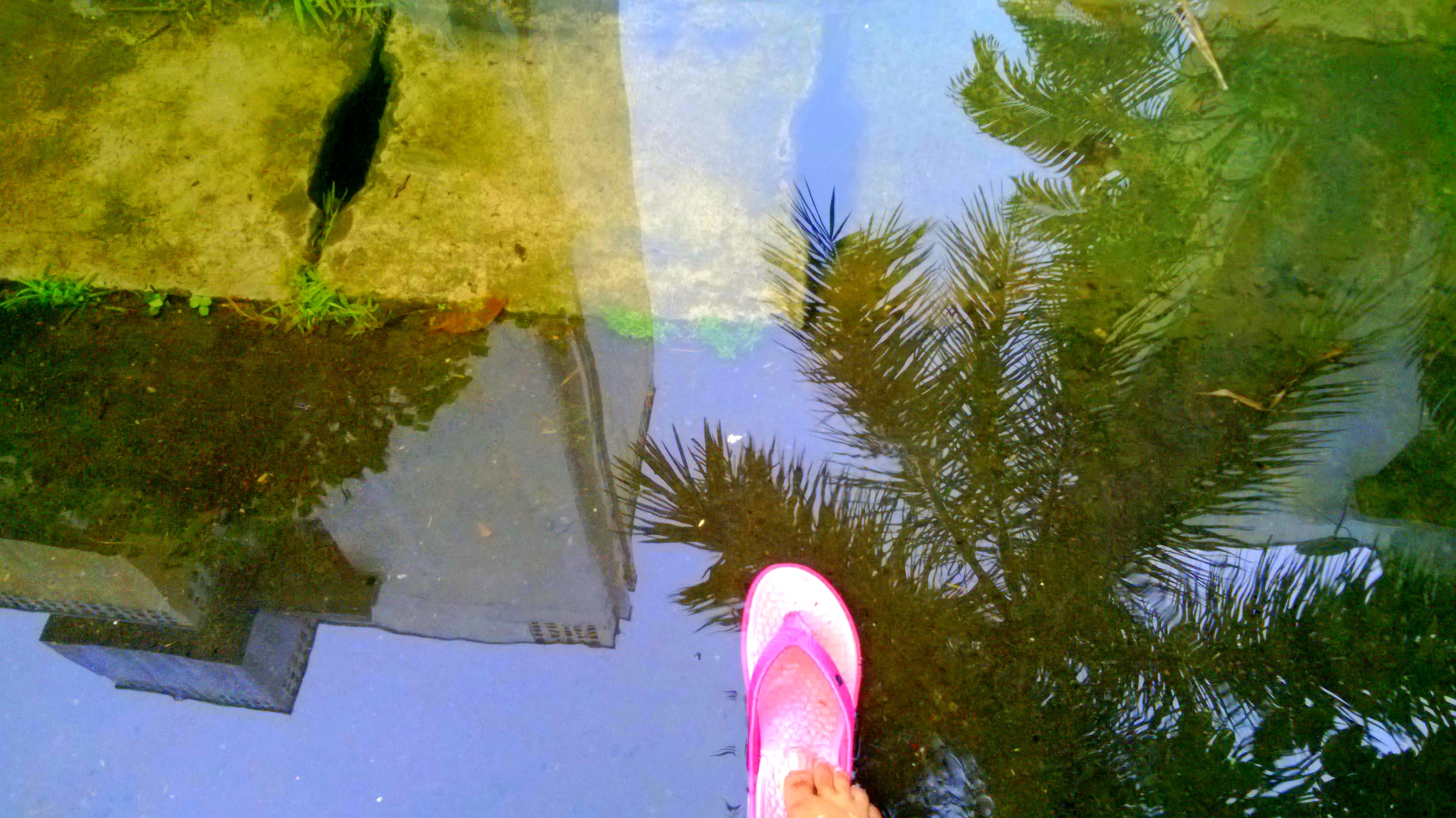 I felt like that light hearted college girl who enjoyed those watery roads in front of her university with all her friends, and would laugh with joy at the tickling feeling of waves in her thighs when a cycle seemed to struggle pass by with its balancing act in the water. So thus happily I walked, quite enjoying the look of impatience on the faces of the office goers. My sense of amusement and pity was heightened towards them as they were not able to feel the fresh air on their face, nor were they able to fill in the sweet air in their lungs; and this was not so due to lack of nature's bounty, but actually due to the illogical rush in their lives.

Lost in my own pleasant thoughts, I slowly and aimlessly kept wading in. The air smelt fresh with the water all around, the trees looked a deeper shade of green and faces of the children splashing looked a notch brighter. The gurgling ripples in the water sounded exhilarating and strangely relaxing. After a while I was now tired of walking in the water, and bored of my feelings of elation became quite disinterested in the surroundings. I turned to wade back to the warmth of my home. Caught quite unawares, as sudden as the Bengal rains, my boredom sent my thoughts shooting out in another direction. I abruptly felt a wave of gratitude fill my lungs and a pear shaped water drop fill my eye. I had this vision of flood ravaged countryside with farmers losing their whole year's produce, losing their small huts and cattle to devastating forces of nature. I envisioned the recent mass scale damage in one of the upper Himalayan states due to the wild floods - those homeless children, fighting for their lives against deathly diarrhea, those helpless men and women slowly dying of the rot and hunger brought in by the floods, those lost souls trying to stay afloat and alive perching themselves on branches of trees, while dead dilapidated bodies of cattle and humans float by on sewage filled septic water.

That's when I realized that thoroughly enjoying one's gifts and privileges is not evil, as long as one has a deep sense of understanding for the not-too-privileged section of the society. As long as the sensibility and sensitivity dwells in a dark recess in one's heart, the mind will be illuminated with the acknowledgement of the struggles that the underprivileged face in their daily lives. That small speck of illumination in one's heart, combined with similar tiny illumination in every other person's heart is all that is needed to sensitize society towards a common cause. And that moment, while wading back to the warm comfort of my home, I vowed to myself to effortlessly work for the one cause that is worth fighting for – the right to basic dignity of life for all living beings.