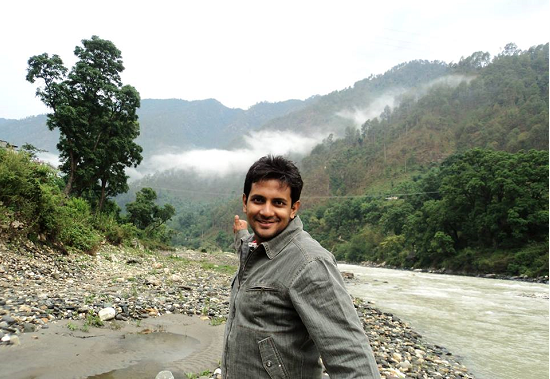 CEO & Founder at the The Writer Quotient, Author of four novels; That Thing Called Love, The Captain, Of Love and Politics & The Edge of Desire. He was also a Scriptwriter of the famous Zee TV show, 'Afsar Bitiya. He was recently intereviewed by this writer:
Shamenaz: Tell me about your life, career and your inclination towards writing?

Tuhin: I think I always had a flair for writing from my school days. I did well in the essay contests in school. But in those days nobody dreamt of pursuing a career as writer.

Shamenaz: Which Indian or Western writer u like most?

Tuhin: Milan Kundera, Mohshin Hamid, Manju Kapoor , Ramchandra Guha among others.

Shamenaz: Are you inspired by any writer?

Tuhin: Nobody in particular.

Shamenaz: Did you ever dreamed of becoming a writer?

Tuhin: No

Shamenaz: What was the response of your family towards your writing in early days of your career?

Tuhin: They were supportive.

Shamenaz: 'That Thing Called Love' is your maiden novel, what response you got from the people after its release?

Tuhin: 'That Thing Called Love' picked up gradually through strong word of mouth publicity. I think people loved the fact that it was an unconventional love story with an unexpected end. They could relate with the dilemmas the characters in the book were going through.

Shamenaz: Your novel, 'The Edge of Desire' reminds me of the movies of 70's and 80's, do you agree with this?

Tuhin: I don't. About the only movie from 70s it might appear similar to is Aandhi.

Shamenaz: What inspired you to write a novel based on strong womanhood?

Tuhin: I feel ashamed as an Indian when every second or third day I end up reading about a rape incident on the front page of the newspaper. I felt it was my social responsibility to deal with issue through my writing and present a story about empowerment of women.

Shamenaz: The character of Shruti Ranjan in 'The Edge of Desire' is an example of strong womanhood but we see the condition of women in India is not as good as there are lots of security problems, what is your opinion about it?

Tuhin: If half our population does not feel secure, it does not speak well about our society. I feel the government must explore stringent steps like chemical castration to curb crimes again women. Having said that, mental conditioning of men has an equally crucial role to play in curbing these crimes.

Shamenaz: How you have developed such a character as of Shruti Ranjan?

Tuhin: I feel I am extremely fortunate to have been blessed with a tremendous ability to imagine different situations and characters.

Shamenaz: What kind of research did you do before writing the book?

Tuhin: I spoke to women activists who have been dealing with rape victims and studied the legal and social issues surrounding rape in India. Besides, I did lots of online research.

Shamenaz: So far you have written four novels, which one is close to your heart?

Tuhin: The Edge Of Desire

Shamenaz: You were also associated with the serial, 'Afsar Bitiya', tell me ur experience about it?

Tuhin: Afsar Bitiya was again about women empowerment and set in a small town in Bihar. I co-write the screenplay and greatly enjoyed the experience.

Shamenaz: So, you are also a scriptwriter, what is the difference between writing a script for television and writing a novel?

Tuhin: Writing a script is largely a collaborative effort; hence the sense of belonging is less. A book on the other hand is entirely my creation. The level of satisfaction is much higher.

Shamenaz: Are you interested in writing in other forms of English literature rather than novel?

Tuhin: Yes...I will be exploring non-fiction narrative as well, in future.

Shamenaz: What should be the quality of a good novelist?

Tuhin: Observation, imagination, patience and lots of discipline.

Shamenaz: Any message you want to give to your fans?

Tuhin: Thanks for your unflinching support. Believe in your abilities and be honest to yourself.