Names of Poison
Crocodile Tears
Welcome Back
Let's All Sing Hosanna
His Master's Way
Lies and Lies
Just lay off Sweets
Think it Through
It was Lord Acton, the moralist historian, who famously bequeathed the oft-quoted axiom about the nature of power. In a letter to Bishop Creighton in 1887, he wrote: "Power tends to corrupt, and absolute power corrupts absolutely. Great men are almost always bad men." It is a profound aphorism that had has been much discussed since. And I've advisedly italicized tends to because it is invariably omitted in most citations.

Lord Acton, however, didn't know of a type of power that India's self-proclaimed Ruling Dynasty has developed and refined almost to perfection. It is absolute power with no accountability whatever. It is a unique brand of power that obtains in our country alone. Need I tell you who invented and perfected it? Of course, you know it. That is our beloved Congress President and Chairman of the Coordination Committee of the second incarnation of the ruling United Progressive Alliance which is unwaveringly united in looting the county under the garb of progressive programs and policies.

We now learn that of late Soniaji has done a great deal of reflection after reading everything her great Italian mentor called Niccolo Machiavelli wrote about the nature of power. His works are popularly believed to have contributed to the modern negative connotations of the words politics and politician. The adjective Machiavellian has become a pejorative term describing someone who aims to deceive and manipulate others for personal advantage.

Soniaji, however, has reached the profound conclusion that political philosophers will debate over years to come. And it is power is poison. She didn't say deadly but surely implied it. She turned to Bhagwat Puran in search of a solution how to handle poison.

The Churning of the Ocean of Milk tells the story of the search for the elixir of immortality, amrita, by the gods in order to restore their waning strength. When finally amrita was discovered, with it was also found vish i.e., deadly poison. Shiva volunteered to swallow it but didn't let it go down his gullet. Hence, he is called Neelkanth.

Retaining the amrita of power, Soniaji passed the vish to Manmohan Singh who like the legendary Shiva is not letting it go down his system. So, the public believes. That's how, meanwhile, the poison of power is being handled.
Prince Charming is now taking seriously the demands of his calling as a politician. I'm sure he must have been advised to read very carefully the "Friends, Romans and Countrymen" oration of Mark Antony to learn the art of winning the crowd over. If you want a proof, take his most recent exercise in winning friends and influencing people.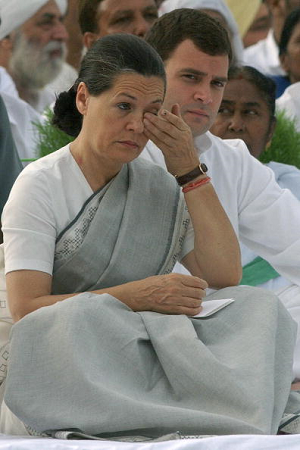 Striking a very personal note, the 42-year-old Yuvraj, reading his maiden address as party vice-president at the AICC Jaipur session, recalled the moments when his mother and Congress chief Sonia Gandhi walked into his room. "She sat with me and she cried... because she understands that power so many people seek is actually a poison."

He told how his grandmother was killed. "My father was in Bengal and he came back.... It was the first time in my life that I saw my father crying. He was the bravest person I knew and yet I saw him cry. I could see...I was small, but I could see my father was broken. They had taken away his mother and he was broken."

Then he played the trump card. He said Congress is the symbol of hope. Remember Mark Antony showing the crowd the so-called will of Caesar?

Rahul Baba concluded: "Congress party is now my life; people of India are my life. I will fight for people of India and for this party. I will fight with everything that I have."

Being a sentimental person I was myself moved to tears to read the story, especially Soniaji crying. But then a friend of mine, a veteran of many decades, asked me bluntly: "Haven't you heard of the expression crocodile tears?" Unfortunately, I had. The idiom is said to be derived from the ancient belief that crocodiles shed a tear or two in order to lure their prey. According to some other experts, they cry for their victims as they devour them. Shakespeare, obviously, had been fed on these legends when he said in Othello (Act IV, Scene i), a reference that has repeated in several of his plays:
O devil, devil!
If that the earth could teem with woman's tears,
Each drop she falls would prove a crocodile.
Out of my sight!
I don't know whom to believe: the mother and son or the Bard who knew the world and its ways. Do you?
If you're a TV watcher you must be quite familiar with the stock announcement "welcome, back" that anchors make after agonizing minutes of wait, watching one boring commercial after another. Thank God, the hero and heroine are back after a few agonizing minutes of absence.

Precisely, this was the reaction after the return in UP Vidhan Sabha of the veteran – though controversial as all veterans are – independent legislator Raghuraj Pratap Singh aka or rather ( b)etter ( k)nown (a)s Raja Bhaiyya as Hon'be Minister in the Akhilesh Yadav Ministry. He was away for seven months in another 5-star lodging – euphemistically called jail – for his alleged role in the murder – that common sport of politicians – of a senior police officer in his home district Pratapgarh who didn't fit in the scheme of things. Yadavs must have hosted a very private "at home" in honor of the return of a dear comrade-in–arm.
After speaking his mind – thank the Lord he's blessed with one – against the proposed ordinance to protect criminals in politics, Rahul Baba is bending as backwards as his trunk allows to praise Prime Minister Manmohan Singh after Mummyji told him 'Don't you upset the apple, son. The next crop looks bleak'

Let's all join and sing Hoshana – well that's the original Hebrew Thanksgiving and I'm a bit of Jew. Blessed are we to have a Prime Minister for ten years with a very assured place in history as the very worst specimen the world could ever have of a public functionary.
Press reports tell us more than half the dogs in America, like its citizens, are overweight, giving rise to diet and exercise programs at kennels and pet spas.

An American friend of mine has a fat dachshund. She has been in at least to three fitness programs. She runs on the treadmill. She swims in a lap pool. Her trainers shout encouragement. And although her target weight still eludes her, Lolita – that's her name – remains optimistic, smiling gamely during her workout and snacking on carrots thereafter.

If only her legs weren't so short.

More than half of American dogs are overweight, according to the Association for Pet Obesity Prevention, an organization founded by a veterinarian to draw attention to the problem. And in dogs, as in people, extra weight is linked to diabetes, arthritis and high blood pressure as well as kidney and respiratory diseases.

Reducing calorie intake is part of the solution, veterinarians and pet behaviorists say. But diet without exercise isn't enough. So dogs have been hitting the gyms for fitness programs along with their masters around the country.

Do you know of any survey of the weight problem of our rich dog-owners?
"Lies – damn lies – and statistics," we have all heard before. But who said it for the first time.

The quotation is often attributed to Benjamin Disraeli, the 19th century British Prime Minister. The source for this view is the autobiography of Mark Twain, where he makes that attribution. Nevertheless, no version of this quotation has been found in any of Disraeli's published works or letters.

But does it really matter who's the real author? Isn't it a truism?
There is hardly a house without cockroaches. That our Parliament House has the most is another story. Experts tell me there are some 4500 species of cockroaches but four of them are widely known. Interestingly, they are called American Cockroach, German Cockroach, Asian Cockroach, and Oriental Cockroach. The largest in size, in fitness of things, is the American variety - some 30 mm long.

"Everyone knows that cockroaches are the ultimate survivors, with enough evolutionary tricks up their [sleeve] to have thrived for 350 million years and to have completely adapted to the human species," tells us the New York Times. "A detailed research study has answered the secret of their survival. Some populations of cockroaches evolved a simple, highly effective defence against sweet-tasting poison baits: They switched their internal chemistry around so that glucose, a form of sugar that is a sweet come-hither to countless forms of life, tastes bitter."

Can we learn a lesson or two from this?
The French philosopher Andre Gide unwittingly spelled out Pakistan's dilemma: "It is easier to lead men to combat, stirring up their passion, than to restrain them and direct them toward the patient labors of peace."

Can you sell it to Pakistani leadership?