VVB Rama Rao
The Bumpy Ride
New Delhi: Gnosis. 2010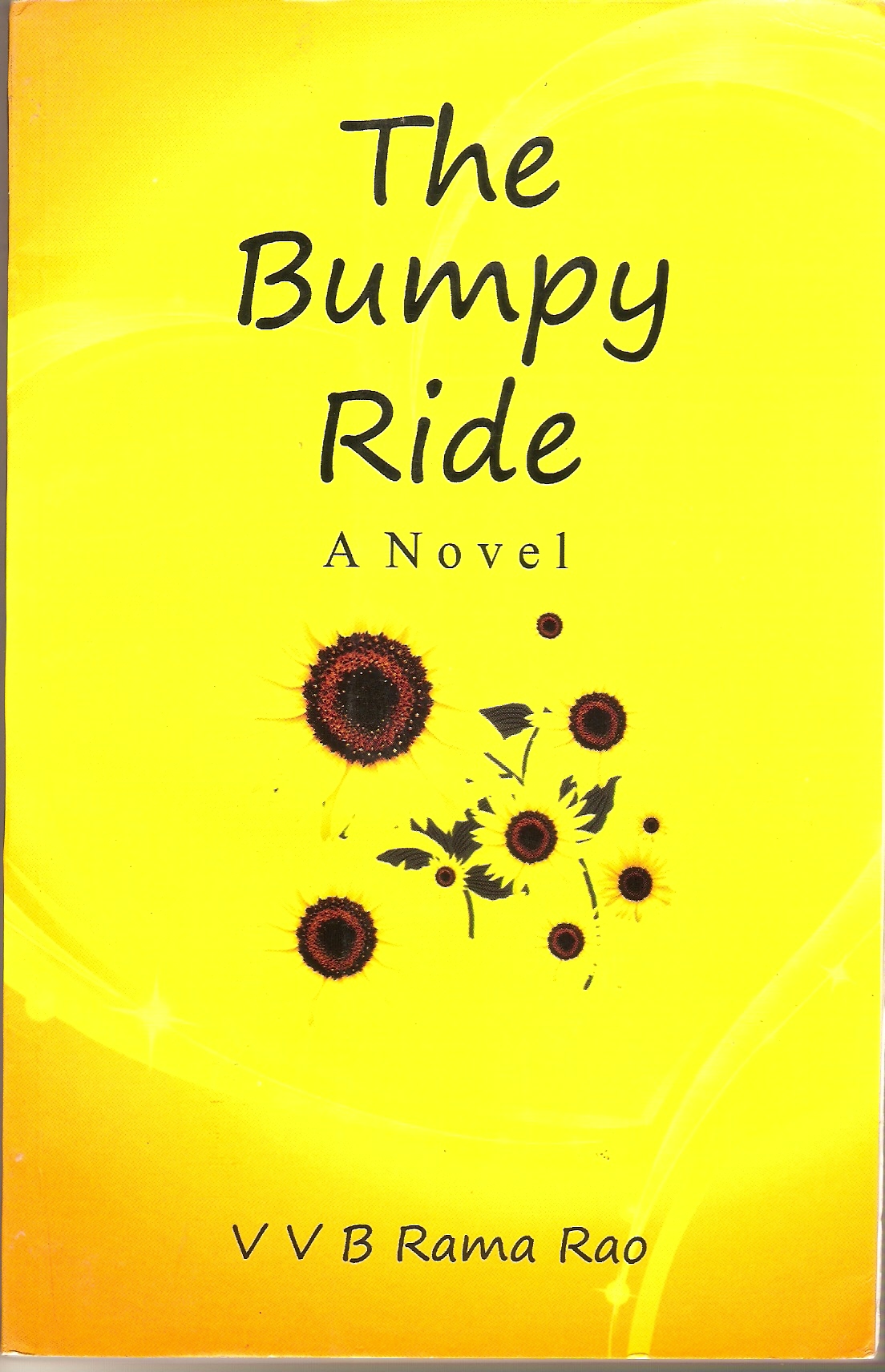 Pp 184 | Rs 175
ISBN 978-81-8465-230-7

A ride that is bumpy and smooth
The Bumpy R
ide is
a skein of several tangles and complex inter-personal relationships with curious - and sometimes unpredictable - psychological interplay. This novel is one more creation from the pen of VVB Rama Rao, a versatile and prolific writer, poet, translator, critic and academic with over 50 publications to his credit.

A synopsis of the plot would help us to appreciate the finer aspects invo
lved, and so here it is:
Kaundinya, the protagonist takes over as the principal of a private degree college in a village with an ideal of developing it and raising its overall standards. The college was set up by Dhananjay, a business magnate,
whose headquarters is in Ahmedabad. He visits the village whenever found necessary. He owns large tracts of landed property in around the village. He founded the college not only to benefit the students in the vicinity who couldn't afford to go to towns but also to please his daughter Devi, who incidentally is an English teacher at the same college. Of course, she teaches on her own terms.

Dhananjay gives full powers to Kaundinya with a liberal budget, and the latter soon proves his administrative abilities and vastly improves the matters to the satisfaction of everyone concerned. With due tact and
firmness, he nips in the bud an agitation brewed by the boarders. He succeeds even bringing the moody and intractable Devi around. Mary, Devi's friend & companion since childhood, is also a co-teacher. Kaundinya gets close to Mary, drawn by her manners and musical talent. She cautions him not to be so straightforward as to displease Dhananjay and Devi lest he should go the way of an earlier principal and a lecturer who had to quit or be fired. Kaundinya digs into the past records and realises that the earlier principal and the lecturer weren't in the wrong. The trait of efficiency and idealism in Kaundinya is perhaps an autobiographic streak from the writer – an English teacher and principal himself.

All of them live on the campus but in different guesthouses or quarters, and Dhananjay will, naturally, have to deal and interact with Devi also. With her he develops a sort of blow-hot, blow-cold relationship. His attention is divided between Devi and Mary, sometimes even threatening to clash. The story so far is a smooth ride. But now we gain an impression that Kaundinya's educational idealism takes a backseat
– as he gets entangled with Devi and Mary more and more – in what could be seen as double-dealing. The triangle gets complicated, and then on it's a bumpy ride.

There are other interludes as well. Kaundinya's sister Vasanthi, doing her PhD, gets into love with one Madhav, also a doctoral student. Kaundinya has reservations about the affair since Madhav, though of good character, comes of a poor rural family. But the same Kaundinya is chronically prejudiced against the rich – as is found in his conversation with his brother-in-law Vidyadhara Murty and his talk about Devi. Vasanthi visits her brother and she and Devi become instant friends; and whenever there is a tiff between Kaundinya and Devi, Vasanthi supports Devi.

Kaundinya acts as mother and teacher of Dolly, a motherless child and daughter of Vidyadhara Murty; but the relationship is hidden from Dolly, for reasons... Well, better probe them yourself.
The background of Dhananjay and the way he had married Pankajam get unravelled, as the plot unfolds. Similarly, there are unknown aspects of Devi and Mary which eventually surface.
Time I stopped here from revealing more lest it should kill your interest in the story.

The story through its characters imparts quite a few lessons such as:
Money can't get you everything; but some money is needed to make life comfortable.

There are honest and good among both the rich and the poor. Even people in financial straits have a sense of self respect and keep their character – as in the case of Manjula and her mother.

Romantic imagination of poverty and its dignity and heroism is differe
nt from actually going through it, especially as a reaction of blind hatred for the rich.

In business, once you get there, it chases you. See what Dhananjay says: "the more I was falling, the higher I was going up in the world of business. The more I hated myself the richer and richer I was becoming."
We are also treated to truisms like:
"Wisdom lies in drawing from the essence of other people's experience."

How one becomes a slave of circumstances.

How the highly sensitive are prone to suffer, be misunderstood, and even be blamed or ill-treated with no attempt to empathise with them.

Now a little bit of analysis of characterisation and other critical aspects.
Kaundinya betrays his prejudice against the rich, yet he chooses to be the principal of a college owned by a tycoon – whereas Vidyadhara Murty and Mary display maturity and balance on this point. Though essentially a man of principles, Kaundinya, at times, tends to be argumentative and self-righteous. He talks of human understanding but is unduly harsh to a character who is suffering from a tragedy and trauma.

The charges of deception against Pankajam and egotism against Devi are not either established or sufficiently established. It also appears that Devi is more wronged against than wronging.

VVB Rama Rao, the novelist, needs to be congratulated on successfully putting together a multilayered plot which suggests that "Sensibility alone can uphold, maintain and preserve delicate human relationships" (Introduction). Predicated on "High ideals, delicate sensibilities, subtle motives and complex characters" that go to make "the warp and woof of thoughtful fiction" (ibid), the story certainly provides a stimulating reading. It is hoped that the next edition of this nice novel comes out with better copy-editing.