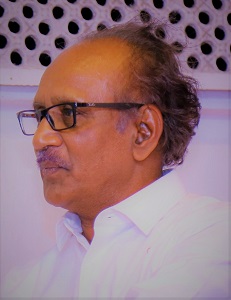 U Atreya Sarma is a poet, freelance editor, book-reviewer and translator. His poems and writings (articles, editorials, reviews, forewords, translations) mostly in English and a sprinkling in Telugu – have appeared in various print/online media and anthologies. A freelance editor since Jan 1997, he is Chief Editor of the Muse India e-journal (www.museindia.com) since Nov 2016, having joined its team since Nov 2009; he was Editor (Fiction) up to Mar-Apr 2017 issue; he handled its News & Events column also up to Sep 2017; and continues to handle Reviews and Telugu Literature sections. His past editorship includes Bharatiya Pragna monthly and Cyberhood weekly. He is the official critic of Metverse Muse, an international journal of metrical poetry from Visakhapatnam; and is on the Advisory Board of
Teesta: An International Journal of Poetry.

As Contributing Editor (Telugu Literature), he has so far presented four exhaustive features on Telugu Literature in Muse India. He composed in English the profiles of 132 modern Telugu Stalwarts for the bilingual book Marapuraani Maanikyaalu (2010) (with wordy & pictorial sketches in Telugu by BNIM, a noted writer & artist).


Atreya Sarma has edited 11 books: (1) Celebrating Creativity: HLF 2010 (An anthology of poems/ short stories by 76 writers); (2) Souvenir: HLF 2010; (3) Lung Care and Long Life by Dr Shyam Sunder Raj (2012); (4) Memoirs & Musings of an IAS Officer by KV Natarajan, IAS (Retd) (Menaka Prakashan, 2013); (5) Turquoise Tulips (a collection of short stories) by the USA-based Dr Ashok Patwari (Authors Press 2015); (6) Prolegomena and Transformative Articles on Literary Translation by Dr VVB Rama Rao (Authors Press, 2015); (7) Femininity: Poetic Endeavours (Authors Press, 2016); (8) 'Oka prasthaanam' (translated into Telugu by Varanasi Nagalakshmi of 'A Journey' a collection of poems rendered into English by Mantha Ravi from Narendra Modi's Gujarati original) (awaiting publication); (9) Poets Renowned and Poets Flourishing by Dr VVB Rama Rao (in press); (10) Robinhood of Chitrakoot & Other Stories (awaiting publication) by Dr Ashok Patwari; and (11) A fictional autobiography by Gian Singh Shatir (in the pipeline).


Atreya Sarma has translated 4 major books from Telugu into English. His translation of 16 Telugu short stories by a senior and prominent writer Dr Mallemala Venugopala Reddy under the title (1) Salt of the Earth (2013) has been acclaimed by reviewers. As a panellist, he has translated into English 6 out of 36 chapters of Jnan Pith awardee Viswanatha Satyanarayana's Telugu mega novel Veyipadagalu under the title (2) Thousand Hoods, under the aegis of the Hyderabad based Viswanatha Sahitee Peetham (2015). His English translation of 'Harisshva' Dornadula Kesi's unpublished Telugu manuscript has come out as (3)
Merciless Dark: The Mystery of the Eclipse Island
(Vol. 1 of the multiple volume 'Merciless Dark'
) (White Falcon, 2019). (4) my Sublime Saviour: An 'im'patient inpatient's coffee table memoir (editing, adapting & trans-creating of the unpublished Telugu original manuscript of Dr Kampalle Ravichandran -- awaiting publication). Apart from the above, he has translated many individual poems, short stories and articles from Telugu into English.
Atreya's first collection of English poems, Sunny Rain-n-Snow (2016) made it to the top three poetry collections shortlisted for the Cochin Litfest Poetry Prize 2019. Atreya Sarma had for over 5 years (Jun 2013 to Jul 2018) featured and encouraged poets through a weekly column 'Wordsmith' in The Hans India, a Hyderabad based English daily. He has also guest-edited a Feature 'India @ 70' for the Aug 2017 issue of Setu magazine (http://www.segumag.com/p/setu-home.html).

He holds an MA (English Litt), a PG Dip (Mass Communications & Telugu Translation Techniques), a BA (English Litt, Sanskrit Litt, History) and BSc (Botany, Zoology, Chemistry), and CAIIB (Part I) with mid-level managerial experience in SBI.

He is a recipient of two awards – 'Setu Award for Excellence 2017' (conferred by the Pittsburgh based Setu, a monthly bilingual online journal), and 'Shambhabi Samman 2019' for "outstanding contribution to literature" (conferred by Shambhabi: The Third Eye Imprint, Kolkata).


While his home base is Hyderabad, Atreya Sarma lives between Hyderabad and Bengaluru.


Email: atreyasarma@gmail.com