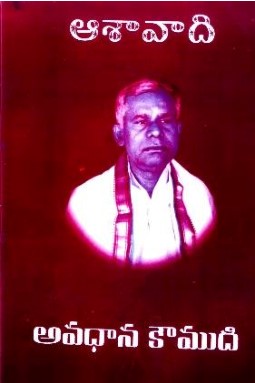 Heartiest congrats to Dr Prakasa Rao Asavadi, who has been conferred with Padma Shri for the year 2021 in the field of Literature & Education (Sl. No. 22 in the Press Note of Government of India, Ministry of Home Affairs). It's a befitting honour to a really deserving person. He has been my venerable literary friend for five years, though I had known about him much earlier. As his sincere & humble fan, I have been helping hin by nominating him in his as well as my name every year for the honour ever since 2017, and also helping him with self-nomination, and finally, it has fructified now. This is not to claim any credit for myself, for my role is only drafting, formatting, uploading, etc. Seeing that despite his literary and other distinctions, he was not being selected, some good souls must have duly put in a word about him to the selection committee. An SC (Madiga) gentleman, he hails from Penukonda, Anantapuram district of the backward Rayalaseema region of Andhra Pradesh. Thanks to the Narendra Modi-led union government, the nomination process has been made online and amenable to the commoners. My gratitude to everyone who has wished/ striven for this high national recognition to him.

By the way, another article of mine on Dr Asavadi titled "Dr Asavadi Prakasa Rao – A literary luminary with a fund of goodwill" had appeared at Boloji in November 2016. Click the link here.

I had also the privilege of chairing a session on 29 Jan 2017 at Guntakal, where a festschrift, Prakasa Pradeepanam, commemorating his 70th Birth anniversary was launched.

And below are the details, mutatis mutandis, of Dr Asavadi Prakasa Rao, as per the nomination sent.

CITATION

Coming from a poor Scheduled Caste in a remote village in Anantapur district of backward Rayalaseema, Andhra Pradesh, Dr Asavadi Prakasa Rao, by dint of his qualities of head and heart, overcame the disadvantages of his origin, and rose to admirable heights in the realms of literature, education and social service with a positive, eclectic, and harmonising attitude. Not one to believe in confrontation or negative rebelliousness, Dr Asavadi has imbibed the age-old and time-tested quintessential Indian cultural ethos aiming at universal peace and harmony. Refusing to be lured away from his original Hindu faith, he continues to propagate and live the Bharatiya Sanskara through his multifarious activities for over five decades.

Given to a life of simplicity, austerity and humility, he has been utilising his hard earned income and savings to propagate and rejuvenate Telugu and Sanskrit literatures, and popularise classical poetry for a healthy blend of tradition and modernity.

He has been extending a helping hand to needy cum meritorious students.

Founding, and helping found, literary associations at a number of places since 1970.

Distributing his own books free among interested with a view to inculcating the reading habit.

Encouraging and honing the literary skills of budding enthusiasts.

Helping old and unrecognised talented scholars get institutional pension or aid.

Publishing, and helping to publish, the books of talented but unrecognised writers by recommending institutional or philanthropic aid to them. Organising book launches for them.

Conducting unique literary plays like Bhuvana Vijayam, a unique and interactive poetic feat inspired by Sri Krishnadeva Raya, the Vijayanagara emperor cum patron of culture.

He has over a score of highly accomplished disciples.

Through the literary endowment of his family set up in 2009, he has been conferring awards to traditional and modern poets, women writers, and spiritualists irrespective of their caste or creed.

After post-graduating in Telugu, he served as a lecturer and then as a principal in Government degree colleges. As Principal, he implemented the government schemes concerned, in letter and spirit. Organised meetings to create awareness among the students about them.

His literary output comprises 60 books across various genres, Poetry, Extempore Poetry, Collection of Literary Essays, Translations, Monographs, Collection of Reviews covering 126 books, Biographies, Emendations, Commentaries, Anthologies, Collection of Forewords, Miscellaneous.

Out of the above oeuvre, 6 deserve a special mention, 3 out of which have been published by the TTD (Tiruamala Tirupati Devasthanam) which engaged him for the purpose.

1. Under the Bhagavatam Project, he rendered the 3rd Canto of Potana Bhagavatam into lucid prose. Published in 1986, ran into several reprints.

2. Emendation of the unpublished palm script Chellapillaraya Charitram, originally written by Tallapaka Annaya. It is the tale of Lord Balaji marrying Bibi Nanchari, with communal harmony as a message. Published in 1982, reprinted in 2009.

3. In 2016 under Brahmam Okkate series, he wrote Mala Dasari with commentary, the story of a pariah devotee of Lord Vishnu.

4. Desa Hitam Kosam Samaikyata Swaram, Tune of Unity for National Weal, published by Samajika Samarasata Vedika, Vijayawada in 2017.

5. Life History of Dr B R Ambedkar published by Mahabodhi Sahitya Vedika, Anantapur in 2018.

6. Viveka Puneeta Nivedita, Poetic work on Sister Nivedita. Published by Gowtharaju Sahitee Samiti, Hyderabad in 2019.

7. His prolific work coupled with social service has won him the Prestigious National Level Pragna Puraskar 2019 from Pragna Bharati, Hyderabad, a Forum of Nationalist Thinkers.

8. Being into academic, literary, social and spiritual service, he has delivered a host of talks, including 73 for AIR and Doordarshan with a thrust on traditional Indian culture and human values.

9. Conferred with D Litt Honoris Causa in 2000, when he was 56 years old, by the Potti Sreeramulu Telugu University, Hyderabad in recognition of his overall eminence and attainments.

10. Set up a home library with books on various subjects, for the benefit of researchers, with round the clock access, free board and lodge.

11. Installed and helped install statues as part of his commitment to immortalise the memory of great litterateurs. Of Sri Krishna Deva Raya. Of Puttaparti Narayanacharya, Padma Shri recipient and great polyglot litterateur. Of Dr BR Ambedkar.

All this he has done without pomp and glitter, but with simplicity and focus on the core of the missions undertaken. His above virtues are a rare combination found in a person from a downtrodden community.

In view of his role in social harmony, genuine merit, and spirit of literary and social service, his name was recommended for Padma Shri in 2012, 2014 and 2015 by the AP government. Thereafter since 2017 he is being nominated every year for Padma Shri either by others or by self.

SIGNIFICANT CONTRIBUTION/ ACHIEVEMENT

His most significant contribution toward social harmony is as Vice President, AP, Samajika Samarasata Foundation, a Forum for Social Harmony with a special focus on Hindu SCs. His service toward language, literature and culture on the plank of Indian traditional values, and his philanthropy has already been mentioned elsewhere.

One of his numerous literary works merits a special mention. It is an exegesis on Vairagya Sataka by Bhartrihari, which has received wide applause from scholars.

Besides the above, his academic services continue to be used by AP and Karnataka governments, TTD and IIIT.

AS EDUCATIONIST

During 2011 to 2015 he was editor, subject expert, book or lesson writer of Telugu texts for Classes V, VIII, X for AP Government SCERT. Lesson writer for Class X of Karnataka Government. For TTDs Sanatana Dharmika Vignana Exams. For the Optional subject of Andhra History for 4th Year Engineering Students, Rajiv Gandhi University of Knowledge Technologies, IIIT Idupulapaya.

By virtue of his varied services, competence, simplicity and integrity, he was nominated as member of Executive Council and Senate of SK University. Invited for American Telugu Association Conference 1996, and World Telugu Conference in Mauritius 2012, but could not attend. Shortlisted by AP government for high level appointments including Vice Chancellor in 1997, Chairman, AP Official Language Commission in 2002.

Recommended for Padma Shri by AP government in 2011, 2014 and 2015 and by Citizens from 2017 onward every year.

I. STATE-LEVEL (RECOGNITION/ FELICITATIONS)

Many awards received, but only 23 more prestigious are listed here.

1. Telugu Velugu Award, AP Social Welfare Dept, 1976.

2. AP Sahitya Akademi Silver Jubilee Felicitation, 1982.

3. Best Literary Treatise Award, Errana Peetham, Ongole, 1987.

4. Distinguished Teacher Award, AP Higher Education Dept, 1992.

5. Pratibha Puraskar, Telugu University, Hyderabad, 1995.

6. Sankranti Puraskar, Pushpagiri Maha Sansthanam Trust, Kadapa, 1999.

7. D Litt Honoris Causa, Potti Sreeramulu Telugu University, 2000.

8. Bhashabhigna Puraskar, AP Official Language Commission, 2001.

9. Gandhian Poet Award, AP Harijan Sevak Sangh, 2005.

10. Avadhana Shiromani Award, Lok Nayak Foundation, Visakhapatnam, 2007.

11. Kalaratna Award for Eminence from AP Culture Dept, 2012.

12. Sri Rama Navami Pratibha Puraskar, Sanatana Charitable Trust, Founder Sadguru Kandukuri Sivananda Murty, Secunderabad, 2013.

13. Distinguished Litterateur Award, Andhra Saraswata Parishat, Hyderabad, 2013.

14. Jashuva Best Poetry Award with a purse of Rs one lakh, Telugu Akademi, Hyderabad, 2013.

15. Kalaprapoorna Dr Paidi Lakshmaiah Memorial Literary Award by Rasamayi organisation, Hyderabad, 2014.

16. Sri Ramanuja Sahasrabdi Utsava felicitation by Jeer Integrated Vedic Academy, Hyderabad, 2016.

17. 'Padma Shri' Dr Jnananda Kavi Memorial Literary Award by Jyotsna Kalapeetham, Hyderabad, 2017.

18. Vilambi Ugadi Puraskaram by Sahitee Samakhya, Guntur, 2018.

19. Feted With Silver Crown By Srava Kavya Prachuranalu, Dhone, 2018.

20. Life Time Achievement Award, By Christian Sahitya Academy, Vijayawada, 2018.

21. 'Padma Bhushan' Gurram Jashuva Award By AP Govt, 2018.

22. Kopparapu Brothers Avadhana Award 2019.

23. Sri Katragadda Foundation Award (Pedapadu, West Godavari District, AP) for the poetry collection Samayikam, 2020, which by the way, has been dedicated to Atreya Sarma U, the writer of this article.

24. Rachana Sahitya Vedika (Kadapa) Gadiyaram Venkata Sesha Sastry Memorial Award for the Best Poetry Book Viveka Puneeta Nivedita, 2020.

UNIQUE TRADITIONAL FELICITATIONS

In 2008 at Penukonda (the summer residence of Sri Krishna Deva Raya), Dr Asavadi was honoured with Ganda Penderam (a golden anklet), a rare traditional honour accorded to literary legends. In 2014, he was feted with Kanakabhishekam (sprinkling with golden flowers) – another rare traditional recognition – by the Ksheera Sagara Sahiti Samiti (Hyderabad).

II. NATIONAL LEVEL RECOGNITIONS/FELICITATIONS

1. Feted as Balakavi, Teenage Poet, by Dr Radhakrishnan, the then President of India, at All India Veera Saiva Mahasabha, Srisailam 1963.

2. Pragna Puraskar 2019 by Pragna Bharati, Hyderabad, a forum of nationalist thinkers, for decades long distinguished contribution of a high order to Telugu literature covering various social, historical and literary subjects.

3. Dr Ambedkar Distinguished Service National Award 2018 by Bharatiya Dalit Sahitya Akademi.

4. Felicitated by All India Telugu Conference, Akhila Bharata Telugu Mahasabhalu, Berhampore, Orissa, 2011.

5. Smt Subhadra Kumari Chouhan Centenary Puraskar, Panipat, 2004.

6. Kota Punnaiah Memorial Gurram Jashuva Endowment Award by Bangalore University, 1996.

7. National Level Seminar held on Complete Works of Asavadi by KVR Govt Women's College, Kurnool, Feb 9 and 10, 2017 where over 40 papers were presented.

8. Papers presented at Andhra Samskritika Samiti, Hosur, Tamil Nadu on 22 Feb 1981 and on 17 Nov 2012, and at Authors Guild of India, Madras Chapter on 11 Sep 1986.

9. Performed 12 Avadhanams and feted outside AP and Telangana in 1977 and 1988, 2 in New Delhi, 5 in Tamil Nadu at Hosur, Tiruttani, Arakkonam, Pallipattu, 5 in Karnataka at Bellary, Bengaluru, Donimalai, Tung Bhadra Dam.

10. Included in Authors Guild of India, New Delhi, 1982, in Who is Who Directory, Sahitya Akademi, New Delhi, 1996.

11. Took part as invitee in Poets Evening, Wold Book Fair, Pragati Maidan, New Delhi, 19 Feb 1986, and in National level programme at New Delhi on Planning and Management of Colleges by HRD, GOI in Sep 1980.

III. INTERNATIONAL LEVEL RECOGNITIONS/FELICITATIONS

1. Reference Asia, Volume 2, Who is Who, 1976

2. Included in the Who is Who Directory, Biography International, 2000

3. Mahavadhani Puraskar from World Telugu Conference, Tirupati, 2012

CONTRIBUTION TO THE FIELD:

LITERARY

Most highly recognised traditional Telugu poet in the entire SC community propagating the native Hindu cultural values, without converting into other faiths, or into anarchic or socially divisive revolts.

He is the only Ashtavadhani, expert in the demonstrative art of extemporisation of metrical poetry, in the entire country in the SC community. Performed as many as 171 Avadhanas in the Telugu states and outside.

His oeuvre across genres comprises 60 books. A number of his poems and articles have been published in various anthologies or compilations.

On the editorial board of many magazines and journals like Srisaila Jyoti, Gautama Prabha, Jagriti, Padya Varadhi. Penned Forewords to 150 books of other writers, and presented 49 Research Papers.

His Antaranga Tarangalu, in free verse on contemporary issues, has been translated into English as Waves of Soul, and 2 critiquing works have come out on it. The Foreword to Waves of Soul is by Atreya Sarma U, the writer of this article. His book Telugu Padya Kavita Prasthanam on poetic craft published by Telugu Akademi for 4th World Telugu Conference in 2012.

ACADEMIC

During 2011 to 2015, he was editor, subject expert, author or lesson writer for Telugu textbooks of AP and Karnataka Governments, TTD, and IIIT Idupulapaya, at school, high school, college level.

SOCIAL & CULTURAL

1. Directed 3 dramas, one of them bagging 4 prizes at Railway Divisional level.

2. Served as Regional President, Samajika Samarasata Foundation, striving for social harmony.

CONTRIBUTION TO THE SOCIETY

1. His life and work has influenced many literati, with 20 books and 60 articles published on him, including a doctoral thesis, and 14 books dedicated to him.

2. Conferred with 13 titles by various organisations.

3. Erected the statue of Padma Shri recipient Puttaparti Narayanacharya, and helped install statues of Sri Krishnadeva Raya and Ambedkar.

4. Set up a library at his home with free board and lodge for researchers.

5. Addressed hundreds of important events like Independence Day, Republic Day, Teachers Day, AP Formation Day, Commemorations of preeminent personalities.

6. Actively took part in social service programmes and created awareness on various fronts like Atmospheric Pollution, Free Homoeo Treatment Camps, Service to Old Age Homes, Welfare of Differently Abled, Awakening Women on their Issues, Communal Harmony, AIDS, Protection of Forests and Wild Life, Temple Culture, Visit to Hostels and Interaction with the Resident Students, Conducting Educational and Scientific Tours, Water Management, Child Labour, Prohibition of Alcoholic Drinks, Family Welfare, Elimination of Untouchability, Savings Habit, Ban of Cow Slaughter, Personality Development.

7. Scripted and exhibited a play Ananda Jyoti, with inter-caste marriages as theme, winning a district level award.

8. As a social figure with goodwill, he has performed social marriages as a conflict resolution measure.

9. Mediated and resolved personal and domestic conflicts of many individuals in the society.

10. Striven for social harmony with a focus on Hindu Dalits and other downtrodden as State level office-bearer of Samajika Samarasata Foundation.

CONCLUSION

May the life and work of Dr Asavadi Prakasa Rao inspire each and every one to have a noble vision, to strive for it, and contribute to the harmony of the society by duly blending the best of the past and the present so that our country can play a vital role in the evolution of universal cum ecological harmony!