"Wisdom comes only through suffering."
– Aeschylus, Agamemnon

"Wisdom denotes the pursuing of the best ends by the best means."
– Francis Hutcheson, Inquiry into the Original of Our Ideas of Beauty and Virtue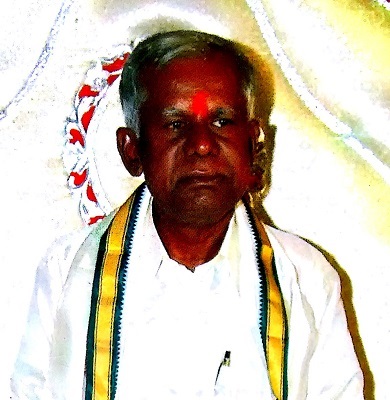 A Dalit Hindu from a poor Scheduled Caste in a remote village (in the Anantapuram district of backward Rayalaseema), Dr Asavadi Prak asa Rao (born Aug 2, 1944) has, by dint of his qualities of head and heart, overcome the inherent limitations and disadvantages of his origin, and risen to admirable heights in the realms of literature, education and social service – actuated by an attitude that is positive, constructive, eclectic, harmonising and reconciliatory. Not one to believe in confrontation or vindictive or negative rebelliousness, Dr Asavadi has imbibed the age-old and time-tested quintessential Indian cultural ethos which aims at universal peace and harmony. Refusing to be lured away from his original faith, and notwithstanding the historical injustices meted out to subaltern castes like his, he continues to testify his devotion to the perennial Indian values which he has been consciously propagating and living – through his multifarious activities for over five decades.

Given to a life of simplicity, austerity and humility, he has been utilising his hard-earned income and savings to propagate and rejuvenate Telugu and Sanskrit literatures, and to popularise classical poetry for a healthy blend of tradition and modernity.

He has been extending a helping hand to the needy cum meritorious students; founding (and helping to found) literary associations at a number of places since 1970; gifting his books to the interested with a view to inculcating the reading habit; encouraging and honing the literary skills of budding enthusiasts; helping the unrecognised but talented scholars irrespective of their age to get institutional pension or philanthropic aid, as also in the publication and launch of their books; conducting unique literary plays like Bhuvana Vijayam, a creative and interactive poetic assembly coming down from the times of Sri Krishnadeva Raya, the Vijayanagara emperor, a patron of art, culture and literature.

With a conviction that education alone is a great leveller, and charity should begin at home, Asavadi duly moulded his sons and daughters. While the sons have become well-placed college lecturers in Hindi, English, and Sanskrit; the daughters have become teachers in sciences.

"The mediocre teacher tells. The good teacher explains. The superior teacher demonstrates. The great teacher inspires," says William Arthur Ward. Dr Asavadi, being an inspiring teacher, his accomplished disciples, direct and indirect, run into more than a score.

After post-graduating in Telugu, Asavadi served as a lecturer and then as a principal in Government degree colleges. As Principal, he implemented the government schemes concerned, in letter and spirit; and organised meetings to create awareness among the students about them.

Literary oeuvre

Dr Asavadi's literary output comprises 48 books across various genres – Poetry (10); Extempore Poetry (5); Collection of Literary Essays (11); Translations (4); Monographs (2); Collection of Reviews covering 126 books (2); Biographies (2); Emendations (3); Commentaries (2); Anthologies (4); Miscellaneous (3).

Four of his works deserve a special mention, and for three out of them the prestigious TTD engaged his services.

1. Under the Bhagavatam Project, Dr Asavadi rendered the 3rd canto of Potana's Bhagavatam into lucid prose. Published by TTD in 1986, it has run into several reprints.

2. Emendation of the unpublished palm-script Chellapillaraya Charitram, originally written by Tallapaka Annaya, grandson of famous saint-composer Tallapaka Annamacharya. It is the tale of Lord Balaji's marriage with Bibi Nanchari, with an undercurrent of communal harmony. Published by TTD in 1982 and reprinted in 2009.

3. Bhartrihari Vairagya Sati (2014) is an exegesis which has received a wide applause from scholars. The poetic translation of the original Sanskrit slokas into Telugu was done by Chepyala Ramakrishna Rao.

4. In 2016 under the Brahmam-Okkate series of TTD, Asavadi wrote Mala Dasari along with commentary, the story of a pariah devotee of Lord Vishnu.

His poems and articles running over 100 have been published in various anthologies or compilations.

His Antaranga Tarangalu, free verse poetry, has been translated into English and Hindi; and two critiquing works have come out thereon. Many a youngster has voluntarily memorized his poetic works – Loka Leela Suktam, Atma Tattva Prabodham, and Pushpanjali. His book Telugu Padya Kavita Prasthanam on poetic craft (published by Telugu Akademi for 4th World Telugu Conference in 2012) has become a handbook to poetry lovers.

Asavadi's varied life and work has influenced many literati who have published 13 books and 52 articles on him, including a doctoral thesis, and 13 books have been dedicated to him. And he has been conferred with 13 titles by various organisations.

He has penned Forewords to as many as 126 books of other writers.

As a master of Avadhana

Asavadi's most outstanding literary contribution is his performance of Avadhana – a uniquely creative, intricate and formidable classical poetic feat. It involves impromptu composition by the Avadhani (the practitioner of

Avadhana) with a team of literary questioners throwing him spontaneous challenges, stipulations and detractions. This amazing art demands a wide and deep learning of Telugu and Sanskrit literatures; up-to-date knowledge of current affairs; photographic memory; stupendous retentivity; keen wit and repartee; and infallible reciting skills. He has performed as many as 171 Avadhanas in the Telugu states as well as outside. His prowess in Avadhana has brought him the Mahavadhani Puraskar from the World Telugu Conference, Tirupati, 2012.

Academic services & recognitions

Dr Asavadi is on the editorial board of many magazines and journals; and presented 49 research papers.

His academic services continue to be used at school, high-school, and college levels by the AP and Karnataka governments, TTD and RGUKT (Rajiv Gandhi University of Knowledge Technologies). During 2011-2015, he was editor, subject expert, book or lesson writer of Telugu texts for Classes V, VIII, X for AP Government's SCERT; for Class X of Karnataka Government; for TTD's Sanatana Dharmika Vignana Exams; and for 4th Year Engineering Students of RGUKT, Idupulapaya – for the optional subject Andhra's History.

By virtue of his varied services, competence, simplicity and integrity, he was—

1. Nominated as member of Executive Council – Senate of SK University.

2. Invited for ATA – American Telugu Association – Conference 1996; and World Telugu Conference in Mauritius 2012, but couldn't attend.

3. Considered for appointment as Vice Chancellor in 1997.

4. Considered for appointment as Chairman, AP Official Language Commission in 2002.

Honorary D Litt and other recognitions

Being into academic, literary, social and spiritual service, Dr Asavadi has delivered a host of talks, including 75 for AIR and Doordarshan with a thrust on traditional Indian culture and human values.

No wonder, the Potti Sreeramulu Telugu University conferred upon him a D Litt Honoris Causa in 2000, in recognition of his overall eminence and attainments, when he was 55 years old.

He has earned a large number of state/national/ international level awards and recognitions; and found a place in Reference Asia, Volume 2, Who is Who, 1976; and Who is Who Directory, Biography International, 2000.

The AP government recommended his name for Padma Shri in 2011, 2014 and 2015.
Dr Asavadi is so respected and popular that he is the recipient of 75 state-level awards and recognitions from various reputed literary, academic, cultural and social organisations.

In 2008 at Penukonda (the summer residence of Sri Krishna Deva Raya), Dr Asavadi was honoured with Ganda Penderam (a golden anklet), a rare traditional honour accorded to literary legends. In 2014, he was feted with Kanakabhishekam (sprinkling with golden flowers) – another rare traditional recognition – by the Ksheera Sagara Sahiti Samiti (Hyderabad).
Contribution to the society

For the benefit of researchers, Dr Asavadi has set up a home library with books on various subjects at his home town, Penukonda. It is a round-the-clock open library with free membership, board and lodge.

As part of his commitment to immortalise the memory of great litterateurs, he installed (or helped to install) statues of – Sri Krishna Deva Raya; 'Padma Shri' Puttaparti Narayanacharya, a great polyglot cum litterateur; and Dr BR Ambedkar.

Through the literary endowment of his family set up in 2009, Dr Asavadi has been conferring awards to traditional and modern poets, women writers, and spiritualists. He has been giving these incentives and awards irrespective of the beneficiaries' caste or creed.

He has been rendering all this yeoman's service without pomp and glitter, but with simplicity and focus on the core of the missions undertaken.

With his interests embracing even non-literary social causes, Dr Asavadi has addressed hundreds of important events like Independence Day, Republic Day, Teachers Day, AP Formation Day, and commemorations of pre-eminent personalities.

He has taken an active part in social service programmes and created awareness on various fronts – Atmospheric Pollution, Free Homoeo Treatment Camps, Service to Old Age Homes, Welfare of Differently Abled, Awakening Women on their Issues, Communal Harmony, AIDS, Protection of Forests and Wild Life, Temple Culture, Visit to Hostels and Interaction with the Resident Students, Conducting Educational and Scientific Tours, Water Management, Child Labour, Prohibition of Alcoholic Drinks, Family Welfare, Elimination of Untouchability, Savings Habit, Bank of Cow Slaughter,

Personality Development.

The drama Dharmam Kosam he directed for the railway employees won the Divisional level prize. He had also scripted and exhibited a play Ananda Jyoti, with inter-caste marriages as the theme, winning a district level award. As a social figure with goodwill, he has performed social marriages as a conflict-resolution measure. He has also mediated and resolved personal and domestic conflicts of many individuals in the society.

Dr Asavadi's most significant social contribution is as Vice President-AP of the Samajika Samarasata Foundation, a forum for social harmony with a special focus on Dalits and other neglected sections.

May Asavadi's services continue to be active! May his life and work win him more and more recognition, the recognition he richly deserves.