Reflections of a Thought Leader by K Krishna Saagar Rao
A Collection of Socio-political Articles
Foreword by Prakash Javadekar
National Building Foundation (2021)
ISBN: 9788190751216 | pp 482 | Rs 950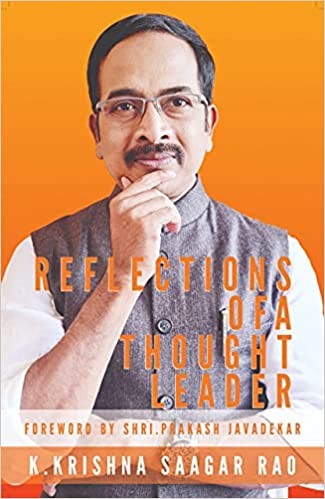 Anyone who is keen on reading about – or updating themselves with – the contemporary socio-political scenario of the country would benefit by reading the articles in this collection. The author K Krishna Saagar Rao, one of the leading political analysts in the country, deals with ever topic in a cool, objective and rational manner in a true democratic spirit without raving or ranting or mouthing out diatribes or tirades. It's exactly this true democratic spirit that makes the author thank "many political colleagues cut across party lines, who evidently enjoy reading and reacting to my published columns, though they might not agree with everything" (Gratitude).

His articles have been published in English Newspapers (The Hans India, Hindustan Times, Deccan Chronicle, Times of India, Indian Express, Telangana Today, Pioneer); in Telugu newspapers (Velugu, Eenadu, Andhra Jyothi, Sakshi, Andhra Prabha, etc); and in online journals (First Post, Outlook, India Today, News 18, One India, The News Minute, News Nation).

"Krishna Saagar Rao is an internationally reputed organizational strategist… He is a specialist in the area of Emotional Intelligence and its application for organizational leadership. He has authored a best seller 'Summit Your Everest', a book on Obstacle and Failure Management… Krishna is an active member of many global professional, industry and social organizations" (Author's Profile). Based in Hyderabad, he is the chief spokesperson of the Telangana state BJP.

A true democracy is always vibrant with thoughts, aspirations, ideas for development and improvement, and criticism – and the criticism should be decent and dispassionate. With so many forces having their own perspectives and not infrequently working at cross-purposes, a democratic polity has its ups and downs and digressions too. A democracy would be strong and healthy if a large number of the cross-section of people brim with civic consciousness and a broader understanding of the issues. We should learn from our past mistakes and forge ahead with better wisdom.

The Foreword to the book rightly observes: "I strongly believe India needs positive disruption in all critical areas that includes field of writing too. The colonial remains in the thought process of [a] few in our nation must be challenged, and the idea of 'New India' should be presented to the next generation with unapologetic strength. This requires contemporary thinkers like Krishna to disrupt the enslaved mindset and unleash the powerful spirit of Indian national identity." This was penned by Prakash Javadekar when he was the Union Minister for Information & Broadcasting, and Environment, Forest & Climate Change. In addition, the book carries a number of messages or compliments from many a minister and top functionary of the BJP.

The book contains 142 articles (not 150 as mentioned in the Author's Note) on a variety of topics including those of common interest, like – Receptive Intelligence; Crisis-Leadership; Indian Politics & Emotional Exaggeration; India – An Aspiring Young Republic; Parents, Schools, Drugs & Hyderabad; Death of Real Relationships; My Leadership Paradigm; and India & Professionalism Deficit.

Let's see what Krishna Saagar says in his article 'Receptive Intelligence': "Look into national and political scenario of any nation and assess if listening as a collective and individual human function, is valued or devalued over years. Look at the social conditions around you and assess for yourself if listening as a human competence, is growing or declining in the society you live" (2-3).

The Covid-19 pandemic having brought about a sea-change in our lives, in our way of thinking, and in our attitudes – many a thinker has aired their views. And as many as 6 articles in the book are on Covid-19. The articles exhort us to stop, look (back and around), harmoniously balance our lives, and proceed with circumspection.

There are articles on every conceivable contemporary topic including Left-Liberal politics, Dalit politics, fake secularism, farmers agitation, CAA protests, freedom of expression, terrorist forces. We have 16 articles on political leaders (BJP as well as Opposition), and as many as 20 articles on foreign relationship including the China and Pakistan syndromes.

It's an agreed fact, though unpalatable, that there are many internal and external forces trying to wreak their best either individually or conspiratorially against our country's interests. Hence, we have to be on guard round the clock, for eternal vigilance is the price of liberty. And, paradoxically, we have any number of intellectuals, activists, writers and politicos who keep harping about civil and human rights, but in a brazenly selective manner. They have developed an art of being vociferous on certain happenings, and slip into a stony silence on certain other happenings. For example, Rahul Gandhi and Priyanka Wadra – the dynastic leaders of Congress – had chosen to visit Lakhimpur to see the survivors of the farmer victims and draw them into a bear-hug; but they didn't have a mind or heart even to shed a crocodile tear on the recent series of slaughter of the Hindu Pandits in Srinagar not to mention of staging any protest or calling on the survivors of the victims.

In this light, see what the author observes: "Divisive forces inside any nation will try dividing a nation on the basis of multiple identities. The time-tested weapon used by separatists to destabilize a nation is to drive religious, racial, regional, casteist and ethnic divide between communities. These are few multiple-identities used to override the National Identity, to destabilize social harmony and disintegrate a united nation" (Rebuilding a Young Republic, 78).

And he proceeds: "A nation to stay united, vibrant and progressive requires strong threads to keep it harmonious, vibrant, peaceful and progressive. The consequences of not undertaking Nation Building can lead to catastrophic consequences for a nation both in near term and long term" (78).

The author doesn't hesitate to expose the decades old rankly opportunistic politics of the dynastic Congress party. "…in a country like India which is torn into pieces by Congress party on the lines of caste, creed & religion for decades to achieve petty political expediency to stay [in] or return to power, all criminal acts are perceived through the myopic lens of communal & religious hatred" (Politics of Obfuscation & Hyperbole, 405).

In a large country like ours we have various social groups. And with some of them happening to have conflicting stands at some points of time, they tend to be at loggerheads with one another. Unfortunate and sporadic incidents do happen across the board all over the country irrespective of the party in power at the centre and in the states. Wise people take all of them equally and try their best to ease the differences and tensions whereas rabble-rousing leaders always blame only one section of people and add fuel to the flames. Sometimes, even the constitutional heads (who are otherwise honest and respectable) are guilty of this myopic proclivity of making hasty generalisations.

See how Krishna Saagar Rao calls a spade a spade: "President Pranab Mukherjee's repeated observations & comments on growing intolerance in India, in the backdrop of Bihar polls is surely raising many eyebrows. It's very rare that a constitutional head of state, The President of India jumps to such conclusions & makes sweeping statements on the entire nation, based on very few isolated incidents in one or two states" (Politics of Obfuscation & Hyperbole, 406).

It has become a fashion and routine for most of the political leaders, intellectuals and writers to highlight the incidents happening in some of the states, and totally shove under the carpet if similar incidents happen in some other states. Krishna Saagar Rao exposes this die-hard habit of double-standards. "…the law & order being in the list of 'state subjects' as per the constitution, how is a central government responsible for isolated crimes that happen in a vast nation like India?" ('Return of Awards – Writer's [sic] Prejudice & Fiction', 410).

It's common knowledge that we have a section of leaders who raise their voices with no reason or rhyme against the 'Hindutva' forces at the drop of a hat, but they always turn a deaf ear to the atrocities in countries like Pakistan on the religious minorities, to the savageness of blasphemy laws, to the genocide & expulsion of Pandits in Kashmir, to the Maoist terrorism, to the orchestrated worldwide Islamic terrorism, and even to the iron-fisted suppression of the Muslim minority in China. The anti-'Hindutva' forces insist that Hindus should not have any unifying organisations, they should not speak about, follow and promote their culture. If they do so, it's fanaticism, xenophobia! It's only the non-Indic non-Hindus that should have every possible right, these partisans believe, even as the two major Semitic religions (that have erased every native civilization in the course of their aggressive march) happen to be the most populous in the world with most of the countries under their sway, whereas Hindus don't have any land except India, that too a truncated one – and wherein the 'minorities' have a greater say than the 'majority' – even as these minorities had ruled the country for centuries. All of us have to be like a rainbow with its different hues seamlessly merging into each other. This reviewer is of the opinion that no religion or social group is supreme per se. Had God believed that only a particular religion is supreme, he wouldn't have created the rest. Hence all of us should try to imbibe the best from others and live in harmony with mutual respect.

We have seen the theatre of the absurd enacted by the award-returning gangs who are unable to digest the fact that a party – whose ideology, rank and file they have never like and always branded as fanatical, intolerant, superstitious, regressive, obsolete and what not – has been able to come to power at the centre that too consecutively twice and also in a majority of the states. Hence Krishna Saagar Rao aptly says that "…these writers are growing intolerant of the new Indian aspirations being led in the right direction by the PM of NDA government [rather] than the other way round" ('Return of Awards – Writer's [sic] Prejudice & Fiction', 410). Yet after the initial manipulated furore, it's only the award-wapsi gang that has been ensuring that only the writers of the Left-Liberal-Pseudo Secular ideological proclivities are grabbing the Sahitya Akademi awards to the exclusion of others especially as far as the Telugu writers are concerned.

It's said that journalism is literature in a hurry, and hurry has its proportion of printer's devils. Proper proofreading should have been ensured for a book of this dimension and in view of the standing of its author. The overall get up and treatment of the book shows that the book has taken more than a year to come out after receiving the VVIPs' message and endorsements. And it would have been good had a reference been made at the end of each article to the source where it had been originally published. Anyway, considering the bulk of the book, the flaws are only a small fly in the ointment compared to the thought-stimulating observations resonating in the book.

It is hoped that this book receives the traction it deserves.