Living Inside | Gopal Lahiri | Authors Press.2013 | ISBN 978-81-7273-768-9 | Pages 97 | Price Rs 195
It would be an altogether different experience to go through, assimilate and assess the poems contained in the slim volume of Living Inside by Gopal Lahiri, a prolific poet, who writes both in English and Bengali, his mother tongue. Also a translator, his translation of short stories of Israel from English to Bengali has been published by National Book Trust. He is also into writing of "fiction, short story, essay, articles on current affairs and scientific interest."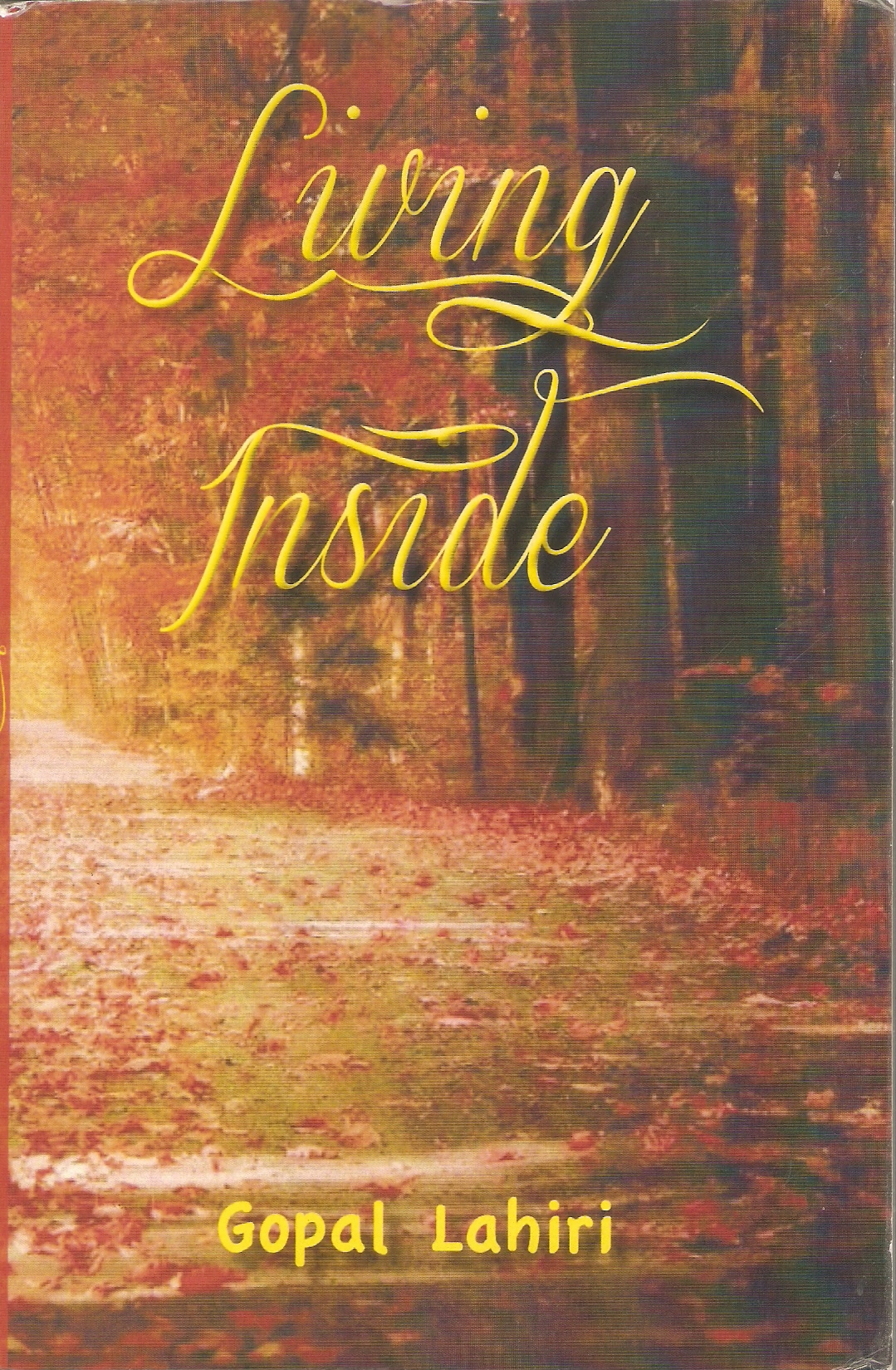 The collection of poems under review, true to its title – 'Living Inside' – are meditative in nature, and Gopal the 'earth scientist' that he is, peels the layers of the earth as well as his mind deeper and deeper so as to mine the ore, dress it, and finally convert it into a pristine metal of shine and value. The garland of seventy poems strung in the book is redolent with the colour, texture and fragrance of every snippet that his roving eye and mind detect in nature, in physical life and in his inner philosophical peregrinations.

Nature resplendent with all its elements and their concomitant beauty or fury, dales and lakes, hills and rivers, flora and fauna, the cosmic entities – like the sky, the stars, the sun and the moon – goes on a pageant through his poetic pages and phases.

While the Foreword is by Dr Sunil Sharma, a writer with a fecund oeuvre; the Preface is by Gary Robinson, poet & storywriter from Canada who in Gopal Lahiri finds "a poet to be read and admired." Another erudite critic, Jaydeep Sarangi, compliments Gopal for his 'subjective depth' (Blurb).

Let us now touch upon a few vignettes of Gopal's poetry which oscillates between faith and cynicism, between hope and despair.

While the opening cum title poem 'Living Inside' sees a bright light at the end of the tunnel –
the life undone and forged anew
In the flawless breezy morning light;
the poet feels contrariwise in 'Time Slice' –
the time i always look forward to
never ever reaches my door – (Time Slice),
for he is stuck in a rut of thinking –
i am still waiting for the right line,
for the right moment to use it
for all its strange richness – (Ibid).
Basic human nature and instincts remaining the same ever since creation, nothing essentially has changed in the human progress, and the "scar and pain" continue in one form or the other, despite passage of centuries – nothing has been moved from years, from centuries.

An artist cum painter peeps out of Gopal Lahiri, so much so he employs the imagery of art quite often. Perceive the strokes of his brush on his poetic easel –
a tall tree
detailing
the dark haze
in most
delicate pastels
expresses its
true artistry – (Exchange).
Wisdom lies in relating oneself to every bit of what one sees around in his coups d'oeil, especially in nature. In other words, nature is inherent with a harmonizing power which only a keen and gifted connoisseur could recognize, and comprehend how to –
connect the long pending
mystical elements of the earth – (Kumarakom).
The poet is transported to idyllic joy on taking in the various facets of the rich scenery while cruising on a vallam (house-boat) in the "unperturbed lake" at Kumarakom, Kerala –
lilac flowers set
floral carpet,
shouts of flying crane
floating plants
brushing against
muddy banks
in a languid pace – (Kumarakom).
While the poet's pantheistic spirit captures the healing power of nature in 'Turn Pages' –
the smallest play of the green leaves
in the branches,
can erase the wounds and sears;
it sings of the subsuming and unifying alchemy of nature, while he is on a train journey, surveying the vast landscape and the moving scenes through the glass window –
here everything is seen
here everything is heard
no separation from anything
no boundary wall can be seen
no division between you and others
it's a smooth sail, a seamless voyage
you meet yourself at the end – (Coherence)
The highly generalized cogitations are interspersed with flashes of the stark mundane realities –
he felt that justice was mutilated by the multitudes - (Time Device);
as also of the trials and tribulations of the common people and the laity in some other poems, and "the press of humanity, | the noise and poverty" (Snippet); and "the secret songs of the saddest life" (Invoke).

The past is too much an inseparable part of the time continuum to be isolated, cut off and buried. It is very much there, looming over or seeping in you – perceptibly or imperceptibly; and it is there to influence you, willy-nilly –
you did not want
to be part of the rolling past
yet conjured dark magic
in your wrinkled face,
the wave of the events
still clung to the
old photo frame stuck
on the broken wall – (Silent Words)
You simply can't deny or wish away the existence or aetiological significance of anything in the creation, just because you may not like a particular thing or things. A holistic approach behoves us to see things in perspective; and once we are attuned to this type of comprehensiveness, the maze of problems and irritations that seem to nettle and unsettle us fall in place; and we begin to see the solutions in all their lucidity. Learn to probe inward, and delve deep to find & follow the answers –
Live everything from loneliness to the chaos,
Capture every shade of pain in your thoughts –
Take it upon yourself and peel the inner layers.
Your dreams have a life of their own,
You seek in every moment, every interval –
The innermost soul leads you (sic) way to the answer. – (A Way of Living)
Everyone of us is fond of freedom, and so zealously fond – to the exclusion of accepting any sense of duty and responsibility on their part, in our present day milieu – that we itch to be centrifugal with an insouciant and anarchic abandon. Real freedom, personal or spiritual, can be experienced and enjoyed only when we have sangfroid, a sense of the reality, an attitude of 'let go' and 'let go of it' –
just accept we are floating in water,
just lie back and let it hold you up,
just drop off, let it go, the burden,
it's great to escape in another time – (Freedom)
Though it is one and the same object, the mood and the way we look at it colours its vision, as in 'Night Rain.' It's the same rain-battered night, but the plural narrator went through contrasting moods, depending upon the brightness, dimness or darkness of their inner light – "we were sad... ... we wailed... ... we kept silent... ... we rejoiced... we laughed at" and their gloom was finally washed away in the same rain-soaked night, as they –
Walked into a lonely park in misty darkness,
Sat on a bench, tied with the allure of low clouds
We emptied our sadness, our anguish into the rain
Creation is ever cyclic and self-regenerating; the antinomies embedded in it are mutually complementary – their contradictions are only an optical illusion; the beginning and the end segue into the other. 'The Leeway' makes us wise to this.

Gopal Lahiri's poetry is highly symbolic, subtle and subliminal – demanding a readiness and effort to read between the lines, to guess a link between the discrete concatenation of ideas which again are capable of affording different levels of understanding and interpretation.

The veteran and perceptive writer he is, Gopal Lahiri is clear on the aim and purpose of a writer or his writing –
Agree that pen and paper can make
Music to solve the eternal puzzle,
To listen carefully, to discern good from bad
Only to lit (sic) up the works of life
The implicit expression of each and everything – (Fence)
In short, Gopal Lahiri is a poets' poet, a mystical veil enveloping his ideas and expression stimulated by the inscape of the things he sees. On the flip side, a bit of proof reading especially as to the harmony of verbs would have been welcome.

And let us round off our analysis with what Dr Sunil Sharma says in the Foreword: "The poetry of Gopal Lahiri performs precisely that job [of leaving the readers re-vitalized and young] for his increasing number of loyal readers – rejuvenation through a rare combo of visuals, music and sheer lyricism."