Venkateswaran K.S. Lyrical Glimpses, Printed at: Pearl Press, Chennai, 2013
Small is beautiful. In the same vein, a few could be fabulous. Even a single poem could be a diamond if it enlightens and enlivens. Dr Venkateswaran's brief poems in thin volumes are memorable going into the reader's manas, which is a single word in Sanskrit for mind – heart – desire – intellect.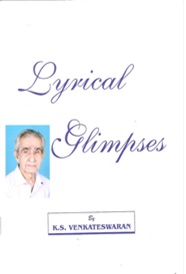 This third book of just nine poems is a sequel to the second thin book Lyrical Laughter published by the then octogenarian Venkateswaran in 2004 the first being Lyrical Echoes written in 2001. An employee of Air India, he got his Ph.D. for Economics of Air Transport Industry in India.

The bunch of ten poems in Lyrical Laughters is about the elegance, courtesy and service with a smile of our AIR INDIA. The title would be intriguing for the grammarians for laughter is an uncountable noun. But, wouldn't joy and adoration defy grammar? Love and love-making defy everything and all. Lovers are a class of law-makers themselves and so are poets. The poems have a high order of artistic craftsmanship and readers of these would not fail to enjoy the gleefulness in them. It is not for nothing that the World Congress of Poets at Sydney in 2001 honoured the poet with a doctoral degree.

Lyrical Glimpses published in 2013 contains just nine poems. Of these four are just of four lines about universal and world personalities. Brevity is per se an art. You can read them experiencing great joy.
To wake up within you a famed Emperor
Was the only dream of Yasodhara
But that way you woke not in error,
Yourself you woke, in slumber leaving the Queen.
(Buddha)
Then there is Vivekananda who gave a rousing call both to Hinduism and the world with a message to awake and arise to be devout and servicer-minded.
"Burst I shall, Burst like an explosion
Upon the shadowed awareness of Humanity
To wake up to-day's lethargic generation',
Echoed everywhere with rising intensity.
(Vivekananda)
Then there is the world class poet with the renown: 'upamaa kaalidaasasya':
Even the shades and contours of that pretty
Shakuntala your poetic pen has detailed;
But in paintings to contain that beauty
Even celebrated painters have failed.
(Kalidasa)
The Mahatma is Mohandas Karamchand Gandhi:
Derisively dubbed by ignorant some
"Among men the Half-naked Fakir."
The very same half-baked become
Before the brightest, purest SEER
(Mahatmaji)
There is viswa kavi too in the roll call:
You discovered the Cosmos within you,
And also within the Cosmos your own,
Then rose that fusion to view –
The Cosmos and you into one.
(Rabindranath Tagore)
The longer poems are about Sri Lakshmanji, Sita Devi, Sree Adi Sankara and Sringeri Sadhana Centre in Strousburg, Pennsylvania, USA'. Sita Devi's encomium to Lakshmanji is memorable:
Said Sita: "My Lord to parents' wish a Thyagi turned
But Devar*, why should thou renounce thy palace dome?"
Said Lakshman: "Make me not vain a Thyagi, but lend
Me a share to Ramji serve: where Ram is, there is my home."
(Sri Lakshmanji)
*husband's younger brother
The poet in humility tells the reader that the poem is inspired by Mythilicharan Gupt's Panchavati. Sita Devi's nobility of mind and devotion to her husband are described thus:
In silence she followed her Lord in exile
With no regrets, no anger, no rancour,
With no hesitation of any kind, but with a smile,
When opted Ram his father's vow to honour
(Site Devi)
Adi Sankara of Kaladi is the seer and sage of the entire world and verily considered Lord Sankara Himself:
Into religion he wove threads of reason
To rationalize the eroded values of time;
Then witnessed the world – morals, metaphysics in fusion
And values eternal redefined to heights sublime.
(Sree Adi sankara)
'Here and There' is about Sringeri in Kaldi in our country and Sringeri Sadhana Centre in the USA:
Here the peaceful pomp of Pocono Heights,
Here the invading quite of Reeder's sights;
Here too speed away the dotted deer
At the slightest sound of leaves – full of fears;
Here the Sun peeps through the mountain head,
Here the sunset – a lavish hue of Crimson Red.
The intention of the poet and his achievement would be exhilarating to the avid readers.