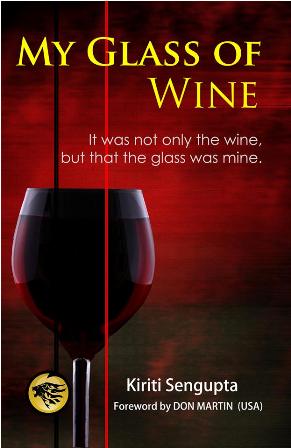 I ordered just two copies of this unique book because I went only by the title –what with my limitations on tippling. So the book remained uncorked in my cupboard for two weeks. Presto, I got myself freed from my other commitments today. Oh boy, I never knew when I finished the book! I raced through it which gave little resistance. Besides I felt no need to look up for any single word. From the outside, the contents are unassuming like any strong wine. I also found the book a departmental store, sans the usual apparent labyrinths. I traversed effortlessly as though placed on a conveyer belt gliding seamlessly through the interface between prose, verse and nonfiction laced with autobiography.

I recollected my journey to Darjeeling some years ago via Siliguri. Kiriti is connected to this place as per the book. While reading his book, I got an illusion that the author himself was sitting across me in the train and reading out the text to me.

His narrative is both windy and sedate like I was on a rollercoaster of a train. Sometimes I was treated with some hardboiled home truths including life in India, and at other times interesting tidbits of his personal and intellectual life, throwing in a dash of professional dentistry and humor in between. He quoted some precious gems by great men eloquently and aptly. I did not open my mouth throughout 'his readings', lest I would make him veer off the track.

By the way, I am used to see a verse embossed in the corner of a picture in Japanese Haiga poetry, as also

verses juxtaposed with prose

in Japanese Haibun . I saw traces of both those creative forms blended here in this book as if they are 'on the house', without the author knowing that I am sure. I wish he should seriously imbibe those poetic forms too, in his future books. His autobiographical account is unique that I can hardly see a parallel in any other's.

When I completed my bout with this gem of a book, I checked my feet. They are yet steady but not with my mind; the author was still talking to me. I borrow here one of his 'clippings' among the vignettes, though not illustrative of his entire little book:

Vermillion
My earphone whispers, and
lips glued to the chewing gum.
My glasses moisten
As I find you eyesome.
Is this what they call love?
I wondered how a doctor could dare to go on a trip like this and succeed in impressing humble readers like me, as he did. The entire experience is like savoring the aroma (using his very similes) from the innocuous milk on the stove along with its pure cream being condensed, that is headier like vintage wine as shown on the cover page. Kiriti's spiritual and at the same time down-to-earth views including his opinion on what poetry ought to be (although he is averse to call himself a reformer) are badly needed in the present electronic age. Lay readers are feeling bored to read heavy prose and longwinded poems. Reading habits are radically refined to lap up colored images and word pictures as screened before their eyes.

His novelette is like 'instant coffee' in literature world, likely to be a trendsetter as an ensemble of lyrics, anecdotes, pictures, homilies, and last but not the least, life's philosophy in clinical yet poetic as well as light prose form. Further the book presents the author inside out— and we look at a true and transparent persona besides a good human being in his inimitable and delectable offbeat genre.

Book Details:
Title: My Glass of Wine
Author: Dr. Kiriti Sengupta
Publisher: Authors Empire India
ISBN-13: 9788192861906
Price: Rs. 125
For pre-booking click on the below link :
http://www.kiritisengupta.com/books/my-glass-of-wine/
or send a mail at preorder@kiritisengupta.com