Madhya Pradesh, located in the Central India, is one of the larger states so well known and rich in its cultural heritage, flora and fauna. In fact, a few years back, it was the largest state in terms of the geographical area and natural resources till a large part of it was carve out to create the state of Chhattisgarh. Almost one-third of the state still continues to be under the forest cover with numerous forts, monuments and historical places spread all over.

During my stay at Jabalpur for almost two years, I had many occasions to travel various places and experience rich cultural heritage, flora and fauna of the state. One such occasion which I still relish and fondly remember was my visit to Amarkantak. It is situated at an altitude of about 1050 metres at the juncture of the Vindhya and the Satpura mountain ranges.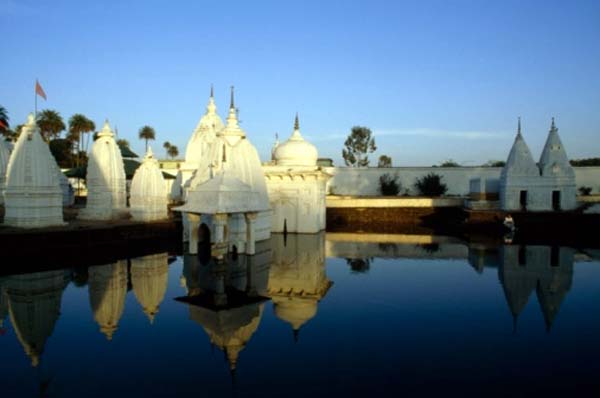 The temple is popular with tourists and Hindu worshipers. The source of the Narmada is inside
one of the temples at this site. The Narmada is second only to the Ganges in holiness to Hindus.
Followers of the Narmada are known to perform the parikrama, a ritual circumambulation
of the Narmada River that often takes thirteen months or more.
Amarkantak is a small pilgrim town and religious place in the Anuppur District for the Hindus characterized with the origin of two famous Indian rivers namely holy Narmada and Sone. The Narmada flows westwards from Amarkantak while the Sone takes course towards the East. The place is rich in holy ponds, forested cover, lofty hills and breathtaking sceneries and majestic waterfalls. Hence it is a popular sought-after destination not only in Madhya Pradesh but also from other parts of the country from amongst both, the religious-minded as well as the nature-loving people.

Amarkantak is a Sanskrit word which literally means immortal (amar) obstruction (kantak). The story goes that the place was abode of gods but was disturbed by the hindrances of Rudraganas (Army of Lord Shiva) and hence called Amarkantak. It is believed that whoever dies at Amarkantak is assured a place in heaven.

There are convenient rail and road routes for travel to Amarkantak with easy approach from cities like Jabalpur, Rewa and Katni in Madhya Pradesh. The nearest railway station is Anuppur and the airport at Dumna, Jabalpur. The distance between Jabalpur and Amarkanatak is about 190 Km and by road it takes about four hours journey. It was the month of November 2009 and we had taken the road journey via Kundam, Shahpura and Dindori to reach Amarkantak around 3.00 PM in the afternoon. I was accompanied with my daughter, son and an officer well conversant with that area and our accommodation was booked in the state guest house. It was already late for lunch, so we took light meals and immediately proceeded for sight seeing.

Considering the religious belief and sentiments of people attached with the holy river, we were so keen to see the origin point of Narmada i.e. Narmadakund and associated temples. So the Narmadakund was the first destination of visit on our agenda and we were there. According to a legend, in ancient times Lord Shiva had blessed Narmada with unique purifying powers. The story goes that to purify self, one needs to take a dip in holy Ganges, seven days prayer at Yamuna but mere a sight of Narmada is enough. As per another folktale, every year when Ganges is polluted beyond tolerance, she assumes the form of a dark woman and visits Narmada to take cleansing dip in its waters.
There are almost a dozen temples at the Narmadakund. Many devotees lay down to pass through the statue of elephant, worship the deity at the main Narmada temple and take a holy dip in the kund situated near temple. The open pool known as Narmadakund is the place of the origin of Narmada. There is a continuous flow of water which takes a small stream and follows a narrow zigzag course through the hilly terrain. Around the kund, there are a number of temples almost of the similar structure and size such as Narmada and Shiva temple, Vangeshwar Mahadev temple, Siddheswar Mahadev temple, Sri Radha Krishna temple, Kartikeya temple, Shri Ram-Janki temple, Annapurna temple, Guru Gorakhnath temple, Sri Shuryanarayan temple, Durga temple, etc.

After spending about an hour at this religious site, we proceeded towards Sonemuda which is another very interesting place of tourists' attraction. It is the place of the origin of the Sone River. It is located at about 1.5 km from Narmadakund at the edge of Maikal hill. From its origin, the river cascades from the hill in the shape of thin water streams hundreds of feet long. It provides a fascinating panoramic view of the forested hill and valley eastwards.

I was particularly impressed with the geological fault at this point which gives an exciting landscape to the entire region with the dense vegetation over the hill and down the valley. A geological fault is actually a crack in the earth's crust resulting from the displacement of one side with respect to the other. Typically, faults are associated with or form the boundaries between earth's tectonic plates. In an active fault, the pieces of the earth's crust move over time along a fault.

We were told by a guide that trip to the place is incomplete without the visit to Mai ki Bagiya (Garden of Goddess). It is located at a distance of about 1 km from Narmadakund and is actually a grove of dense trees formed in the honour of the goddess Narmada. In this natural garden, there are many trees of mango, banana and other fruits along with flower plants like roses, gulbakavli and a host of other plants.
Behind the Narmadakund at a short distance, about a thousand years old ancient Kalachuri temples are located. They are stated to had been built by Maharaja Karnadeva (1042–1072 AD) and are excellent examples of architecture. These temples house Lord Shiva, Lord Vishnu and other Hindu deities. It is considered a world heritage site and is quite nicely maintained.

Thereafter, we visited Kabir Chabutara. It is believed that the great saint Kabir performed austerities here to achieve spiritual powers. Hence for the Kabir panth sect and other followers, this is considered to be a holy place. Kabirpanthis believe that Saint Kabir spent many years here in meditation and spiritual learnings. Incidentally, it is the meeting point too of three districts, namely Anuppur and Dindori of Madhya Pradesh and Bilaspur of Chhatisgarh. There is a small waterfall near Chabutara. As it was getting dark, so we took a quick glimpse of the place before returning back to the guest house.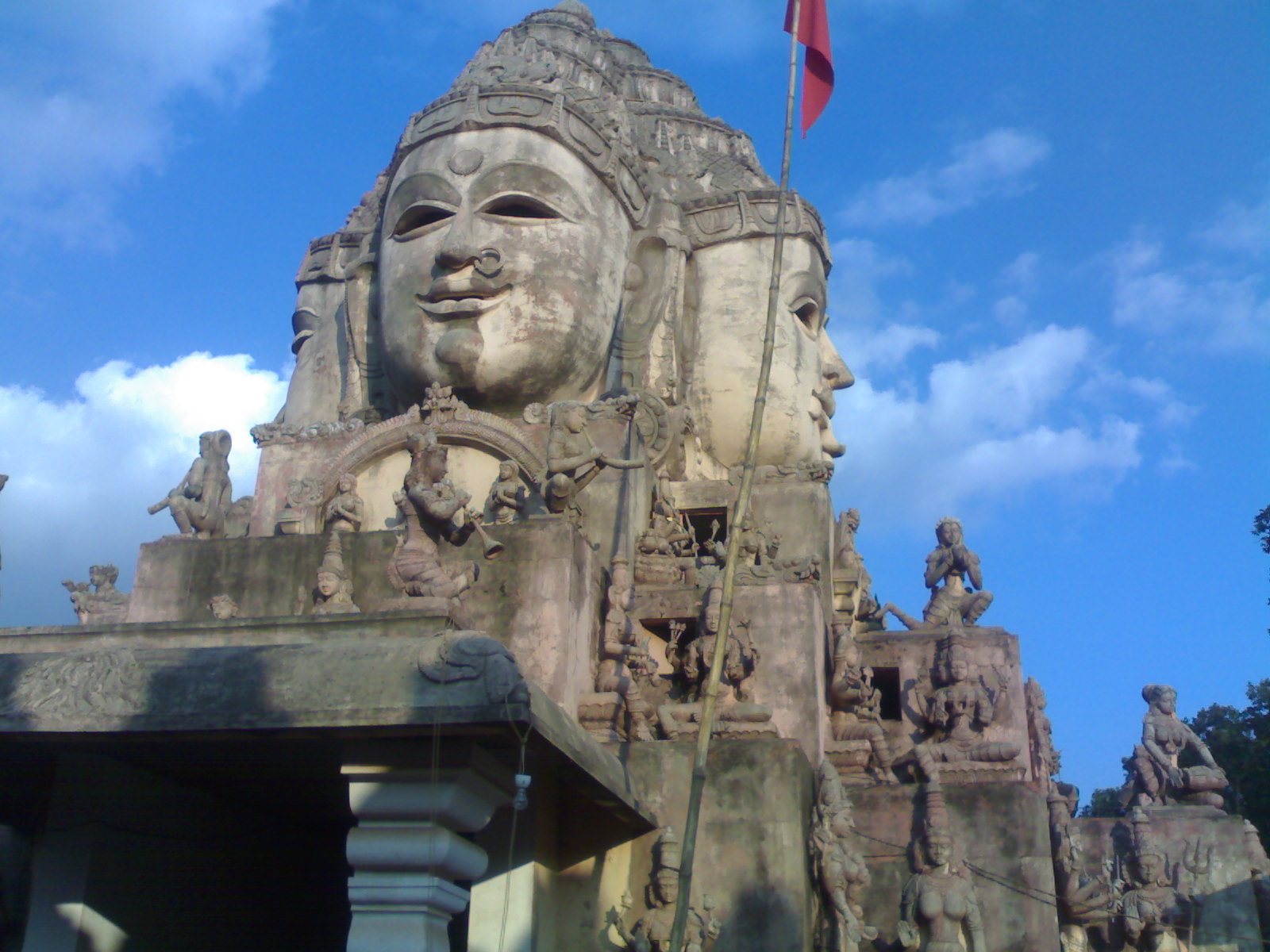 Shri Yantra Maha Meru Temple (c) jaipalsingh

There were quite a few other places of tourist attraction like Kapildhara, Jwaleshwar Temple, Shri Yantra Maha Meru Mandir, Bhrigu Kamandal, Dudhdhara Falls, Kalyan Seva Ashram Trust, Indiara Gandhi National Tribal University, etc. As it was already late and getting dark, besides we were tired too, we decided to see some of the more important and exciting places in the next morning.

On way back to the guest house, we were narrated an interesting story by the guide. As per the folktale when Lord Shiva destroyed Tripura (the three cities) by fire, the ashes of one fell upon mount Kailash, the other fell upon Amarkantak and yet another was saved by the Lord himself for the heaven. The ashes fell upon Amarkantak were turned into millions of Shivalingas, of which one is stated to be available at Jwaleshwar temple.
Following morning, we got up early as my daughter and son were too excited to see water falls in the vicinity. I was personally keen to visit the place called Bhrigu Kamandal which is actually a cave and it is believed that in ancient times Bhrigu Rishi used it for meditation. We were told that the visit to the place would involve a trekking expedition of over 1.5 km one-way through the dense forest rich in herbal products and things besides one has to be careful about the honey bees and a possible encounter with the bhaloo (bear). Considering the onerous journey with whatever stated risks, I decided to skip it despite children's keenness and protest.

We took early breakfast and decided to check out from the guest house as there was no point in wasting time in coming back again just for this purpose as we had planned to return back to Jabalpur same day. Our next destination was Kapildhara, the magnificent waterfall.

The Kapildhara waterfall is located about six km northwest from the main town of Amarkanatak. It is believed that this was the abode of famous Kapil Muni during the ancient times. This waterfall is about a hundred feet high. The place provides a panoramic view of the natural beauty with mountains and dense forest down hills. According to a popular belief, Kapil Muni performed severe tapa (austerity) here to receive divine light. Besides he also wrote the sankhya philosophy (the treatise on mathematics) at this place. The Kapileshwar temple in the Muni's name is situated in the vicinity. The surrounding mountains are full of caves providing ideal conditions for spiritual practices and rituals.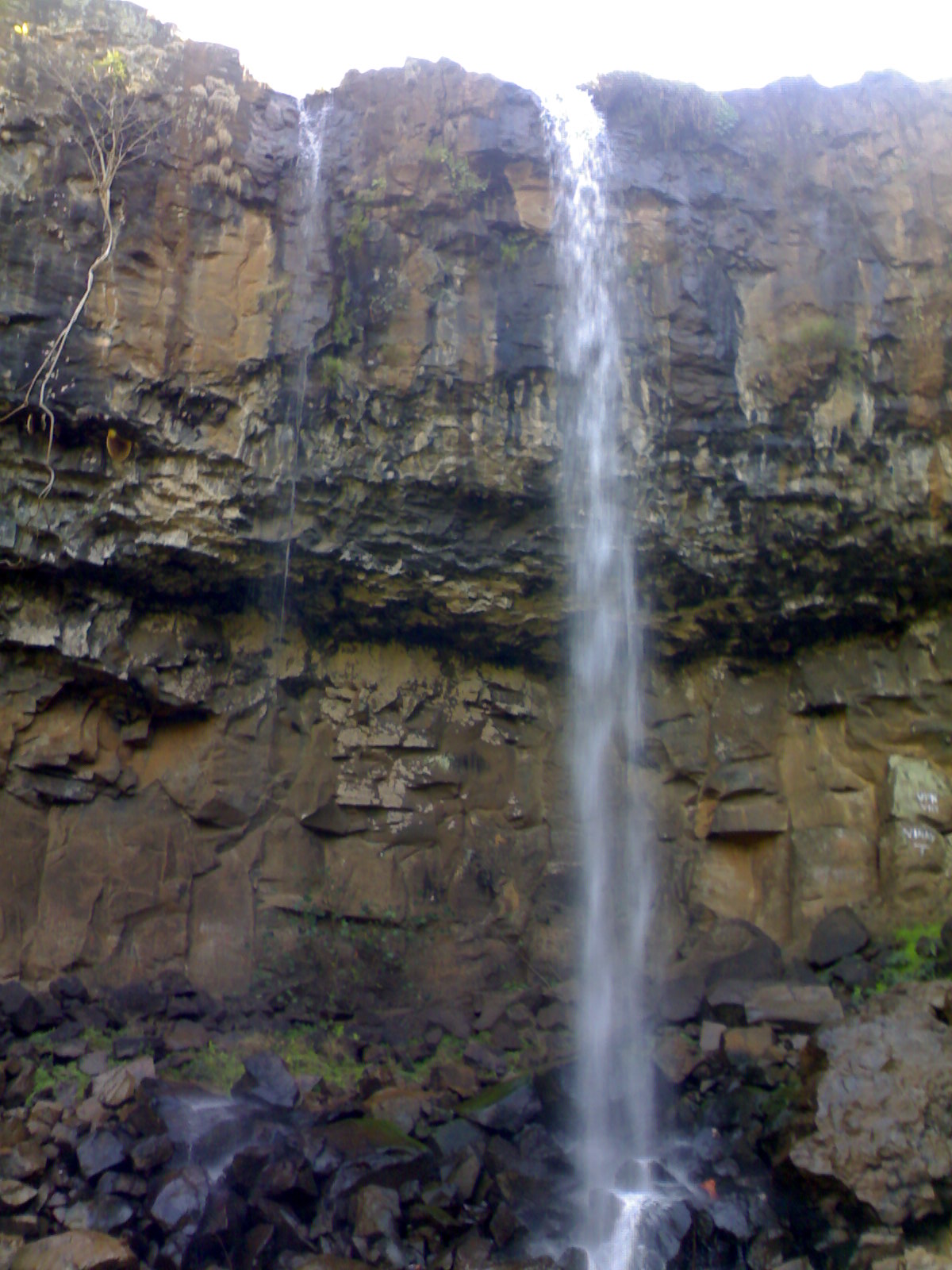 The Dudhdhara is another water fall just downstream the Kapildhara some 200 meters ahead. One has to trek almost a km from Kapildhara and the path is steep and slippery in some stretches. This waterfall is situated amidst thick woods and dense forest and is about 10-11 ft high stream extremely white in colour. Because of its white colour resembling with milk, it is called Dudhdhara. There is a small cave too just next to the falls. Weather around the two beautiful waterfalls remain pleasant and serene all the time during the year. We spent a lot of time around these waterfalls to enjoy the panoramic view and natural beauty.
Since it was nearing midday and trekking at two water falls had also taken its toll, we decided to skip some other attractions of Amarkantak. For illustration, it is also the seat of Indira Gandhi National Tribal University which was established in the year 2008 with twin objectives of providing avenues of education, especially higher education and research facilities primarily for the tribal population, and to disseminate and encourage tribal art, tradition, culture, language, medicinal systems, customs and forest based economic activities in the tribal areas.

We were also told that a new Shri Sarvodaya Digamber Jain Temple was under construction at Amarkantak, which is akin to the famous Aksharadham temple of Gujarat. On completion, the temple would be characterized by the ashtadathu idol of Bhagawan Adinatha measuring about 24 ft (7.3 m) in height and weighing about 28 tonnes, the world's biggest ashtadathu Jain idol of Bhagawan Adinatha.

I think it would be unfair if I do not touch the flora and fauna of such a beautiful and fascinating religious place and hill station in Madhya Pradesh. I came to know by some locals that these hills are also habitat of some of the most primitive tribes of the Madhya Pradesh, and some of them such as pandavas tend to run away even today if they see any strangers approaching their village.

The temperate climate with adequate summer and some winter rains make Amarkantak ideally suited for dense vegetation. While most of the forest cover is sal dominated, one can also notice several species of angiosperms, gymnosperms and pteridophytes including a wide variety of grasses and other ground flora. Besides, there are many valuable medicinal plants such as Gulbakavali (Hedychium oronarium) and Kali Haldi (Curcuma caesia). I have heard that because of its unique eco-system, Amarkantak is considered a natural heritage area of the national importance.

Although Amarkantak has a dense forest cover and favourable climate, because of intense human activities in and around, one would not observe much of the fauna and wildlife in the vicinity. However, common monkeys and some langurs can be seen in abundance. Other wild life include species of deer family, chitals, jackals, foxes, grey mongoose, giant squirrels and occasional bears and wild boars. Besides several species of birds, snakes and lizards are also common in the area.
In the past, I had heard about the famous Dindori National Fossils Park. As it was within reach, during the return journey we took a diversion from Shahpura from where it is located at a distance of about 30 km.in Mandla district at Ghughua. This park is a rich heritage of plant fossils that existed in India from 40 to 150 million years ago spread over almost seven villages of Mandla district. The petrified trunks and other plant parts represent mainly gymnosperms and angiosperms (monocotyledons) and palms.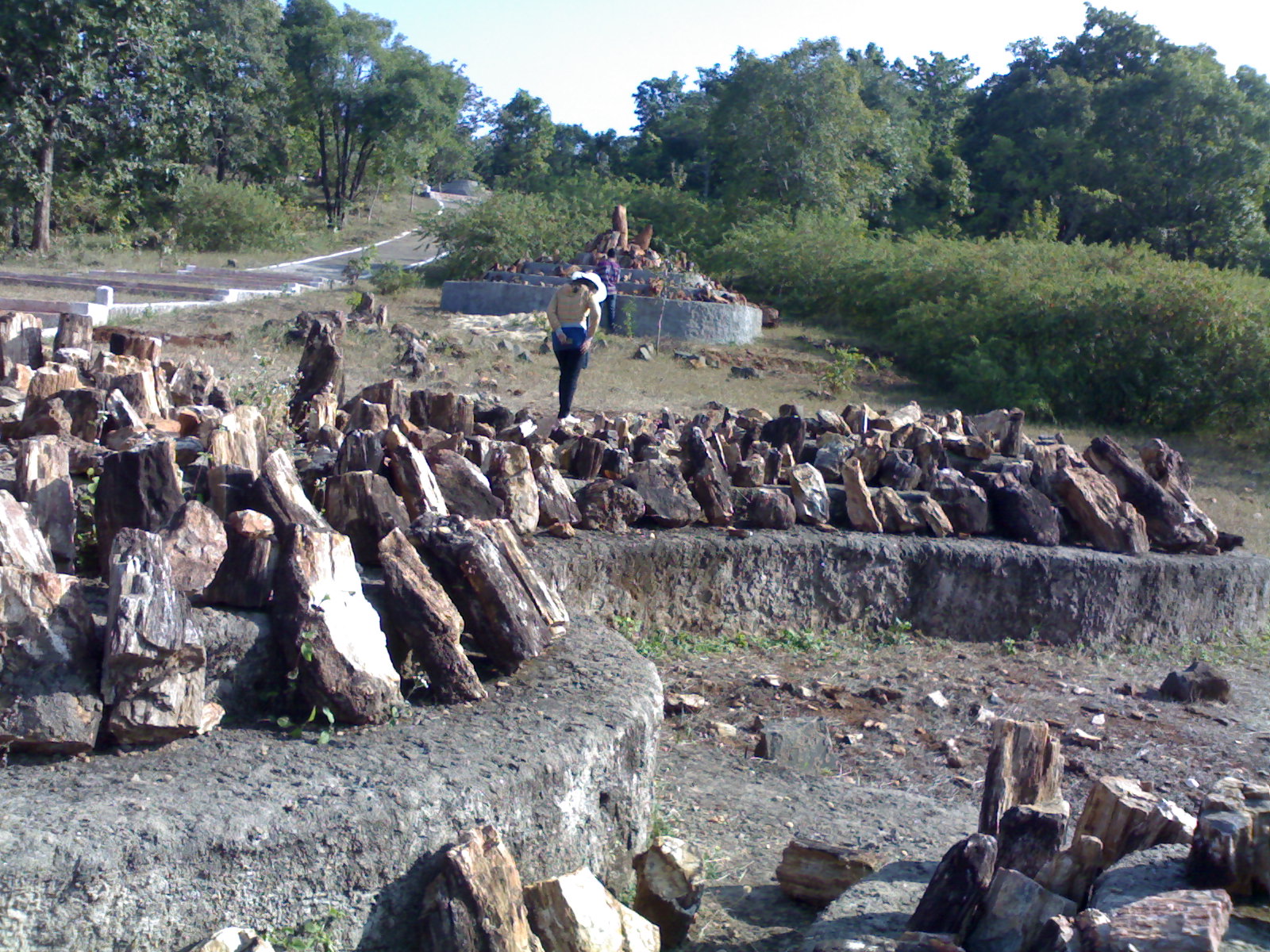 Fossils at Dindori National Park (c) jaipalsingh

These fossils are believed to be from the late Jurassic and early cretaceous ages. Among the plant fossils, one can observe some fossils of molluscs too. The curator there told me that the Birbal Sahney Paleobotany Institute located at Lucnow have done some work on the Ghughua fossils but a vast chunk of this priceless treasure trove of plant fossils still remains unexplored. The well-preserved fossils of woody plants and their various parts viz. leaves, flowers, fruits and seeds represent life of the millions years ago.

These fossils generate a fascinating curiosity and interest in life sciences not only among the paleobotanists but even the common folks like us. While coming back, I was pondering how many of us really understand and appreciate the mystique of nature, and the wealth and mysteries it encompasses at the present and from the yester years.
Temples Image (c) Gettyimages.com
Kapildhara fall (c) Jaipalsingh