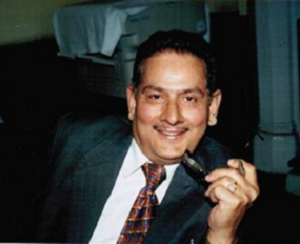 Noted writer PCK Prem is a delight to interview. A veteran, with multiple interests, he has served the Muses well. Despite being busy with civil administration, PCK Prem never neglected his passion--- writing. Post-retirement, he continues to be prolific. He is about to publish Tales from Mahabharata in English for wider dissemination. Here he elaborates his world-view to Sunil Sharma in this long e-mail interview:

Q: Your view of Indian writing? Hindi, English and Dongri, please?
A: You do not face problems when you write in your language. You are free with no hang up or weight of phrases. Flow of feelings and thoughts is easy and joy giving. When an Indian writes in a language other than mother tongue, it becomes a vital issue. After so many decades, I find authors writing in English quite comfortable. To have multicultural and multi-linguistic mindset is good but if temper and warmth of soil is the motif, it beautifies and ennobles every writer irrespective of regional and national concern, for humanism goes beyond borders of intellectual landscape.

Q: Why do you write?
A: It is a difficult question. It is also very easy. You write because you want, you want to share, a tempting yearning to communicate. You feel you have something very crucial to say and so you write. It is natural and spontaneous but under stress also.

Q: What is the state of Indian criticism these days?
A: Very sound, healthy and effective with a few exceptions. Prejudices do intervene but it is innate. Objective analysis is discomforting a critic should know.

Q: There is a revival of interest in Indian heritage on TV and popular culture.
A: It is a good sign. At least, it creates awareness among the young generation that Indian heritage spreads message of universal goodwill, love, unity, truth, compassion and righteousness, for the young do not have time to go through scriptures. Reading habits if inculcated among the young people would benefit posterity. Perhaps, it would take time. However, in modern times, Indian heritage on TV emphasizes the vitality of devotion, karma and dharma. I think your question answers many subtle questions.

Q: How do you account for this revivalist interest in the past?
A: The world overwhelms. Living in a crowd makes you irrational and insane, and wise at the same time and you feel you are mentally fit. What a fallacy, a determined bid not to see reality of imminent collapse of joys and happiness in the oversupply of material joys.
Q: Why do not we learn from our pluralistic heritage that promotes tolerance and mutual respect?
A: The answer is quite evident what I said earlier. No religion teaches intolerance. No religious man ever finds dichotomy in teachings of different scriptures. Love for man is the greatest religion and that is what religions of the world say. Not new but only one refuses to know and understand. Perhaps, our so-called religious men/men of destiny have failed for life of leisure, pleasure and joys with lot of cheating and deceptive acts when they talk of ethics sans meaning. It drives men to heartbreaks, a cause of modern chaos.

Q: Your view of Indian Poetry in English?
A: Indian English Poetry has acquired an authoritative role in the poetic region. It is evocative in essence. As observed elsewhere in a book "English Poetry in India – A comprehensive Survey of Trends and Thought Patterns", I hold that nature and subjects of contemporary consciousness with a scrupulous avoidance of controversial social and political aspects constituted the poetry of early period. However, with the passage to time, English poetry in India has witnessed a colossal transformation in temper, attitude, emotions and thoughts. Consciously or unconsciously, the poets depict contemporary scenarios with genuine anxiety for the people. It is time for the scholars, academicians and educationist of India to view Indian English Poetry from an Indian point of view without preconceived notions or prejudices. It carries an enormous strength of Indian heritage and culture with a genuine Vedic equanimity. It is universal and secular in approach and outlook.

Q: How is publishing scene for writers?
A: Not very encouraging. There are many publishers and authors but still the publishers call it a non-profitable venture whereas the authors do not get anything with negligible exceptions. However, books on various genres are published every year. It is a hugely disturbing enigma. Many write, many more publish but still none finds it monetarily viable. It is time; someone looks into this segment and protects the publishers/authors from loss or …?

Q: Please sum up Prem Katoch in few lines.
A: A man should take life as it comes to him. If he does not make it complex, he lives happily. He gets meaning in life provided he lives a life of reasonably pragmatic rules and principles of life I believe.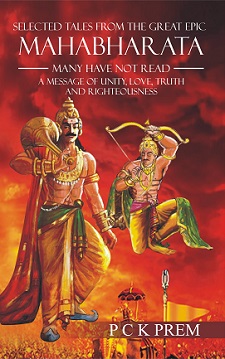 Q: How many tales in total in the upcoming book on Mahabharata?
A: It has thirty-nine tales selected from different chapters of the epic. These are not part of the main story of Mahabharata but are integral to the epic, for these elucidate the Vedic philosophy of life while scrutinizing the anxieties and worries of life in totality. The tales are told in a subtle and indirect mode so that the objective and content is clear without hurting anyone, here birds, animals and saints appear and tell man to live a righteous way. Interestingly, the tales speak of relative values/morality without appearing absolute.

Q: What were the criteria of selection of these tales?
A: No specific criterion…a man is worried about life, its little joys and concomitant worries and sufferings – a transitory but vital phenomenon of human life.

Q: Which language you read them?
A: Translated version – from Sanskrit to Hindi and at times, I tried to find out the exactness of version, for in Sanskrit, one confronts many meanings of a single word. Frequent referring to some books became inevitable.

Q: How much time you took in these renderings?
A: To be precise, it took nearly two years. Unnecessary descriptions are abandoned for the sake of exactitude without deviating from the text.

Q: Have you read the Gita and Mahabharata in your youth?
A: Yes, many a time. Each time you read, you get a new meaning, and still readings of the holy books seem so fresh and fine.

Q: Inner motivations for undertaking this cultural project?
A: I find it quite relevant in contemporary life. It does not mean that joys and sufferings, frailties and inadequacies did not visit men of past but they did try to discipline life with ethical code with a possible approach to practical life. Now, times are different. People nurse a different mindset and survive in cocoons while boasting of a life of autonomy and broadmindedness. Hatred and hypocrisy disturb and overwhelm making lives miserable and in a state of miseries, men derive pleasure and joy and maintain a sophisticated psyche becoming victims of non-judgmental approach.

Q: Your overall philosophy of life?
A: I take life as it comes to me. I do not make it difficult. If a man makes sincere efforts to live honestly, he adds meaning and essence without making it multipart.
Q: Will these tales change the attitudes of a crass, violent, cynical Indian society?
A: My grandfather was a saint I learnt. He died much before I took birth. I evinced interest in religious people and pundits and listened to what they said. With the passage of time, I attended huge gatherings of religious men. Morality and ethical life is much better I learnt. However, those who preached did not follow … and allowed pretense to survive with immense revulsion, distrust and violence…a contemporary perception. A genuine man is disturbed. Every man of substance or otherwise in unlike location, status and region loves to say good, nice and noble words and tries to humanize man but the ugly part stays on... This approach raised many questions. Through the tales, it is an effort to retell something virtuous every man nurses within but fails to evoke. If an ancient tale purifies or transforms a man a little, well, it would help society in totality. These tales have secular and universal outlook and thus, would go beyond any man made borders. When you read some of the tales, you would find that these clarify, explain, teach and inspire a man to live a better life without making it complex or difficult. Man invites troubles only when he refuses to listen to what the inner man says. These are part of the great Epic while highlighting the worries, anxieties, anguish and conflicts of the minor/major characters of the epic and yet one would find these tales still stand apart.
Q: Thanks
A: Thanks.