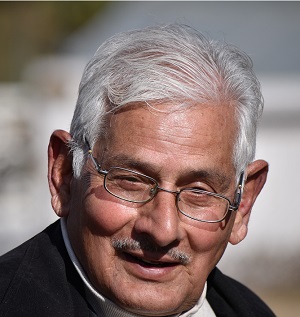 An author of nearly sixty books in English and Hindi, P C K Prem (p c katoch of Malkher Garh-Palampur, Himachal, a former academician, civil servant and member HP Public Service Commission, Shimla) a widely published author has eleven collections of poetry, six novels and three collections of short fiction. He has six books on ancient literature and two on folklore. A few significant works on criticism are Contemporary Indian English Poetry from Himachal – edited 1992, English Poetry in India: A Comprehensive Survey of Trends and Thought Patterns 2011, TEN Poetic Minds in Indian English Poetry 2016 and Time and Continuity 2016. Creative writings in Hindi include twenty novels, nine books on short fiction, one collection of poetry and criticism.

He is also an author of History of Contemporary Indian English Poetry – An Appraisal 2019 in two volumes and The Lord of Gods 2019 also in two volumes, based on Srimadbhagavata Mahapurana.

Editors – Rob Harle, Dr Sunil Sharma and Sangeeta Sharma, published through the Authors press, Delhi a critical book on the Poetry and Hindi Literature of P C K Prem – PCK Prem: Echoing Time and Civilizations 2016. The Authors press again published another critical book on novels – The Spirit of Age, and Ideas in the Novels of PCK Prem (Editor: Dr. P.V. Laxmiprasad). Dr Jogindra authored a book on the Hindi literature of P C K Prem –PCK Prem Ka Kathasansar (Nirmal Publicatons, Delhi 2005) with special reference to his Kaalkhand, a Hindi Novel in Five Volumes. Dr Hemraj Kaushik has edited a collection of select short stories. P C K Prem Ki Chuni Hui Kahaniyan recently through Pushpanjali, Delhi 53 in 2019.

Recipient of several literary awards, he is a poet, novelist, short story writer, a reviewer and a critic in English and Hindi from Himachal. At present, he lives with wife Shakun in their farm at Palampur, Himachal, India.