'The Making of a Chief Justice of India
- Life and Times of Justice Kamal Narain Singh'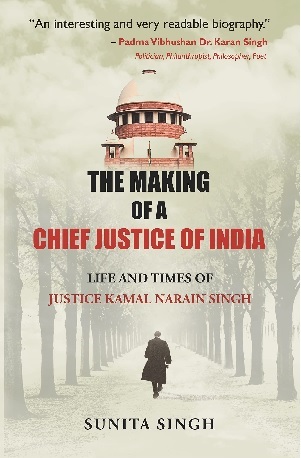 To write a few words about a legend is an awesome task particularly for a daughter but Sunita Singh has done amazingly well in 'The Making of a Chief Justice of India –Life and Times of Justice Kamal Narain Singh' in the aforesaid biography, a publication of Readomania.com 2022. It not only speaks about the man but also intelligently recapitulates country's political, economic and social history in transition. Once Krishna (spouse of Justice Kamal Narain Singh) the Thakurain was a bit annoyed when as a retired judge, he moved about freely without caution, he told, "If I start becoming filled with an exaggerated sense of self-importance, I will be sitting in one corner, thinking about the past. I move with the times and connect to people on a personal level.'

Once he observed in 1990, "…Judges are human beings, they are not infallible, they are likely to commit mistakes but that should not be a ground to denigrate them publically." An inconspicuous viewpoint on life invariably contributes to the making of a legend, I would say. Justice Kamal Narain Singh, the former Chief Justice of India at 97 stays with his son Justice D. P. Singh (retd.) after the death of his beloved wife Krishna two years back. His daughter Sunita Singh looks back and tries to perk up modestly a fabled existence.

She turns reflective at once. In a village in 1926, a young woman Indra Raj Kumari gave birth to a child. A traditional Gaharwars Rajput family it was, and husband Dev Raj Singh could only see spouse Indra R Kumari after a month. The child was Kamal Narain Singh from a farmer's family of village Chakdiha of Manda, Allahabad. Shri VP Singh, the former Prime Minister belonged to this lineage. A hardworking family of rigid habits and rituals acquired land elsewhere because of differences in family to make livelihood where caste system dictated living. The family lived under constraints but it nursed a burning desire to rise and establish its existence.

The family was vegetarian, religious and spread the message of benevolence. Dev Raj looked after farming and agricultural land. Kamal Narain was the first law graduate from Manda's royal clan. The women of the house were not educated but were worldly wise. A rural village of trees, ponds and friends provided little joys. The village had scanty medical facilities and therefore, home vaidya looked after the villagers. Educational system was unsatisfactory and so, takhti, kalam –a pen of reed and dawaat imparted essential instructions. Kamal Narain had learnt to live and enjoy life in little joys, scarcities and innate restrictions.

On the other hand, the Act of 1935 disappointed for it gave no authority to Indians. Nehru and Jinnah did not agree and the freedom movement continued. During this period, Kamal Narain met Vijaya Lakshmi Pandit and felt inspired. Now, as he grew up his interest in the freedom struggle increased, and proximity to Mangla Prasad, an influential man in U.P. encouraged him and he began taking interest in politics. He was aware of the political development in the country as Gandhi and other leaders exercised tremendous influence. Afterward, he went to Allahabad and completed BA degree in English, Hindi Literature etc from Ewing Christian College. Interaction with the Westerners brought a great change in him. However, principles of Gandhi guided him. Gandhi's thoughts infused unique spirit and soon, he shifted to khadi dhoti-kurta. He observed restiveness and anxiety among Indians. It was not a good sign because the English had not honored the commitment they had made before the War that they would take steps to hand over India to the Indians. Movement for Freedom was gaining momentum. Congress's volunteers were spreading the message through distribution of printed material since the newspapers confronted the white rulers' restrictions.

Kamal Narain as a congress volunteer was active and at times, escaped the surveillance of police. Patriotic and nationalistic thoughts inspired and soon he joined the Quit India Movement. At times, volunteers had to hide identity. Protests and processions awakened people. During the period, he accompanied Shastri ji to do party work. The British were naturally averse to the agitating approach of Congress. In the year 1943, Japanese were creating critical moments, and communal tensions were an added headache whereas famine and starvation caused difficulties for the government. Kamal Narain was actively watching each political and social happening. During the period, Kamal Narain when selected for the Air Training ignored it on the counsel of father for he loved Gandhian principles.

In the Allahabad University, he enjoyed debates, discourses and dialogues. His interest in politics remained integral and he took part in party's activities. At the same time, he had educative encounters with eminent educationist, professors, scholars of Hindi and English. He married on May 27, 1946 a strong-minded and intelligent girl Krishna Kumari a 13-year daughter of Lal Jagdev Singh. Years rolled on. On the midnight of 14 August 1947, India was free. Nehru said, "…At the stroke of midnight hour, when the world sleeps, India will awake to life and freedom." He was aware of the significant role of Sardar Patel, V. P. Menon who had worked together for bringing princely states under Indian flag despite a few discordant notes.

At that time, Kamal Narain was member of the District Congress Committee and PCC as well. Babu Mangla Prasad was a motivating force behind Kamal Narain, who often took Kamal along with him on tours. In the meantime, death of Gandhi on 30 January 1948 shocked every citizen. When he completed his Master's degree, Shastri ji and Babu Mangla Prasad ji asked him to contest election for the District Board.

He won the election in 1951 and served as a member of the Allahabad District Board from 1951 to 1958. During the period, he held the offices of Chairman of the Public Works, Education and Public Health departments. People lived in difficulties since there were no roads and schools. Several schools came up in the interiors of the district when education was with him. Later, he joined Shri Vinoba Bhave who had started Bhoodan movement.

~*~

Set up in 1950, the Election Commission had Sukumar Sen as the first Election Commissioner. Soon after, it notified election from October 1951 to February 1952 under the directions of Sukumar Sen and therefore, he fulfilled a great task to strengthen democratic setup. Nehru stood for election from Phulpur in Allahabad. Kamal Narain as member of the District Congress Committee supervised the work of twenty polling booths situated in the remote areas of the constituency quite difficult to approach. Kamal Narain sincerely worked hard, and tried to go everywhere, contacted voters while emphasizing the importance of vote.

During this period, Shastri ji and Mangla Prasad ji introduced him to Indira Gandhi. During her visits to the area, he got many opportunities to meet her and discuss party matters freely and frequently. Happily, the Congress won the elections with 364 seats. Nehru became the first Prime Minister. Shastri joined as railway minister at the centre and Mangla Prasad became minister in the UP government. Kamal Narain began to practice in the court but was more interested in the District Board. Kamal did the work without charging any money from the poor who failed to pay lawyer's fee. Those were hard days for him and at times, he had to go to sleep with an empty stomach but times changed. Kamal served on the district planning committee for about ten years. He was the director of the co-operative bank also. During this period, Nehru often visited Allahabad and Kamal Narain met him and apprised him of the party matters.

Many lawyers played a significant role in freedom struggle. Kamal Narain had been doing practice since 1950 and then, at the age of thirty, he started practicing in the Allahabad High Court that had a galaxy of famous lawyers namely Munshi Kali Prasad, Tej Bahadur Sapru, Kailash Nath Katju and Pandit Ayodhya Nath. He met Satish Chandra Khare, a leading lawyer. Their association grew and seven years after, KN joined chamber as his junior and took up cases relating to constitutional and civil laws. Khare always inspired him, and built up his confidence and therefore, he began to work independently.

Khare was a counsel in an Election Petition and represented Mrs Gandhi but lost. Kamal Narain had joined the chamber of Khare in 1957. In one of the cases, he appeared before Justice Bhargava who was angry since he did not appreciate a junior to argue before him. It did not discourage KN and when he appeared again, he argued excellently and impressed everyone. Undoubtedly, he impressed Shastri ji and Mangla Prasad as a lawyer and it was gratifying and later, he stood as a counsel for Arjun Singh that made him famous. Practicing in the courts and performing duties of Zila Parishad continued and he did well, who had a strong moral support from his spouse –a Thakurain of poetic disposition

The Congress for the third time won the general elections with grand majority. During the period, Kamal looked after the work of Congress competently and impressed Nehru. However, border dispute with China in October proved disquieting. Panchsheel doctrine collapsed. During the years, KN was a witness to varied happenings. As a lawyer, he proved effective and won good clientele. He vividly summoned up eventful and challenging years of sixties when China's monstrous act was shocking for Nehru, who suffered a harsh stroke but never fully recovered and later, a severe heart attack claimed his life on 27 May 1964. Shastri became the Prime Minister and took oath on June 9, 1964. KN was close to Shastriji, who valued human relations. Shastri ji was unpretentious and self-effacing bereft of any ego. Unfortunately, he – a personification of 'simple living and high thinking,' died at Tashkent. Mrs. Indira Gandhi became the Prime Minister on January 24, 1966. KN was a close witness to all goings-on and wherever required he contributed constructively whether in administrative or in political sensitive matters, particularly when he was in touch with the influential political leaders.

Congress won 1967 elections with reduced majority. Unsatisfactory economic health of the country and the differences within the party were the reasons of poor performance. Charan Singh a very important leader of the Congress became the Chief Minister of U.P. He took keen interest in laws relating to village economic health and acted fast, took firm stand against the exploitation of forming community, carried out many reformatory measures and framed laws to benefit farmers. During this time, Kamal Narain represented U.P against Delhi government in a transport dispute and got reprieve. His sharpness as a counsel impressed Charan Singh. Later, he became Senior Standing Counsel in April 1967.

Humanitarian outlook definitely determined the work of court Kamal Narain learnt despite some jarring notes in relations. The greatest support to him was his wife of strong discipline, who managed the household affairs despite encountering financial constraints. Kamal Narain became an additional judge of the Allahabad High Court at 43 on August 25, 1970 and in 1972, he was a permanent judge.

He often recalled his association with Beg brothers who were thoroughly noble men of wisdom. A collector was not obeying the orders of the court. KN personally knew the collector but for him duty was sacred. He ordered collector's arrest. It proved that KN was a strict judge and respected the rulebook. This action sent a strong message to bureaucracy, Sunita recalls.

KN's was simple, honest and down-to-earth. He was sympathetic and compassionate in nature and was beloved of employees who made him the president of the association and remained there for a long time. When he differed with the other judge in a bench on points of law, it never hurt relations. Pure understanding strengthened ties. He held different views in a case and did not agree with Justice Asthana but it never affected human bonds, one learns.

Indira Gandhi faced problems in the party as some of her party men were against her. In 1971, she came out with a huge majority. In the Indo-Pak War, victory in thirteen days strengthened her position. Now, she could deal with domestic issues easily. Famine and financial constraints were affecting economy, development and growth. The evils of poverty and backwardness caused unease, unrest and agitations while movement of Jayaprakash Narayan gathered momentum.

Her problems increased with the judgment of Justice Jagmohan Sinha on June 12, 1975, who set aside the election of Mrs. Gandhi on the grounds of misuse of government machinery and procuring employees' support. It created political instability and finally, led to imposition of Emergency, termed as the 'darkest period' in Indian History. KN and Justice Sinha were family friends but respected areas of dignity, and never intruded into each other's domain. Emergency was not good for civil rights, and freedom of press suffered though some reformatory steps proved good for the people, the biographer quite often offers the background which later exercise indirect impact.

At that time, KN was a judge in Allahabad High Court and many orders he passed were against the government. Congress suffered defeat at the hands of Janta Party in the elections in 1977. Morarji became the Prime Minister of India and immediately after assuming the charge, revoked internal emergency and lifted press censorship. Once when serious differences of opinion between the advocates and CJI Justice Satish Chandra cropped up, their protest took an ugly turn. Justice KN stood by the chief Justice who nursed good intents to change the rules in order to streamline the system. However, efforts of Justice KN diffused the situation. A humanitarian in KN appeared his strength and possibly assisted him in arriving at correct analysis and consequent judgment even as pragmatic approach and experience stood behind him. Such truths stand revealed.

In January 1980, Mrs Gandhi was back in power. Unfortunately, in June, she suffered a personal tragedy when her son Sanjay died in a plane crash. Later, Rajeev Gandhi, a commercial pilot joined her and became MP in 1981. The Eighties was a difficult decade. Separatist movement in Assam was a disquieting incident. In Punjab, Jarnail Singh Bhindrawale wanted a separate state –Khalistan, and adopted violence as a method to attain the objective. To curb terrorism, Mrs. Gandhi deliberated, acted firmly and allowed army to enter the Golden Temple.

Before going to USA in 1984, KN met Mrs. Indira Gandhi and found her stress-free and peaceful. At San Francisco, the news of Mrs. Indira Gandhi assassination stunned him. It was the end of a great chapter.

Later, in the General elections, Congress won with a huge majority and Rajiv Gandhi took oath of Prime Minister in December 1984. He brought about many reforms to improve life and living of people, affected revolutionary changes in the field of computers and telecommunication, and many other areas, and laid the foundations of Panchayati Raj system. When KN was in the Supreme Court, he met Rajiv Gandhi at an official function. During an informal exchange of words, he was taken aback when Rajiv told that he was always welcome to join through Rajya Sabha. Though he had been active in politics, took interest in various activities, won the confidence of many influential politicians yet the proposal to him was inconvenient. After serving the High Court for more than fifteen years, he was elevated to the Supreme Court on March 10, 1986.

The judges of the highest court often met one another on special occasion. However, Kamal Narain changed the scenario. He along with Krishna called on judges and their spouses. Very soon, the judges began visiting one another and the social interface gained impetus. It appeared many years in politics had taught him the value of relations, goodwill and spirit of conciliation amidst differences and probably, he carried the experience to the corridors of law where he established new norms of cheerful association among the judges who earlier never thought to look beyond their chambers. KN brought change in the chill, as he loved to talk irrespective of its nature. One can imagine how lively and warm it was. The warm teatime turned into a rich lunchtime in groups. Thus, he brought a fresh whiff of warmth and joy in relations. At times, the lunch came from the judges' houses in rotation and it strengthened fraternal feelings.

The judges did not have an official vehicle like officers of the government. Kamal Narain once met V. P Singh and made a casual mention about it. Shri V. P. Singh found it quite unusual. Very soon, each judge in the Supreme Court and High Court got a vehicle. KN was not only a judge of determination and justice with a pure and strong heart but had the toughness with legendary politeness to convince the person on principles and ethical standard. When KN celebrated the marriage of the youngest one many dignitaries –The President of India Shri Shri Venkataraman, Prime Minister Mr Rajiv Gandhi and others graced the occasion.

If one looks into the work of the judges, it is very arduous, protracted and needs intense concentration. Even they do not know the amount of time they spend in the court and outside. The files of cases that come before them are voluminous, at times running into a few thousand pages. Judges even if short of time, have to go through the files. They are busy and hardly ever have time for themselves, for the family and relations. In spite of this, people nurse wrong perception about the amount and nature of cases etc. including administrative work. Notwithstanding onerous routine, the highest court plays a major role in protecting the rights and freedom of the citizens. Legal Aid Cell and PIL system, the innovative measures are the contribution of Justice P. N. Bhagwati so memorable that take care of public as well as individual interests. A mere letter to the court attracts attention of course whereas scrutiny of flawed bail concept is another important reformative step. That judges need to be tough, strict and miserly in expression is good many a time but if it carries empathetic touch, it acts as psychotherapy. KN carried these virtues in his routine conduct and legal regions, the biography subtly conveys.

In the Supreme Court, he also worked with Justice C Reddy, a man of the poor. He displeased the Union Government during Emergency because he stood to guard civil liberties and protected socialistic ideology. Once, KN disagreed with Reddy, and wrote the judgment but Reddy did not object. To strike a note of friendship with Reddy was a matter of surprise for many. Another interesting case was of DhartiPakar Madan Lal Aggarwal, who had to obey the court and discard capricious rather melodramatic postures. The infamous Nadiad case of Gujarat related to police inspector who thrashed a judicial officer created uproar in the country. Madam Singh is meticulous and pertinent in the selection of some memorable and historic judgments of KN, which proved defining moments in the history of jurisprudence.

Among the few historical cases with far reaching repercussions were namely –Ganga Cleaning Case, the Tehri Dam Case, Shriram Gas Leak Case etc, which elicited extraordinary judgments. KN was always frank in expressing opinions and in addition, he wanted firm rules for the guidance of lawyers who are part of the judicial system.

November 25, 1991, was a special day for him. He got up early and moved out for a walk. It was a nostalgic morning walk. He visualized each face of family as inner joy filled him. At the stroke of ten, all the dignitaries and guests had gathered at the Ashoka Hall of the Rashtrapati Bhawan to witness the ceremony. President R Venkatraman administered the oath of office to Justice Kamal Narain Singh as he assumed office of the 22nd Chief Justice of India. Evocative memories appeared resurrected. In fact, he did not retire, for golf remained a passion. When he was the Chairman of the Law Commission, he remained occupied with various gratifying social activities in a self-effacing manner. This simplicity, humility and modesty with a humanitarian approach to life, made him so special.

Sunita Singh a bilingual poet, writer and storyteller survives with a 'disconnect' while the city lives with terrific noise. Dance of Flamingoes, a poetry collection won her an award. Many anthologies and e-journals carry her poems and stories besides she works as a co-editor in a few projects while love for nature works as an inspiring swivel. At times, it is difficult to write about one's father candidly, for subjectivity interferes but she carries the gentle music of 'Ganga-Jamuna tehzeeb' with innate sophistication and accomplishes the task with superb grace and this talent adds strength and beauty to the biography of a legendary figure – K N Singh.