As I Know: The Lord of the Mountains – Shiv Purana: 79
After the lord leaves, she concentrates on him for some time and then returns to the palace of Himachal... and for the royalty and wise men it is an occasion to greet a woman of rigorous tapa, and the time to celebrate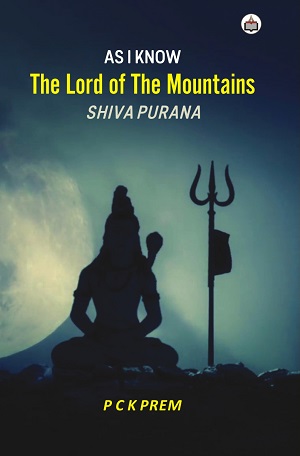 Parvati achieved the noble objective for which she took birth in the house of father Himachal. After a delightful conversation with Shiva, goddess Shivei was extremely happy and therefore, after Shiva had left, she concentrated on the image of lord Shiva and returned to the palace of King Himavana. She recalled each word and remembered the holy words of Shiva, who after great persuasion, had agreed to what Parvati said.
When Himavana (Himachal) learnt about Parvati, he was very happy and therefore, mounted a wonderful divine chariot to accord a warm reception to daughter Parvati, who had accomplished a great feat and had underwent tapa and penance for ages. He was highly anxious and nervous. All royal priests, the citizens of the capital, friends and relations and friends of Parvati joined Himavana to extend greetings to Parvati.
Parvati arrived near the town. As she entered, she saw parents rushing to greet. They looked full of warmth, anxiety and love. Everyone greeted her warmly. The women of the palace praised and showered love and then, said, "O goddess, you attained the objective, which will bring glory to the family and all will live happily. Your virtuous conduct has sanctified everything on earth and the other worlds."
Thus, occasion of great celebrations made everyone happy. Himavana was immensely happy with the great achievement of daughter Parvati, the goddess.
It was an astonishing event of entertainment. Lord appears as Nataraja before the queen as an adroit dancer of divine virtues and truth unparallel, who imitated Rudra astutely and asked for the hand of Parvati
Himavana extended love and respect to all, and later, joined the grand celebrations, went happily to the bank of river Ganges for a bath. When he was away, Sambhu, the beloved of devotees arrived before Maina in the guise of a dancer. He carried a horn and a damaru (a hand drum) in the left hand and a kathari (a wooden box) on the back. Attired in red clothes, he appeared a dexterous dancer. He imitated fittingly the divine dance of Rudra. He was quite apt in singing celestial songs. He (Shiva) in the guise of a handsome dancer went near the women sitting beside Maina, and enthralled and charmedthe women with dance and songs. He played on the musical instrument made of a horn, and mesmerised everyone present and then danced, and with deft and rhythmic drum-beatings, enchanted the women.
To enjoy the breathtaking dance of nataraja (the little lord of dancers also called Shiva when the lord assumes the form of a celestial dancer), men and women including old men, young girls and children of the town arrived. It was abrupt and unexpected. None thought that the dance and song of dancer nataraja would attract attention. People, who came to witness the great event of dance and celestial song, were hypnotised. Awesome dance even charmed and captivated Maina. On the other hand, Parvati felt happy at the darshana (glimpse, sight) of lord Sankara. He looked extremely handsome with a trident and divine symbols in hands. Adorned with a garland of bones and skulls, the entire ash-smeared body looked enchanting. He emitted divine light of the sun, the moon and the fire. Such was the radiance of eyes. He wore snake as a holy thread. When she saw the divine image, goddess Durga – Parvati out of love fell unconscious.
While she was unconscious, Shiva appeared to say, "Ask a boon. I will bless you." When Parvati experienced the presence of Mahadeva in the heart, she saluted, made a request for a boon, and said, "You be my husband."
Shiva blessed and disappeared, and thereafter, began to dance as if he were a beggar, who danced and entertained.
Maina also arrived with many beautiful and precious jewels on a golden platter to offer to Nataraja for the entertaining dance and soul-filling songs. Observing the joy of prosperity and luxuries the royal people enjoyed, Sankara was very happy. However, he did not accept gift of jewels, and surprised all. Further, it shocked when Nataraja asked for the hand of Shivei and thereafter, out of curiosity, was again ready to dance and sing in an exciting frame of mind.
Queen Maina was extremely angry at the unexpected, unwise and stupid demand of a petty Nataraja. She could not believe in the audacity of a bagger and reprimanded him for the blatant impudence. For a while, she thought to throw him out. At this very moment, Himavana returned from the Ganges after taking bath. He saw a beggar with a beautiful figure standing before him. He heard everything from Maina and naturally, was very angry. He ordered soldiers to throw Nataraja out of the palace. At this moment, transformed into a huge figure, Nataraja looked dazzling, divine light emanated from him, and it stunned everyone. It was difficult even to touch him. Therefore, none could gather courage to drive him out of the palace.
In no time, the lord of bhikshus Nataraja, adept in the artful display of delusory beauties and joys began to impress Himavana with mesmeric dance and songs. He saw Nataraja now transformed into Vishnu. He observed a crest on the forehead, earrings in the ears, and yellow shinning clothes adorning the divine body. He saw he had four arms. Whatever flowers Himavana showered on the image of Sri Hari, decked with a mace, he easily found on the body and forehead of the bhikshu Nataraja.

Continued to Next Page