As I Know: The Lord of the Mountains – Shiv Purana: 75
Parvati speaks of the great Tattva – essence of life and virtues of Shiva, who is Parabrahma Parmatma nirguna Brahma Mrityuanjaya (a conqueror of death) – if a man serves and worships Shiva, he gets all the luxuries of life, immense wealth and prosperity, and undoubtedly, sanctifies soul and body.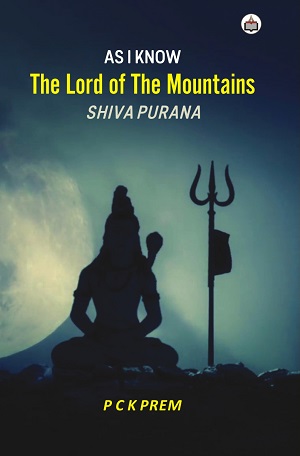 Parvati was apparently not happy with the brahmin, who tried to distract her from devotion to Shiva and further, found him quite inappropriate and discourteous when he spoke of Supreme lord, who she treated as the lord and supreme god.
She said tersely, "O babaji, until now, I understood you a great mahatma and a man of learning but it is clear that you derive pleasure in showing contempt and hate, and the words you uttered revealed your truly malevolent nature and therefore, you stand exposed. What should I say, especially, when you are a brahmin and I do not want to speak unkindly. Brahmins are not worth killing. O brahmin, whatever you said I know is incorrect and I see no truth in it. You say you know lord Shiva. I do not agree. Had you known great lord Shiva, you would not have said anything against the dictate of intellect and reasons. As you did not know the lord, so you said everything uncharitably. I understand that at times, delusory powers inspire the great lord, and often adorned with amazing clothes and coverings, he offers a different figure. In reality, he is the Supreme lord, the Supreme Soul and Parabrahma Parmatma. He attires 'the self' as he wishes and wills."
"In the guise of a celibate brahmin, you arrived to deceive and therefore, you resorted to inappropriate and ridiculous language and urgings. Espousal of fraudulent means appears indecent. I know the real nature and image of lord Sankara. Therefore, after conscientious deliberations, I describe the essential tattva (essence) of lord Shiva. He is nirguna Brahma. All virtues are simply images and necessary elements of the great lord. How he can have a caste? He is the basis of all the vidyas (the essence of life and spiritual knowledge) and therefore, all the scriptures originate from him. The great lord is the source of everything. Why should he need any vidya? In ancient times, in the beginning of a kalpa, lord Sambhu with a simple breath provided knowledge of the Vedas to lord Vishnu. I see no other lord greater than he is. He is the cause of origin of all. How can you measure the lord? Age or conditions of life will not allow you to infer correctly."
She said again, "Nature is born of him. What is the reason of lord's power? He bestows power, encouragement, inspiration and the power of mantra on people, who pray with feelings of love and devotion before lord Sankara. He blesses a devotee with infinite powers. A living being attains victory over death and becomes fearless if he implores and stands before lord Shiva. Lord Shiva is also famous as Mrityuanjaya (a conqueror of death), I must tell you."
She looked at the great brahmin and then spoke gently, "O man, it is because of lord Shiva that lord Vishnu is bestowed with the virtues of care and preservation (Vishnutattva) and the virtues of creation are lavished on Brahma (Brahmatattva). If the gods of heavens hold godly virtues, it is generosity of lord Shiva. What is the purpose of speaking in favour of lord Shiva? I am his devotee and he is the lord. Lord Shiva is the Supreme lord, who fulfills all desires and wishes. He can give anything. Is there anything difficult for him? Shiva is the storehouse. He lacks nothing but keeps bestowing favours, love and opulence, powers and grandeur on gods and created beings. Why should Shiva nurse a desire to make me a consort? He does not need anything. However, as a devotee, I need lord's blessings and so I worship. Therefore, I undergo rigorous tapa."
After a short pause, she continued, "If a man does not serve lord Shiva, and refuses to plead or worship, he remains poor for a long time. He has to get birth seven times before he is out of the hell. A man gets imperishable wealth and prosperity (Laksmi) if he worships and serves lord Shiva."
She continued to praise Shiva for a long time and still she wanted to say more about many virtues and powers of Shiva from whom everything originated and then, she made it clear that nothing existed without the mercy and generosity of Shiva. He loved devotees immensely. For the protection of devotees, he was capable of doing anything. If a devotee was in trouble, the great lord even ignores self-comforts. Lord Shiva in the guise of a brahmin listened and found no words to contradict the forceful arguments of Parvati.