As I Know: The Lord of the Mountains – Shiv Purana: 56
Yajna (an image of the lord) in the guise of a stag runs away through the sky path… one learns that ego and pride, and inability to think cogently causes vast ruin to the image of the lord of prajapatis.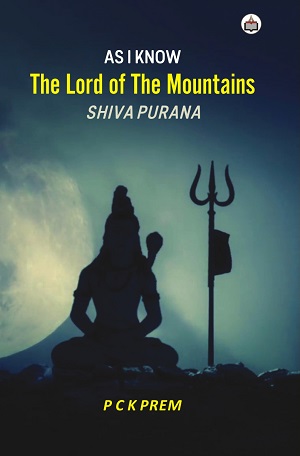 Daksa had lost the capacity to think correctly and rationally. He was the lord of prajapatis but failed to maintain dignity of status and image and thus, lost the discretion and gentility to behave elegantly.
After the destruction of yajna and related religious ceremonies, Daksa, soldiers, gods and the guardians clearly foresaw imminent death and destruction and did not expect mercy. It was anarchism around and therefore, the yajna (the image of the great lord) disguised as a stag, ran away to maintain sanctity. Unfortunately, Virbhadra saw yajna in the guise of a stag running away through the sky path and therefore, held the stag after a chase and instantly beheaded. Later on, startling destruction and annihilation began with no mercy or pity. Virbhadra attacked monks, sages and gods, and gravely injured and mutilated everyone and thus, many valiant fighters were without arms, legs, eyes, ears and various organs. Many dead bodies and limbs lay scattered all over the battlefield and the entire scene looked horrible and pathetic and it was obvious that many brahmins, sages and gods had lost lives.
After awful killings and ruinous acts of devastation, Virbhadra hauled up sage Bhrigu, pulled and uprooted his moustaches and beard, and then severely thrashed him, and thereafter, crushed the man under heavy feet. On the other hand, Chund broke the teeth of Pusha because he had scornfully laughed at Mahadeva, when ages ago, Daksa had used abusive language against Shiva. Nandi picked up Bhaga, tied him up and threw on the ground, and extracted Bhaga's eyes because he, too, had approved an ugly and damned act of Daksa. All suffered and died, who had tried to become part of unholy and outrageous acts against Shiva.
In truth, they destroyed everything and only ruins stared. All suffered and died because of the sins. Everyone tried either to run away or to plead mercy. None could find a way out. Brahma's son Daksa hid himself in the depths of the well of yajna. Virbhadra, after great efforts, located and brought him on the ground. He hit Daksa hard on the forehead with a dreadful sword but could not severe forehead because of the inherent yogic power Daksa's wielded. When Virbhadra came to know that no astra or sastra could pierce, then he placed a foot on the chest of Daksa and thereafter, twisted Daksa's head and tore it apart from the body.
After he killed Daksa, Virbhadra returned to Kailasa and narrated all events. Shiva was very happy and declared Virbhadra as the chief of pramathaganas (the army of attendants). Thus, one learns a great lesson. Pride does not pay. It is humility and devotion toward the lord that builds up reputation and enhances status. If one learns to live within the parameters of laws, and adheres to the principles of truth and dharma, nothing hurts. Grace, honour and virtuous conduct pay in the end. Daksa was, no doubt, a dear son of Supreme Brahma, however, when he disobeyed the will of the Supreme lord, the lord did not spare. Ego and self-esteem killed Daksa and thereafter, he lost the capacity to think correctly and rationally. He was the lord of prajapatis but failed to maintain dignity of status and image and thus, lost the refinement to behave gracefully.

Continued to Next Page