As I Know: The Lord of the Mountains – Shiv Purana: 55
A fierce war ensues between Virbhadra and Vishnu…who earlier tells Daksa of the foolish act when he humiliates Sati and Shiva…devotees of Shiva fight with each other…later, the chief gana destroys weapons of Vishnu and …and very soon, Vishnu knows the eternal truth and design of the lord and disappears from the battle field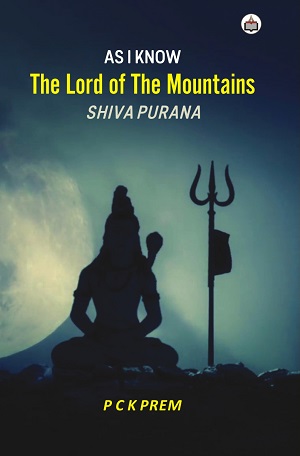 They heard pitiable and heart-rending implorations of sages and therefore, Brahma and Vishnu journeyed toward the battlefield with a desire to fight. When Virbhadra observed Sri Hari ready to fight against the forces of ganas, he nearly reprimanded Vishnu in harsh words. However, Vishnu simply laughed at the insolence.

With a grinning face, Vishnu said, "O Virbhadra, whatever I say now, you listen. I am servant of Shiva. Do not say that I am against Rudra. Daksa is ignorant and foolish. He believes in the theory of karma. He requested me earlier frequently to be present at yajna. I am under the obligation of a devotee. Therefore, I arrived. Maheshwara also lives under the obligation of bhaktas. O Virbhadra, Daksa is my bhakta and that is why I came here. O Virbhadra, born of anger of lord Shiva, you have the brilliance and energy of Rudra. You are the source of grandeur and radiance. Listen to the pledge I gave. I can stop your advance. You stop. The result will be the same as is destined. I shall exhibit my valour and gallantry."

Virbhadra heard and laughed, "You are the most beloved devotee of lord Shiva. I am happy to know."

Virbhadra laughed again and bowed before Vishnu and said with a smile politely, "O lord, to understand intents and feelings, I said certain harsh words. Now, I shall let you know the truth. Please listen to words I say. You have to observe vigilance. O Sri Hari, for me you are like lord Shiva. I find no difference. The Vedas say and the wisdom of the Vedas is the expression of lord Shiva. With the desire of lord Shiva, all are his attendants. Even then, what I say suits an occasion of debate. I say out of respect, kindly understand. No affront, I say."

Vishnu smiled and said, "O great warrior, you fight without fear or doubt. After you injure me with the assault of astras, I shall go to the ashrama and take rest."

Vishnu said gently and was quiet. He clearly told a devotee of Shiva that it was his duty to fight and it was dharma of a fighter. In fact, Vishnu dispelled suspicions crowding the mind of Virbhadra. He was ready to fight against Vishnu. Afterward, a terrific war between Vishnu and Virbhadra began. At the end, Virbhadra surprised Vishnu when he broke the divine disc, bow and divine weapons into three fragments. Later, Vishnu was enlightened with the truth and the design of the Supreme Lord and therefore, without wasting a moment, thought over and disappeared from the battleground. At this moment, the gods of heavens understood the consequence of whatever injustice goddess Sati suffered even as Shiva was humiliated.
After he found it difficult to stand against Virbhadra and ganas of Shiva, all the gods and the attendants, remembered Shiva in the heart, went to respective places, for a great truth stood revealed. Brahma was also quite pained to see son Daksa in wretched condition. However, he envisaged no alternative and therefore, left for the abode of Truth (satyaloka) and thought over the probable solutions. After Brahma and Vishnu left with attendants, the powerful ganas of Shiva defeated all the gods and priests at the place of yajna.

Cotinued to next Page