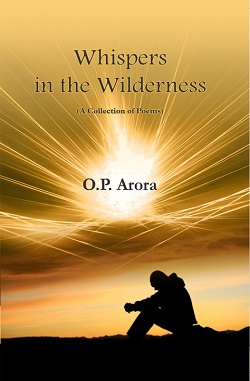 O. P. Arora is one of the finest contemporary poets in India. He is also a well known Academic and scholar, a poet, short writer and novelist, who devoted more than three decades to teaching in Delhi University. Whispers in the Wilderness (the fifth collections of poems) speaks of poet's deep reflection on nearly seven decades in which he witnessed life's dilemma with multiple overabundances of 'assertion and fusion' because ego and narcissism warp finer sensibilities as man struggles hard to scratch out an identity. He does and at the end of life, revelation dawns that it was all futile. If it happens with nature, so it is with man and thus, man is a witness to 'The Eternal Spectacle'13 as throbbing designs 'merge into the eternal ocean/ lost forever, unknown, unseen.' Glories and dazzle fade into utter darkness and instantly, he talks of 'The Invisible Connect' that arranges and re-arranges the Cosmic Order and then, he shocks when emergence of 'The Glossy Jungle'15 where immense scientific and technological progress turns man into a maniac killer and destroyer. Then, doughty man's spirit instills hope in the ability of man because even 'Sandy Castles'16 are precursors to the attainments of great heights.
…illusions sprout into dreams
only through dreams man perceives
only through dreams man bequeaths
what if thousands fail, frustration leads, crawls and creeps
human race wins even if one succeeds… (Sandy Castles 16)
He reaffirms faith in the destiny of man, who abandons thoughts of deliverance but believes in perseverance even if 'Man stinks no doubt, but man rises to the heights too' and so the poet says 'I would crave a rebirth, even if the cup of sorrow is full/ whatever be the form, even an ant is beautiful'17 and thus, faith in the creation speaks of deep-rooted faith. Life of intensity lived on earth is a path to Moksha (salvation) the poet affirms. If he evokes great men of history, he reiterates unwavering belief in 'the eternal human spirit.' If man is genuine even if old, frail and faded, 'you can't beat his spirit.'

Arora's earlier lyrics speak of contemporary anxieties and sufferings and man's perfidious objective to push ahead, to elbow out others without caring for ethics, and be a part of life. But ultimately, he celebrates principles and ethics. In 'Whispers…'I notice a subtle swing in thoughts. He is anxious to underscore man's intrinsic qualities of trust in man's eternal spirit on earth but when 'I' intervenes, he faces defeat and death. Humility and merger in the cosmic order teaches man the art of life or else everything on earth dwarfs a man. An irreversible truth is that cosmic forces pull down the structure of 'I' 24 a man builds.
when he wrote I
on the surface of the earth
the earth shook
the planets rained fire
the whole Cosmos blazed with ire…
…no trace of I
anywhere
neither on the earth
nor in the universe…
Abruptly, the thought runs to Krishna, who in many guises, lives on earth but when he makes efforts to 'cleanse the universe of Adharma' (untruth and unrighteousness) life attains objective. He grieves over at the hollow man within and yet boasts of many faces -the atheist, an agnostic and a theist that speak through the man, who unfortunately perishes as nature releases calamitous fury and he looks stupid when he talks that God is supreme as if He needs man's prop up! What an Ego! If man realizes inner strength, it fulfills the wishes of Creator but regrettably 'He drifts from one desire to the other /the fulfillment too brings only transient joy/he starts finding fault with the toy' 27 and thus, disregards the ultimate objective he is to achieve and while indulging in manipulation he brings disgrace and ignominy to the whole creation… man in totality. He extols dreamers 30, the ever inspired beings, who think of the big…the sky and so the culture and civilizations continue to enlarge, grow and flourish. 'Deaf and Dumb, The Peacock, Darkness, You Too' reveal a few touching and imaginative features of heart and thought as 'Castles 37 reminds of 'Sandy Castles 16 in a slightly uneven style. Ironic disillusionment is obvious in 'Dance of Democracy'40 and then go to 'Happy Independence Day' and you feel the lyrics disturb at the personal level, if a man thinks. What did a man (country) gain notwithstanding loud (lousy) assertions?

Poignant feelings are perceptible yet figuratively speak of motive and rationality deformed in 'They Eat You from Within' 49 when a simple experience tells of a great truth-
…everything is not valued by cold logic
balance sheets search neither soul nor heroic
with moist eyes, I added: Whatever be his destiny
he has a right to live with dignity…
An ancient Promethean thought surfaces and the contemporary psychosomatic region gets a distressing treatment in 'They Screw the World' but still hopes survive. Innate humaneness is noticeable in -
Why don't you spread smiles and love
and turn this House into a home?
The rose squirmed, callously cast
You seem some ghost from the past
How dare you, here, those foreign words dart? (I Looked for Love 53)
Poet's imagination baffles, it questions and still deserts the intellect somewhere amidst chaotic analysis of life and nature. If life looks 'insane, simply insane' Nature's Design 56 appears to the poet 'apparently insane, purposeless, indifferent/ but perfectly articulated, meaningful, intent…'

An appalling feeling haunts that despite herculean efforts, persistent struggles, mounting ambitions, and unending hopes, man finds nothing new in life. He begins the New Year 64 with hopes and ends up reaching nowhere in spite of the achievements, and as a pigmy remains wondering and fails to understand the destruction he witnesses of hopes unrealized and material attainments. In an analogous strain, current terrorism bewilders and scares for–
You are the spiritual guru
weave the yarns of heaven and hell
mystical tales of past and future
induce the seeds of fear, ringing the bell
I worship you, love to be your doormat… (The Masked Dragon 73
Arora's poetry is saturated with stress and tension of failure, melancholy and wishes unfulfilled but at last, he awakens man and tells to get up and fight out. In a world of unethical lifestyles, it is better to die for a cause like a conqueror even if a life is cut short but just recall heroes of past who died for a purpose and elevated man to glory. To die unsung and unknown is 'Not the Way to Go'93 and wreck a creation. Poet, at times, stuns you with lethal blusters as he opens up floodgates of reality and reveals truth –
Pain, my fast and faithful friend
ever since the womb discarded me into the bend…
…pain has never deserted me since my first sensation
has been there for me in my every pulsation…(Transcending Boundaries 100)
With an unexpected ruthlessness, he exposes man to dark areas of agonizing, sordid and disgusting life and permits tawdriness to linger on. Suddenly, the melancholy ends and he observes, 'If today it is the dance of death all around …/war machines thunder, swallow one and all /tomorrow, peace would march through, celebrate their fall.' 109.

Cynicism and dejection dissolve very soon and the poet fills man with optimism and radiance of a meaningful life. Amidst ever growing wickedness, if a man allows optimism, resilience and struggle to survive, humankind will live forever.