As I Know: The Lord of the Mountains – Shiv Purana: 82
Sages speak of churning of Ocean and marriage of Sati to Shiva, thereafter, sages offer some more persuasive arguments, which prove effective, and ultimately, Himavana agrees.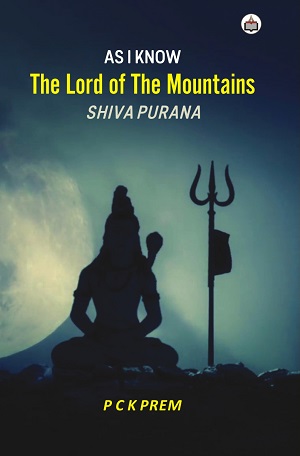 Great sages continued telling about the churning of the ocean and the origin of goddess Laksmi and the birth of Sati. How she got Shiva as husband in previous birth everyone came to know. As Daksa offered Sati to Shiva, everyone was happy. They spoke of a perennial truth and revealed that Parvati was the holy consort of Shiva in each birth and the marital relations between Shiva and Parvati carried a specific purpose. The sages offered many instances of the divine play and convinced Himavana.
"O father of Sati, Sankara blessed Parvati while she underwent austere tapa. The blessings of lord were essential for a future consort. The lord always proved true. O king of the mountains, it is difficult to violate the sacred utterances of saints and wise men, the holy men, who live under the shelter and grace of the Supreme lord. Then, how one thinks of the words of Supreme lord?"
Great sages convinced Himavana and Maina and thereafter, they decided to offer Parvati as a consort to Shiva. The sages returned contentedly after the achievement of the task and narrated everything to Shiva. After obligatory preliminary arrangements, Himavana sent the horoscope of Parvati to Shiva. He asked attendants and officers of the celestial courts to take suitable measures, collect material for the marriage and then, auspicious ceremonies began before the arrival of lord's marriage procession. He decorated the entire capital magnificently and it fascinated everyone. On an invite, all the mountains and rivers arrived in divine images. He requested artisan Vishvakarma to construct a divine podium for the marriage and divine palaces for the gods of heavens coming to attend the great marriage.
Shiva requested sage Narada to extend invitation to all gods, celestial beings, sages, seers and holy men to attend marriage. All arrived at the place of Shiva and thereafter, propitious marriage ceremonies began. After the close of ceremonies, the wedding pageant started its journey to the capital town of Himavana. Himavana welcomed the party in regal splendeur and thereafter, Maina requested sage Narada to introduce honoured beings of the marriage party.
Maina heard many words of praise of Shiva as sage Narada spoke highly of Shiva, who he thought was the greatest in the land of gods. She learnt that he was the lord of cosmos, the god of all gods and self-illumined paramatma. Maina thought Uma rich in glory and wealth, immensely fortunate and comfort giving to the three worlds. Brahma tried to describe the thoughts of Maina, who now felt convinced that Shiva was the fittest man for daughter Uma. She was very excited and said happily to sage Narada, "I feel fulfilled and blessed that I gave birth to Parvati. I had glimpses of many gods and I know Shiva is the lord, the swamy of all gods, and that he would be the husband of my daughter. One cannot describe how fortunate Parvati is. Even if you try to tell fortunes of Parvati for one hundred years, you cannot."
Brahma knew the mind of Maina. After a few moments, he said, "Narada, Maina was true to words and she spoke of lord's glory and delusory exploits as told. At that time, when she was eulogising, lord Rudra stood before her. Lord's disciples – the ganas looked amazing and were capable of destroying ego of Maina. At that time, Shiva appeared as if delusory potency had no role to play and perhaps, formlessness touched. Usually, lord is inseparable from mayajaal. At that time, you introduced Shiva to Maina and said, 'Look he is Sankara for whom Parvati underwent severe tapa." She looked at the lord and found him radiant and astounding. Ganas were equally breathtaking.
In the meantime, the army of Rudra also reached. It had ghosts, pisachas and different kinds of ganas. Some had assumed the figures of horrifying strong winds. A few had distorted mouths and faces, some were without limbs, arms or legs and looked dreadful with faces full of moustaches and hair with different kinds of weapons in hands. No doubt, it was not a very comfortable scenario when Maina observed Rudra's soldiers of awesome figures, who instilled fears and terror. Among the terrible looking ganas and soldiers, Sankara appeared on the back of Vrishava (bull). He had five heads with three eyes in each and all the limbs of the body smeared with ashes acted as ornaments she observed. In brief, the very appearance of lord gave horrible looks and stirred fears, dread and apprehensions. When Maina saw Shiva and ganas, she trembled and felt extremely distressed and next moment, she fell unconscious on the ground.
After some time, she regained consciousness, looked around and realised the gravity of situation. She was adamant and not ready to give Uma in marriage, for the very horrible looks of Shiva did not appeal. Gods of heavens tried to convince her but failed. Even she disapproved the decision of Parvati to marry the lord of ghosts. To the persistent appeals of gods, she said, "Shiva's looks are dreadful. I shall not give my daughter to him. You, O gods of heavens, conspire to waste supreme beauty and charm of Uma and so advise me…"
Later, sage Vasistha and other sages told Maina that they had come to attain the objective she had nursed in mind for ages. Gods made consistent efforts and at last, after a few initial problems, the mind of Maina changed when the sages convinced her of the divine objective. She agreed and told Sri Hari with a firm and candid resolve, "If lord Shiva assumes a fine-looking and striking figure, I can give her in marriage or else I will not even if you try howsoever hard." It was amazing to notice delusory powers of Shiva, who overwhelmed everyone.
Thereafter, Shiva appeared in the most dazzling and divine figure and the women of the capital and palace of Himvana enjoyed celestial glimpses of the supreme lord and felt greatly blessed. The divine figure of lord attracted and impressed mother of goddess Parvati, who thought for some time and said, "O Maheshwara, Uma is blessed. She undertook rigorous tapa and influenced you, and so you are here. I feel indebted and sanctified. Earlier, I committed an indefensible sin and spoke very spiteful words against you. I seek apology. Bless me O lord and be happy."
Honest prayer, worship and praise of Shiva delighted him and thereafter, the great lord in cheerful disposition entered the palace of king of the mountains Himavana along with numerous ganas, lord of gods and other celestial souls. The royal women and others generously greeted the lord, ganas and heavenly souls, and at that time, Maina and other women of the palace religiously as scriptures demanded, went to the main gate and welcomed the great lord and other divine souls happily. It was an occasion to celebrate. Young women of the palace were immensely happy, praised the lord and said, "Daughter of the lord of the mountains is blessed…we have never seen such a divine soul as a bridegroom."
After usual greetings, prayers and worship, Giriraj (Himavana) the lord of the mountains conducted all the gods, celestial beings and brahmins to the hall of celebrations and thereafter, made preparations for the marriage. Gods, sacred souls – sages and seers, and celestial beings settled down on superbly decorated and ornamented seats, and soon after the ceremonies began.
Himvana, after the winding up of ceremonies said, "O lord, I give my daughter to you. Please accept her as spouse and be satisfied with the offer."
A few more ceremonies continued as gods and celestial beings watched the completion of divine rituals as per requirement of the Vedas even as incantation of mantras filled the environment with divine fragrance and the aura it created proved extremely gratifying.
Brahma told sage Narada, "O sage, Maheshwara secured consent and requested brahmins to build up a holy havan kund for the holy fire of worship as in yajna and later, modestly asked Parvati to take seat and through the chant and prayer of mantras from Rig, Yajur and Sama Vedas poured oblations into the sacred fire. O son, at this moment, Parvati's brother Mainaka poured oblations and took rounds of the holy fire and worshipped the lord of Fire." It was a marriage of divine souls and none wanted to miss an extremely blissful and divine experience. All the women of the capital cheerfully enjoyed the celebrations and paid rich tributes to the divine couple.
At that time, all the sixteen divine women, the great goddesses – Sarswati, Laksmi, Savitri, Ganga, Aditi, Sachi, Lopamudra, Arundhati, Ahalya, Tulsi, Swaha, Rohini, Prithvi, Satarupa, Sangya and Rati arrived and deferentially bowed before the new couple and for a while enjoyed a very loving and entertaining conversation with the great lord and later, took delicious food.
Rati, the holy spouse of lord of love Kamadeva was looking out for an appropriate opportunity. She thought it was the right moment and therefore, appeared before Shiva and said, "O lord…lord of my life was a self-sacrificing man and served his lords devotedly. Why did you reduce him to ashes?"
The context was obvious and later, after making modest appeals, she pleased the lord, took out ashes of Kamadeva, and said, "O lord…" However, she failed to utter a word and began to weep. Agony and pain of separation and loud crying of Rati became unbearable for the goddesses and saintly women, who noticed Rati and began to lament in extreme suffering also.
They said to the lord, "O lord, you love devotees, your children are ocean of mercy and…please be kind and generous and grant life to Kamadeva and give happiness to Rati and also bless." Shiva was happy and granted life to Kamadeva. Later, she found Kama before the eyes, eulogised generosity of Shiva and praised him immensely. Shiva blessed fulfillment and realisation of all the wishes to the suffering couple – Rati and Kama.
On the advice of mighty sages of wisdom, Himalaya agreed to pay self-effacing but fabulous send-off to the marriage party consisting of gods, ganas, celestial beings and brahmins. All the gods thought of immediate departure to Kailasa. However, Himavana wanted them to stay for some time so that he could serve them more. Thus, all stayed and enjoyed lavish hospitality of Himavana. In the meantime, Maina gave lessons to Parvati on dharma of a wife toward husband. A woman devoted to her husband gets praise and becomes an object of worship. She not only glorifies herself but she also cleanses others of impurities, and destroys sins. And so she continued to underline virtues and saintly character of a woman, who looks after a husband as if a god and then, she recalls the holy life of angelic women namely Savitri, Lopamudra, Arundhati, Shandili, Satarupa, Ansuya, Laksmi, Swadha, Sati, Sangya, Sumati,Shradha, Maina and Swaha.
She continued the sacred and eternal disquisition for a long time in an unpretentious and diffident way even while she knew that goddess was a symbol of trustworthy and dedicated woman and an embodiment of perfection. Later, Shiva took leave of Himavana and very soon, the entire marriage party left for Kailasa with Parvati.
At Kailasha, Shiva said to Parvati, "O goddess of gods, you are my beloved."
Parvati smiled and said, "O lord of life, I keep in mind everything. However, please keep quiet and do whatever is appropriate now."
Shiva was very happy and so he served gods with various kinds of delicacies and after some time, all the gods of heavens appeared with spouses effusively adorned with beautiful and bejeweled clothes before the lord, praised him adequately and later, sought permission to go…a modest entreaty again, and thereafter, went to respective heavenly abodes.
Maina and Himavana ensured that before Parvati accompanied Shiva, they give her apt and proper education about an ideal married life, dharma and worldly and otherworldly matters. Thus, the great divine marriage of Supreme Lord was celebrated where gods of heavens, sages, monks, learned men and celestial beings arrived and joined the divine festivities. The grand and divine celebrations presaged a great event in future.