As I Know: The Lord of the Mountains – Shiv Purana: 37
Sati engaged in austere tapa only deliberates on Shiva as Daksa tells that he is the most appropriate man for her… for annihilation of iniquity and evil is the solitary objective of incarnation…Shiva marries Sati as celebrations continue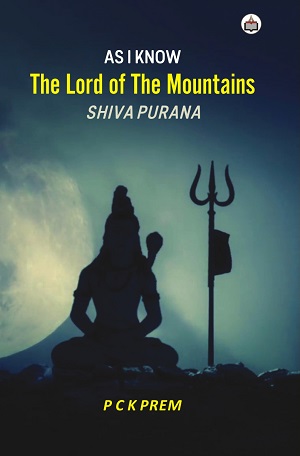 Brahma knew that daughter of Daksa lost in the thoughts of Shiva always meditated on him and at times, while she sat among friends she engrossed in thoughts of Shiva painted lord's divine pictures. Brahma and Narada once noticed Sati, who stood near father Daksa.

He told Sati in the presence of Narada, "Sati, he, who is eagerly desirous of you and he, who you want as husband is lord Mahadeva the lord of all gods. Accept him as holy consort. He has never been able to accept any other woman as a spouse and will never accept anyone in future. Shiva is destined to become your husband. No other woman is fit to be his spouse."

Celestial sage Narada and Brahma went away. The words of Brahma pleased Daksa. Sati was engaged in intense bhakti of lord Shiva and gradually, her mind and heart only thought it a divine pursuit to deliberate and concentrate of Shiva. The gods of heavens, Vishnu and Brahma observed intimately tapa and meditation of Sati, who appeared as an image of another siddhi (attainment of excellence in a certain field). They were extremely happy at the depth of penance Sati underwent and eulogised her virtues for she appeared an image of distinction. Later, they along with holy spouses and gods of heavens went to mountain Kailasa and stood with folded hands before the supreme.

Brahma, Vishnu and the gods of heavens, celestial beings, sages, seers and monks …told 'The Lord of the Mountains' about rigorous tapasya, Sati was still undergoing with an earnest wish that she wanted Mahadeva as spouse. Shiva agreed and it delighted the gods of heavens, who felt immensely blessed. Thereafter, the gods of heavens ensured that the great god and goddess enter marital concord. Shiva had consented but still he wanted to seek nod of goddess Sati and therefore, appeared before her along with the gods of heavens. She agreed and felt blessed. Brahma went to prajapati Daksa with the proposal after the divine duo agreed. Thus, the gods of heavens went to the capital of Daksa and sought the hand of Sati for Shiva to which after some reservations Daksa agreed.

It was a divine marriage and therefore, the procession of marriage party began its journey to the land of prajapati Daksa. The pageant of grandeur and majesty was a gathering of all the gods of heavens, celestial beings, sages, monks and learned men. Daksa accorded generous and grand welcome to the divine guests, monks and sages. Brahma observed reverential treatment of Daksa and so he ensured that they solemnise celestial marriage properly and religiously and for this Daksa made a modest request to Brahma.

Now, the divine couple had taken rounds of the sacred fire amidst chanting of mantras. Later, Sri Hari praised the divine couple and spoke of the essence of Shiva – tattva and its blissful influence on created beings. Essence of tattva was fulfillment of all yearnings of not only mortals, created beings, gods of heavens, celestial beings, seers and monks but also it was a path to the attainment of moksa that was otherwise difficult to achieve. After the marriage, goddess Sati and Shiva went to Kailasa.

Before, proceeding to the mountain, Shiva said, "O gods, of lord of destiny, O Brahma, you ensured proper completion of marriage. I am happy. You are a wonderful acharya, the great guru. Please tell what I should give you as dakshina. If it is difficult to give, even then, please speak. Nothing is difficult for me." He further told monks that he wanted lord Shiva to stay at the place of mandap and yajna so that people and created beings, in future, secure blessings and enjoy glimpses – darshana of lord Shiva because it would wash away and destroy sins of created beings they believed. Brahma also wanted to build an ashrama for tapa and penance. Lord was happy when he heard humble pleas of Brahma.

He said happily, "I would work for the benefit of creation. I shall always live at this mandap of marriage and havan kund – well of yagya with goddess Sati and bless people as you wish."

Later, when Shiva and Parvati arrived at mountain Kailasa along with gods of heavens, celestial beings, sages and monks and created beings, Shiva and Sati were very happy and greeted all gods and other divine souls at their place. They looked after everyone well and revered Vishnu, Brahma, gods of heavens and other divine souls. It was a happy and blissful occasion. After some time, the gods of heavens and other exalted souls reverentially said goodbye and went away. When all the divine souls left, Shiva and Sati felt extremely happy and enjoyed natural beauty and charm of the mountain and its vast and magnetic valleys.

For a long time, the divine couple enjoyed pleasures of life, took care of the created world, which they had left for Vishnu to protect it from evil influences

Continued to Next Page
.