Poetry is the music of soul, a medium to convey the core of experiences with least violence, the poet in Susheel Kumar Sharma seems to maintain in 'The Door is Half Open' a collection of poems published in 2012 by Adhyayan Publishers and Distributors, Ansari Road, Daryaganj, New Delhi 110002. He is a celebrated critic, reviewer and poet with some significant collections of poems, research papers on literature. He is a well-known professor of English at the University of Allahabad.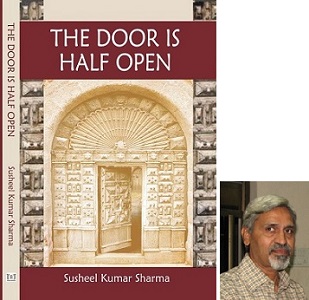 Each word at times, is an assault on the privacy of 'the self' in silence. Sharma appears in distress and yet calm, and speaks to his solitude to extract presumed nectar in drops out of transitory meditation in anarchic times where one encounters many a man in rumination but rarely one detects a man lost in 'the self'. He writes on a variety of subjects from the imperceptible personal land to the outside of the body that looks comforting and thorny as well, while he touches with kindliness the thin threads of thoughts with tags of obvious individual, social and contemporary anxieties wherein he engages the lover of poetry in relishing its pleasure.
The beginning sets the character of verses he loves and tells the poetry lover to get up from tameness and apathy that usually one perceives even in a connoisseur of poetry. Sharma appears easy in technique, idiom, expression but complex and teasing many a time. He begins with definiteness but only he knows the destination. He scratches words to find the embryonic meanings and so not only he taunts readers' intellect but also irritates sensibilities and thus, rouses them to understand what he says in simple words.

In the first long poem 'Ganga Mata –Prayer' he talks of the anxieties of the entire civilizational spectrum, which is difficult to hold in a single lyric. However, he does it where he not only goes back to history, legends and myths but also underlines culture, traditions, beliefs of man, religion, spiritual and philosophic hunger and aspirations and range of rational mind and its intellectual province revealing social consciousness –purely Indian speaking of its strong ethical foundation.

In most of the poems, 'he' is the subject and slowly but deliberately dissects the vulnerable 'self' and so opens its each coating with an evocative insensitivity, and even daringly opens the hidden caves of mind of a person, who reads those lines and here, he establishes an affable empathy. Just find out what 'Spineless II, 10 conveys. One is the body, visible frame growing, aging and finally reduced to ashes and the other is 'the inner self', the conscience, who if awakened feels, speaks and threatens existence but refuses to accept its identity that takes to the final realization of reality. If one listens to its silent voice and loud reproaches, one feels corrected to some extent. However, it does not happen, for to get rid of the 'Crisis 12', he recognizes no lines of segregation man draws to indentify man in varied modules to confer transient name.

I don't have to look into
My wallet to find a piece of paper
To know who I am and to
Wear a mask accordingly

Unsparing he is when he takes one on an uncertain and puzzling journey to the land of his dreams rather 'Shattered Dreams', a flip between trance and actuality, and you think you are an active partaker and there you fall into a hallucinatory trap with no possible release where all senses of perception and action either fail or delude. The question of life between identity and non-entity haunts in 'Routine' a crushing aftermath of loss of mortal identity. Disaster and dilemma gain enormity when one draws legendary characters to seek identity and so he lives in farce – "Is it possible for one /To remain poor and /Also to hold the head high." 17

The problem with the man in the poet is to plunge into the unfathomable, risk identity, take pleasure, then the try to retrieve 'the self' and sill enjoy the loss of identity while endeavours to locate 'the self' continue, which end up in jeopardy. Man may try to find life in alliance intangible, dead, living or in memories but material body needs tending in living or in death.

To visit unknown rather known areas of mind is not difficult only that a bit of sincerity should exist. One's consciousness is impenetrable and still a region that provides succor in hour of crisis if man is genuine. Poet's reflections carry one to mottled patterns and it depends on you to find the right mirror where you can find your face. It is through these provinces of mind poet passes through and asks you to feel its barb. Is it worthwhile to move when one finds nothing, and still conflicts survive in despair?

The scrapbook is lost for good.
Memories don't have to stir me up.
Personages don't have to haunt me.
Addresses don't have to find me.

Anguish enhances its intensity when the man does not wish to share agonies born of traumatized truths. He moves in tiny fragments of time, space, memories and experiences and then, joins them together to find suitable 'Dwellings', which prove a scratchy upshot. It happens when one learns to live without hope.

Go with determined hope and read lyrics of Sharma, which ask you to blend what you have lost within, a while ago –emotions, thoughts and their colours. What do you get? You get the knowledge to live in emptiness and nothingness without realizing their existence. A quizzical mind is restive and asks questions, searches for the right space to exist, time to get up to face, and the inner energy to know what the eternal question is - the question of 'coming to the earth.' (Inquisitiveness) It is not all innocent and yet it is not all guilt. Contemporary man it seems distorts the import of creation for it is no longer a mission. Better man forgets about the sacrosanct legends. In shifting images, he portrays mind's journey at times clear, somewhat hazy and then, it is blurred and it is for the reader to find the essence as simple words creating echoes flow before the whispering lips.

If he writes poetry, the music of 'the inner self, it is for pleasure of symphony words generate with a wish to prolong transitory life so that one day, if he is to die, let it be death of a celebrity, and as such the thought of conceit lives eternal in everyone, he affirms.

Look at the futile and stupid wish of a man who knows life and yet does not recognize realities staring pointblank (Vanity 32) where audacity is stripped, and he counters it in a charade (Savior) when he sees –

the eagle
Going down and down
Making a gyrating movement
To taste dust and to become so

At times, it looks he wants to weave a strong filament of words that come to his mind without caring for the message or perhaps, he loves to conceive profound rigmarole sans coherent meaning and yet wishes, people understand his philosophic undertones. Exposé of a dose of bold and blatant irony, cynicism and ridicule, hypocrisy and absolute untruth in 'Poverty: Some Scenes 37' obliquely pierces conscience. Many a time, images are near one's heart and so one encounters multiple meanings in a huge void, the strength of S K's lyrics that often challenges intellectuals' futile pondering.

At another stage, he baffles in 'Mangoes 44' –'A mango stone/ Carries the whole civilization in it…' where he connects life, beliefs, purity, sanctity as the desires disinfect 'death and the dead' and he arrives at the birth of a cyclic history, a new culture and creation.

Total 'Masquerade' is 'My real age/ Lies hidden behind my moustache/ Which I hate dying.' At this crucial stage in life, history chases you.
You need to address me differently –

New relationships!
New names!
No compulsions,
No cosmetics –no adhesives.
We aren't made for each other.

In the process of revealing the condensed layers of 'the self', he underlines contemporary anxieties realistically while many images and complexities of thoughts intercept where ethics and principles appear violated than honoured with a few exceptions –Poverty…, Gifts, For a Bride Who Thinks of Suicide'. To highlight fault-lines of modernity, he correlates the sequence of events to Puranic myths and legends.

He surprises at times, when from the composite mechanism of images in the process of imparting multiple meanings to a simple incident with its grotesque derivatives, he unveils reality that shocks and stuns (A Poem for My Country 62) when among apparently straight but confusing averments, he speaks out a few harsh truths.

The land offers you a sight of your choice –

A weeping child, destitute mother, naked faqir
Hungry farmer, homeless engineer,
Drug addict father, free boarding house …
Mobile revolution, educational satellites.

So many questions continue to pester and sting but find no satisfactory refuge. An effort to reconcile state of dreams to actualities gives tension and yet appears agreeable, for it is in the uncertainty of accepted objectives in life that one gets possible fulfillment because realization ultimately drives to bitterness and inertia, and motivation to pull-on looks blunted or meets untimely end. Man runs after 'the unrealized' with many desires but attains very few, whether it is an individual or a country.

Notwithstanding, deliberate efforts to construct cheery present and future, he hops from moment to moment with change in attitude, and dreamy postures he often takes. He begins with a realistic touch and gently flies high to elusive areas. He thinks of a letter from above and spreads love before he encounters facts and truths, for 'the letter is no more blank /The road ahead is familiar.' It is this escapist attitude that puzzles with the word 'familiar'…is it actual or dreamy? 68. Love attains authenticity in 'O Beloved' 69, a pleasantly true portrayal that goes beyond modernity or perhaps post-modernistic pragmatism. Here, truth assumes daringly lethal image and then, tries to locate shelter as an answer to callous approach to lofty human sentiment…what a conceited requiem on a beloved, who gives so much in love, but finally, the man in love abandons her.

If I love you
I love you for God's sake
He is your creator
And a perennial source of eternal love.

Here, he is not obliged to offer justification or argument to the contrary, for it is attitude of human beings!

From the compound apparatus of metaphors in the course of communicating manifold meanings to a simple incident or experience or impression with its monstrous imitative offshoots, it is inclination of SK to reveal certainty. It stirs and mystifies and so the enquiry into 'the self' –and the unfolding of it, disturbs…let the journey inside continue, for it has its own pleasure.

From many a piercing unemotional and guileless, some realistic outbursts and a few unkind and atrocious notes to true experiential shots, he travels forthright, and confounds. At some other time, he goes back and back and brings alive some nostalgic moments of past and connects those passionate moments with everyone …though with a hesitant attitude (Granny 75). Does he ask anyone to go back, repair past and gratify ancestors, now neglected? It is a lyric of nostalgic moments- sweet and sour. Despite barbarians approach to life from the current generation from Granny's perspective, she prays for peace and harmony for her children, who live beyond the sea and therefore –

She refused to accompany me saying
"It was a country of malechhas."
"But the dollars are colourful."
I had protested. "You be happy with your notes.
I'm happy with my Krishna –I give him butter
And, he plays his flute for me. I'm happy."

Is it possible to hear echoes of flute's tunes? However, an aura of tranquility spreads around and makes the past, a fresh present before the eyes unknown. 'Contemplation' has its borders and layers of ornate thoughts arising out of single image offering confused scenario of anxieties and relations. Man encounters experiences some time, which bestow thoughts of sorrows he wants to discard but it does not happen whatever may be the gadget to drive away, for he picks up various devices to get rid of intrinsic grief but reaches nowhere (Purgation 82). 'To purge myself of the sorrow' is a sensitive subject. Certain thoughts, emotions and a state of mind stay with the man despite efforts to the contrary, a man in the poet theorizes.

At times, he looks persuasive but then, misgivings arise to dispute and the final asylum is to seek consolation in the lap of nature, a manifestation of god.

A conch is rising from the lotus,
The conch is covered with
A design of a world.
The world is a jungle.
The jungle is burning
Fire consumes virtues
After purgation
Nothing remains
Brahma is revealed.

He speaks of creation here and then, the usual struggle with fire of desires and passions of the world before the annihilation and the process of purification to wipe up of sins before the resurgence of man. The revelation makes a complete statement despite imperfections to unwrap inessentials. He offers to humankind peace and hope, a man ought to guard and cultivate, for the process 'moves conscience' now and then, and emphasizes the visit of 'the Matter' to the world of 'the Inner Self.' Not only emotionally but intellectually also, it is a great treat.