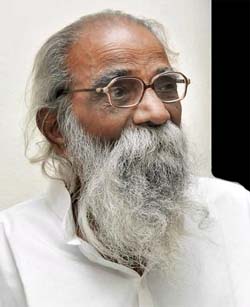 Almost a decade ago I met Ravuri Bharadwaja for an interview at his home in Vijaynagar Colony in Hyderabad. His simplicity in appearance and expression overwhelmed me. The way he went on providing information about himself and his works enabled me understand what a great person he was. I was touched by his humility as he was addressing me 'Babu garu' quite frequently. I requested him not to address me so. But he insisted that he would respect every guest visiting his home.He was also very honest in confiding that he could not use high strung language in his narratives as he was not well educated and so he chose to write in a language he spoke and a majority of people understood. Interestingly, his works are peopled by common men.

Ravuri Bharadwaja was born on July 5, 1927 at Moguluru in Krishna district, which was then a part of erstwhile Hyderabad state. Subsequently he moved on to Guntur district .Owing to acute poverty he could study up to seventh class only. He recalled how he was humiliated by his teacher during a school inspection for wearing a worn out shirt. He decided then and there that he would not attend the school further.

His father was Ravuri Kotayya and mother Mallikamba.His father and maternal grandmother Moguluri Subbamma in a way shaped his ability to narrate stories in an impressive manner. Bharadwaja stepped into literary world with his work 'Veeragaadha' in his seventeenth year. 'Vimala' was his first published story and 'Ragini' his first book. Initially impact of Chalam was conspicuous on him. Slowly, yet steadily he developed his own style and left an indelible imprint through numerous enduring works. Notwithstanding his lack of proper education beyond seventh class, he went on to script thirty seven anthologies of short stories, seventeen novels, six short novels for children and eight plays.

He worked as a farm hand, labourer in factories, slogged in a printing press and did odd jobs for livelihood. His hands-on experience in periodicals like Jyothi, Abhisarika, Rerani, Chitraseema sameeksha and Yuva enabled him evolve a style of his own. Zameen Rythu, in fact, paved path for him to step into the arena of journalism.He came into contact with Tripuraneni Gopichand,Chalam, Aluri Bhujanga Rao and several others among contemporary writers. It was Gopichand who facilitated his entry into All India Radio in 1959 that opened up innumerable opportunities to Bharadwaja to blossom into a script writer, dramatist, feature writer and interviewer till he retired from service in 1987. All programmes produced by him were audience friendly and eminently engaging. He travelled extensively and recorded the travails of the inhabitants of Divi Seema, when a severe cyclone battered the area in 1977.He also used print medium to eloquently echo the sufferings of the survivors through his feature in a vernacular daily. As a consequence a tiny hamlet washed away in the havoc wrought by the cyclone was reconstructed. Though Bharadwaja deserves all the credit for this accomplishment, he chose to remain invisible as always, since modesty was his first name.
For a boy who abandoned studies early in life, Doctorate degrees wound their way to Bharadwaja's home later in life, when Andhra University, Nagarjuna University and Jawaharlal Nehru Techonological University conferred honourary Doctorates on him for his peerless service rendered in the cause of Telugu language and literature. Several organizations honoured themselves by felicitating him with their awards. Notable among them are the awards conferred by State Sahitya Academy in 1968 and 1983 and Kendra Sahitya Akademi in 1983.He was the first recipient of Gopichand Literary award in 1968 and received Telugu University award(1981), Rajalakshmi award for literature (1987), Bharatiya Bhasha award of Kolkata (1993) and Lok Nayak Foundation's Literary award ( 2009).

It was a strange coincidence that he was felicitated with Life Time Achievement Award by Boyi Bhimanna Sahitya Nidhi in September 2012, when my work Coolie, the Soveriegn [translation of the play Kuuli Raju of Padmabhushan Dr Boyi Bhimanna] was launched in a function organised by Boyi Bhimanna Peetham, Potti Sreeramulu Telugu University in the Jubilee Hall, Hyderabad, with the Deputy Chief Minister of Andhra Pradesh Sri C.Damodar Raja Nasimha as the Chief Guest and Dr Elluri Siva Reddy, the Vice Chancellor in the Chair. I am blessed!

So far two Telugu literary luminaries received the Jnan Pith Award.Both were poets.While Viswanatha Satyanarayana's Srimad Ramayana Kalpavrikshamu (1970) was a text in metrical verse, Dr C.Narayana Reddy's Viswambhara (1988) was a modern epic rendered in free verse.DrNarayana Reddy continues to write poetry in his own charismatic way.

Ravuri Bharadwaja is the first Telugu literary master story teller to receive Jnan Pith Award (2012) for his novel Paakudu Raallu , a graphic narrative that documents the troubles and travails of Manjari an actress whose experiences reveal the shady side of the film industry. Kadambari, Jeevana Samaram, Inupa Tera Venuka, and Koumudi are among his best known and very popular works. It was a glorious tribute to his indefatigable energy and passion for creative work even in the evening of his illustrious life. Personally he had seen several shades of Man and his mentality. He also knew well the wavering nature of public adulation. Hence, he stayed steadfast in the chosen path with firm convictions he cherished. Though he suffered due to poverty, there was never an instance of intellectual poverty or lack of integrity. At no point of time did he seek favours or coveted positions, in spite of his wide ranging contacts. Always he remained a 'mouni' in the real sense. His saintly appearance, equanimity and stoic endurance in encountering troubles in life make him a unique literary luminary who shunned publicity and political or official patronage.
Jnan Pith Award was presented to Ravuri Bhardwaja in a simple function in Delhi on 11.10.2013.Within a week he departed in a hospital in Hyderabad due to multiple organ failure. Yes, recognition came very late in life to Bharadwaja. Mercifully he could receive the award in person in the last stages of his life! This in itself symbolises mysteries that lie unexplored.

Bharadwaja's expansive creative range is amazing and difficult to surpass with around 140 published books to his credit. His poetic work too is significant and poignant. After his better half Kanthamma departed , he started elegiac noting in his diaries from January First in 1986.

Naaloni Neevu (recordings of 1986), Antarangini (recorded in 1987), Aithareyam (noting in 1988), Aina Oka Ekantam (penned in 1989) and Okinta Vekuva Kosam (jottings in 1990) form the five elegiac-diarist compositions in prose that record and reflect the innermost thoughts , feelings and insights of Ravuri Bharadwaja, who was stricken with unending grief, frightening loneliness and engulfing love for his departed wife. Though it was a personal record of sorts for the writer, the passionate rendering, pathos witnessed and displayed, untiring craving for unison with the soul that was liberated from the helix of this mundane world make it a remarkable creative work, with philosophical and mystical over tones. Bharadwaja becomes a Rishi with this pentad penned with unswerving devotion to record his heartfelt feelings , pangs of separation topped by a sublime yearning to become one with the Divine! It is virtually the cravings of Jeevatma to become one with Paramatma.

During the course of the interview he also disclosed to me how he managed to make two ends meet with his meagre salary. But for the support extended by his wife and members of family, certainly Bharadwaja might not have achieved what he did in a long literary career spanning several decades.

As I was planning to take leave of him he offered a packet of sweets bought in a shop nearby and told me, "When you reach home, give these sweets to my granddaughters. In case you feel hungry on the way, don't hesitate to eat some." I was overwhelmed by his affectionate concern.Many people, perhaps, may not know he wrote lovely songs and lyrical poetry too. I salute one of the most brilliant persons on the literary firmament shining brightly and blessing us all!