In November 2013 2nd edition of my book of Tagore translation "The Eclipsed Sun" (TES) was published by Cyberwit.net
A review of this book made by learned Ms. Padmaja Iyengar was recently put up on websites and must have come to the notice of many. While I take my hats off to Padmaja for her imaginative power, the portion of this review which appeared to me rather amusing is reproduced below ~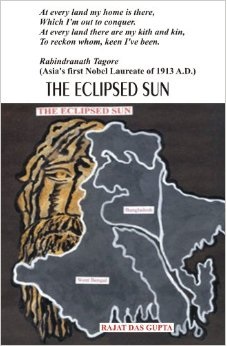 "TES is Mr. Rajat Das Gupta's labour of love, a demonstration of his determination to keep Tagore alive in our minds. An accomplished poet himself and a devout Tagore Bhakt (I have deliberately avoided the word Tagorephile that perhaps still abound in this country and the world over), he has dedicated his life to learning, researching, translating and transmitting Rabindranath Tagore's works and Rabindra Sangeet to the world at large"
The ground realities for my emergence as a 'littérateur' indeed had no such blend of 'romance' of 'dedicated love' or whatever it may be. Lest the readers will overrate me in this respect, I detail below how I was dragged to Tagore translation.
In early 1998 our firm was given a few years' professional assignment with 'Punjab & Sind Bank' (P&SB) a Sikh dominated Bank in all its 800 branches all over India. And, 1999 was the Tercentenary birth anniversary of their 10th and last Guru, Guru Govind Singh. They started exhaustive preparation to celebrate the occasion a year ahead which included offering prayers in their Gurudwaras and elsewhere, stage performances and last but not the least, suitable publications in their magazines with worldwide circulation. While I was present accidentally amidst their discussions how to organize this monumental task, I casually asked them if they were aware about the highly inspiring poems Tagore had written on the Sikh uprising in India. Of course they were not, but since then they started pressing me to work out some dissertation on this subject which was just beyond my erudition! It was indeed a case of loss of face to an important client of my firm. So, eventually, I landed on just translating a few poems straightway in quick succession and they readily published those in a few editions of their magazine over the year by virtue of which I turned into a celebrity among the Sikhs for quite sometime.
This wave reached Ludhiana also and while we visited the Ludhiana Br. of P&SB, one afternoon our audit team was invited to visit Guru Govind Singh Study Circle. I at once sensed that it was only a ploy to keep the Audit team out of their office as long as possible. Their intent was clear ~ more time the Auditors will remain in their office, more notes (mostly adverse) they will take with which they will swell their Audit report. So, keep them out of the office as long as possible. Ms. Padmaja was a senior officer in a Bank and, so, she must be aware of such practices of the Bankers. (By no means I am implying that she was ever an accomplice to such practices). However, while basically my surmise was correct, it had another noble dimension as I am going to elaborate below.
Eventually we were taken to their Guru Govind Singh Study Circle where I found they had invited top Sikh scholars (about 50 in number) of the town to listen to my recital of Tagore poems on the Sikhs of which the organizers never gave any hint to me until the last moment. At the last hour they produced me copies of the magazines where my translations were published. I had no option then but to read out the pieces ['Bandi Bir' (The Captive Hero), 'Prathanatiti Dan (Gift beyond that begged) & 'Guru Govind']. After the session, quite a few of the overwhelmed audience remarked, "Your Gurudev had written so much about us (Sikhs)! Unfortunately, we were not aware about it!!" I may mention, my debut with Tagore translation was with these poems on the Sikhs.
Gratifyingly, the first edition of my book 'The Eclipsed Sun' (TES) is graced with compliments from 2 Sikh luminaries e.g. Mr. N. S. Gujral (the then Chairman of P&S Bank) & Mr. U. S. Sachdeva (the then Advocate at Supreme Court). Both their pages re-appear in the Second edition also (published in November 2013)in the 'Compliments' chapter along with the said 3 poems of Tagore.
My representation here will remain incomplete if I don't mention here about Mr. Anurag Singh at whose house I was invited the next day. Anurag was not present at the said gathering on the previous day. He is the son of Late Trilochan Singh (demise 1992) who had studied in Santiniketan (at Tagore's University) around 1935. Tagore advised him to study Sikh religion thoroughly and publicize it worldwide. He followed Tagore's advise and wrote numerous books on Sikh religion most of which were published in Britain which I found in Anurag's residence. There I also found Late Trilochan Singh's room treated as a temple, where one has to enter with one's head covered as in the Sikhs' Gurudwaras. Anurag told me his late father used to say that Tagore's literature on the Sikhs was the best he had ever seen. Of course, this was to my great elation.
Anurag (and also other Sikh gentlemen) gifted me a big bulk of Sikh literature which I carried to Delhi on our way back. So, I visited Ludhiana as a formidable Auditor and came back as a humble student with a big bulk of books which eventually I gifted to Raja Rammohan Roy Library Foundation in Calcutta after my perusal, for better use by the public.