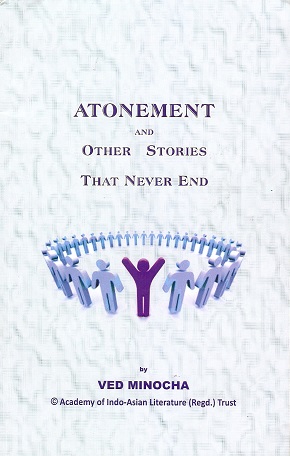 Minocha Ved: Atonement and Other Stories That Never End, Academy of Indo-Asian Literature (Regd) Trust, Delhi, 2013, pp108, Paper Back, Rs. 160/-
Ved Prakash Minocha (b.1932) is a retired academic and story writer of eminence. His stories are telling and the pathos in many of those enriches the reader's sensitivity. Pathos is acclaimed as the only rasa by the oriental literary genius and aesthetician Bhavabhuti who averred 'eko rasah karuna eva'. This writer knows the ennobling quality of pathos and then it is not every writer who can make a significant use of pathos.

There are fifteen stories in the collection of which one he has three items the writer calls 'Storiets', a neologism created by Minocha like novelette.

'Atonement', is a love story with a difference. Poverty in a young woman makes her take a vow not to give birth to a child. But she becomes pregnant and while declaring that she wouldn't breast feed the baby demands her husband to see that it is given in adoption. But she starts giving suck which pleasantly surprises the husband. The Gift of the Magi (letters employing the wife and husband and wife and providing them a quarter) makes the couple jubilantly. The priest of the local church suggests them to get their marriage formalized and their kid christened.

'Backward' is about the change in lifestyles. Countryside ways of life are considered backward by some city dwellers. Glamour is much considered stylish and modern but a young woman realizes that 'glamour' is not really good.
'Dada Dadi Park' is the story of 'foreign gone' children forgetting their parents in the lure of being abroad. It is the granddaughter who comes to see them and teaches the father what they had lost. She tells her father over the phone that she applied for permanent citizenship in India and wouldn't go back to them. She could only hear her dad's 'sobbings and whimpers' (sic).

'Lohri Bonfire' is the most pathetic of Ved's stories which displays the pain-causing stupidity of the wife who throws her poet-husband's manuscripts in the festive bonfire. The husband tells a poetry loving woman bemoaning the loss that it was a bonfire of his emotions.

'Destined for Disaster' is the story of an astrologer who thinks that his best friend in the ICU would die but it's he that dies since he himself is the one destined to disaster.

The story may be considered a dig at astrological forecasts.
'My Calves my Children' is the story of a rich man. His wife dupes him with his signed blank cheques and deserts him too. The man does not marry again but instead he loves the poor and gives away all his property for helping the poor and is remembered as Rajasaheb after his demise. It's he who believed that the calves were his children.

A painfully touching story is 'Twilight' which comes at the end. A Kashmiri Brahmin wrongly imprisoned is set free after fifteen years. Rushing home he finds his wife and daughter gone: the woman becomes a mistress to a rich man and the grown up daughter's wedding is in progress. He gives the bride a gift telling her: 'Daughter, I had a daughter of your age, exactly like you. It had been her long cherished desire to wear the dejuhoro.' Saying and giving the gift, he disappears, where we are not told, since there is no need for it. (Dejuhoro is an ear pendent of gold worn in and after wedding.)

These stories really never end. Ved Prakash Minocha's book is eminently readable since the pathos in most of the stories remains long in the readers' minds.