Sengupta Kiriti, My Glass of Wine, Author's Empire, New Delhi. Dec. 2013 90 pages, Rs 125/-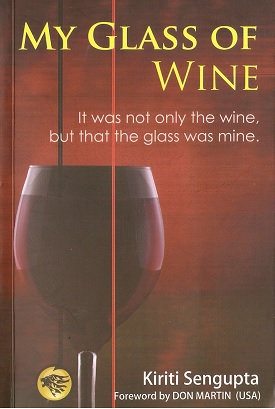 Dr Kiriti Sengupta, a Kolkata based Dental Surgeon, is a bilingual poet in Bengali and English besides being a translator. His writings are brief and more importantly unique. The book under review is a medley of autobiography, sensitive exposition of experience and genuine new poetry. Each poem has a long introductory/explicatory introduction and a comment on life and living. My Glass of Wine is primarily a remembrance of the wine in the Church, related to Holy Jesus Christ. Several things are packed in the twenty-two poems under eight 'chapters'.
The name Kiriti is explained by the writer himself though every Hindu knows Arjuna as Kiriti too. Many repeat the name for protection for protection when there is an awesome thunder and lightning. He is the ardent believer of Sri Krishna and a great hero.
This little gem of a slender volume is dedicated to Dr. hulya Yilmaj who teaches German in the University of Pennsylvania. Kiriti likes her favourite quote of Coelho: 'Now that she had nothing to lose, she was free.' In his Foreword for this Don Randolph Martin tells us that in this book Kiriti only interviews himself. In the last chapter of this book he is all praise for this work. He writes about Kiriti's acclaim of the Christian use of wine and the symbol of the colour red in several religions.
In his introduction to the book Kiriti (after reading the book I can't help referring to him by his first name) writes: '… with is book … I humbly intend to offer my loyal readers to enjoy shreds of autobiographic images along with some poetry weaved into the prose. (Italicization mine) This poet remembers (and practises too) Baudelaire's dictum "Always be a poet, even in prose.'
In this poet there is a knack of laying down theses. One such is this: 'the more you consume the fuel of your being, better is the outcome,' before the poem "Consumption" which I quote in full:
Consumed time
like an infant consuming
milk; inevitable
it remains.
Killed essence of
the eternal soul; and consumed,
essentially I remain. (p.34)
The second chapter My Glass of Wine is autobiographical to the core. Kiriti raises the question 'How can the amorphous God be related to any worldly element? Is it essential to associating (sic) with blood?'
Blood Related
It was not branded, but a home made
Wine
Intimately divine
I drank it first right after I was spiritually baptized.
……. …… ….
You and I
The Father and Son
the legacy goes on
inevitable – impeccable,
blood relation … (p.40)
'My Sister's Bhaiya' is the third chapter. The poet tells us that his elder sister calls him bhaiya which means an older brother in Hindi. Apart from that he wonders why no Christian is ever named Jesus while Hindus give the names of gods and goddesses to children. And then there is his thesis on name and fame. There is his longest poem in four parts of which this is the last:
Significant indeed – carrying yourself
Crucify is Christ filled.
I remember, and my mind runs candle-lit.
They pinned it before,
will do that again …
No arrangements of incenses though!
God & Life;
moving apart… (p.45-46)
That incense is uncountable does not bother the enthusiastic poet.
'Southern Affiliation' is about the poet's love of Chennai with its idli and saambaar. Pat comes the poem 'The Encyclopedia'.
I have not reached yet
the science of you; I know
I am glued to, and stand still
with some fixation.
Since period unknown
you spin, and continue to swivel
have such firm grip.
His visit to Udipi makes him praise the city:
World, Peace and Poetry:
they walk with associating hands.
And God prevails
with all pros and cons;
He is dated, yet in. (p.52)
And then, there is whole poem dedicated to Atreya Sarma who showed him the famous Hyderabad news paper, The Hans India..
The chapter 'Rains' is about a situation which makes him feel lost. There are poems on things like scratches which are erotic. In 'Scratches Only Are Human' we have this:
Lips uncut … coloured, covered are these
fine lies – sheer wonder.
Scratches see, smile,
talk like palpating vessels, carrying
air straight into my balloons!
…. …. … (p.61)
In the poem The Odd Number there are scratches again:
Scratches made by the nails, and teeth;
unknowingly biting
the lower lip,
And the nauseating smell that
spreads from the blanket damp.
Come on,
solitary in thy conjugal camp.(p71)
'My Master and the Cover', the seventh chapter is about his master, the soul and his guru,The World Kriya Yoga master, and the cover picture of his book. KKriya Yoga mater Dr Ashok Kumar Chatterjee initiated him and here is the poem describing it:
… …. …
He first touched the base,
gradually coming up until
He held my cranial recess.
He directed me to face Him
with my eyes closed.
As soon as He spotted the third
the spirit echoed!
I fell in love with myself
with sole existence . (p.78)
The poet explains the significance of the cover picture on the book too in this chapter.

The eighth (and also the last) chapter contains the comments of eminent writers and critics, Dr A.V.Koshy of Saudi Arabia, Rob Harley of Australia and Sony Dalia of India.

The thin and attractive volume is not just poetry and for that reason eminently and happily readable.

A general word in conclusion. One needs to grin and bear it when it comes to proof reading and copy editing in our publishing and printing since the first is not always perfect and second never even attempted. See "off late I realized" "I made my mind" (p.31) "for she thought I might had been occupied ..." (p.(32) and "my dream of being the author of literary endeavours" (p.33)